Stacey Abrams Explains Her Public Interest in Running Alongside Biden: 'If You Don't Raise Your Hand, People Won't See You'
Stacey Abrams explained why she has repeatedly put her name out there as a possible running mate for presumptive Democratic presidential nominee Joe Biden, saying that she's learned as a black woman that often she has to raise her hand to get the attention she merits.
Biden has not announced a vice presidential running mate, but he has committed to selecting a woman to join his ticket. Abrams, who previously served as the Georgia state House Minority Leader, has repeatedly said in interviews that she would gladly serve alongside Biden, which analysts have noted is not the norm when someone hopes to join a presidential ticket as the running mate.
Speaking to CNN on Sunday, Abrams explained her strategy.
"I've been asked this question since last year. I was brought into the national conversation and I've been very honest about my willingness to serve," Abrams said. "As a young black woman growing up in Mississippi, I learned that if you don't raise your hand, people won't see you and they won't give you attention," she explained.
Abrams said she wasn't seeking the attention only for the sake of being the running mate, but also for "making sure that my qualifications aren't in question."
"They're not just speaking to me. They're speaking to young black women, young women of color, young people of color who wonder if they too can be seen," Abrams said. She added that she believes Biden will pick "the best running mate for him."
The former Georgia lawmaker gained national prominence in 2018 as she ran to become the governor of her southern state. Although she lost that race, Abrams never formally conceded, citing concerns about voter suppression. She went on to give the official Democratic rebuttal to President Donald Trump's 2019 State of the Union address.
Even before Biden became the presumptive Democratic nominee, Abrams voiced her interest in joining the ticket of whichever candidate secured the party's presidential nomination.
"Of course I would be honored to run as vice president with the nominee," Abrams said during a mid-February interview with ABC's The View.
She reiterated her interest in an interview with Elle magazine this month.
"I would be an excellent running mate. I have the capacity to attract voters by motivating typically ignored communities. I have a strong history of executive and management experience in the private, public and nonprofit sectors," Abrams said.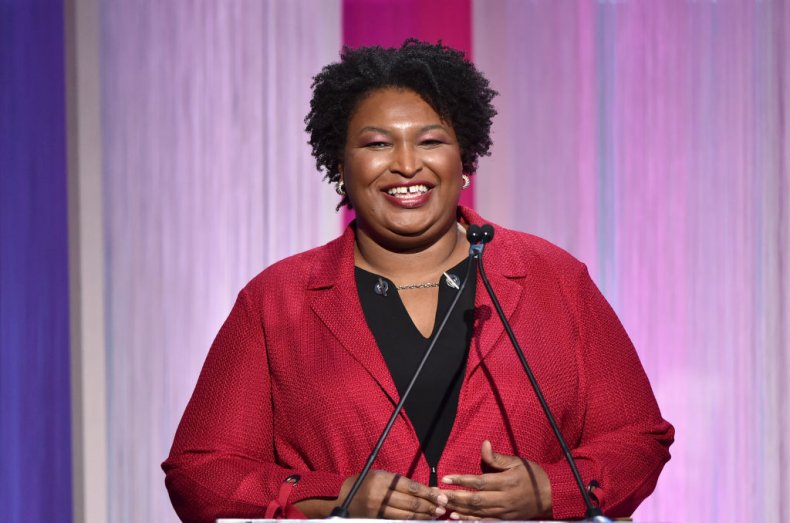 Speaking to CNN's David Axelrod on his podcast The Axe Files last week, she again expressed interest in joining Biden in the race for the White House. She noted that she'd be able to help the Democratic candidate turn out more voters of color.
"I have the deepest respect for every woman who is being talked about and who should be considered for this post," Abrams told Axelrod. "But I know that for communities of color, particularly for the black community, there has got to be a recognition that their needs are met. And we have to have candidates who are able to not only speak to them, but turn them out."
"There has to be an intentionality to turning them out. A lot of folks can do that. I'm one of those people," she added.
The New York Times reported on Friday that leaders from the black community are urging Biden to choose a black running mate to join his ticket. Reverend Al Sharpton, one of the nation's most prominent civil rights activists, is reportedly planning to directly endorse Abrams for the role as soon as this week.
Other names under consideration by Biden's campaign include former Democratic presidential candidates Senators Elizabeth Warren of Massachusetts, Kamala Harris of California and Amy Klobuchar of Minnesota. Michigan's Governor Gretchen Whitmer is also reportedly on the short list.