Michigan Governor Gretchen Whitmer Dismisses VP Speculation: 'The Job That I Want Is the One That I Have'
Michigan Governor Gretchen Whitmer pushed back against speculation that she could join presumptive Democratic presidential nominee Joe Biden as his running mate, asserting that she already has the job that she wants.
Whitmer, who was elected as Michigan's governor in 2018, is reportedly among the top names being considered by Biden's campaign to join the 2020 Democratic ticket. But asked about the possibility during a CNN interview on Thursday, the Michigan governor suggested it wasn't a position that she is currently seeking.
"I'll be very frank with you, the job that I want is the one that I have," Whitmer asserted. "I worked for two years to become the governor of the state of Michigan, and while it's been challenging and there've been some tough days, there's no place I'd rather be than right here in my home state, making decisions that are saving people's lives [during the coronavirus pandemic]."
"It's the honor of my lifetime to be here," the governor said. Although Whitmer said she is "honored" to be part of the conversation about the Democratic Party's vice presidential nominee, she noted that it's not something that she is personally "promoting."
"It's not something that I'm spending energy on," she said. "Every ounce of energy I have is going into protecting people in Michigan [from the coronavirus], making sure that we're smart about how we reopen our economy and defeating COVID-19."
However, Whitmer did not say she would reject an offer to run alongside Biden when asked directly by CNN anchor Jim Sciutto. Instead, the Michigan governor explained that she is a "big fan" of Biden and plans to "support him in any way that I can be helpful."
Biden has not revealed who he plans to ask to be his running mate, but he has publicly committed to selecting a woman to join the Democratic ticket. Other names reportedly under consideration include former Democratic presidential hopefuls Senators Amy Klobuchar of Minnesota, Kamala Harris of California and Elizabeth Warren of Massachusetts. Stacey Abrams, the former Georgia gubernatorial candidate, has also been suggested.
Unlike Whitmer, Abrams and Warren have publicly said that they would gladly accept the opportunity to run alongside Biden.
"Yes," Warren replied after she was asked by MSNBC host Rachel Maddow if she'd agree to be Biden's running mate.
"We both want the same thing. We want this country to work, and we want it to work for everyone," the senator explained. "He's a man who has a good heart, and that's what we need in a leader – someone who is steady, who is prepared, but ultimately who cares not just about himself, but cares about everyone else."
Abrams, who previously served as the Georgia state House Minority Leader, has repeatedly voiced her interest in joining Biden's ticket. Speaking to Elle magazine earlier this month, the former Georgia lawmaker said she'd make "an excellent running mate."
She reiterated this assertion in an interview with CNN's David Axelrod on his podcast The Axe Files aired on Thursday. Abrams explained that she could help Biden by ensuring people of color turn out to vote in November.
"There has to be an intentionality to turning them out. A lot of folks can do that. I'm one of those people," she said. "And I have proven it by turning out more people of color in an election than anyone in 2018 did. Not by race, but by raw number."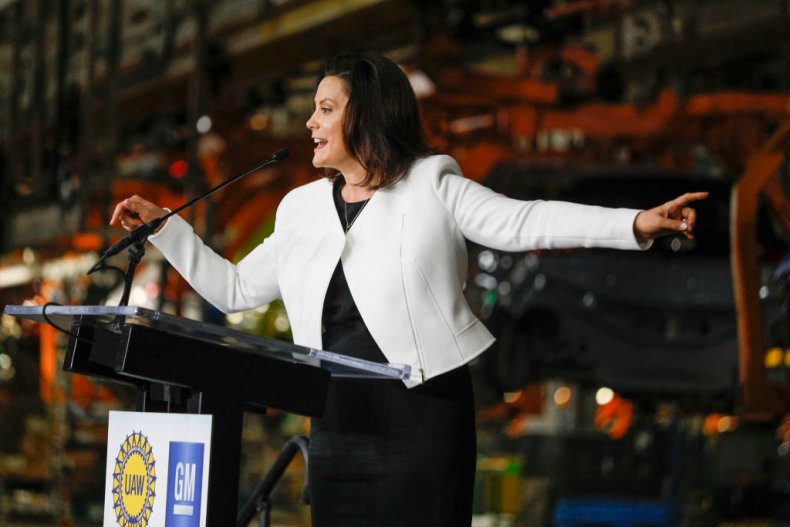 Whitmer has seen her national profile grow amid the coronavirus pandemic. The Michigan governor has implemented some of the most stringent stay-at-home measures in the country, as her state struggles with one of the worst outbreaks in the U.S.
Last week, thousands of protesters in Michigan converged on the state capital in Lansing to protest the governor's stay-at-home orders. They argued that the economic fall-out from the shutdown was worse than allowing the public health crisis to go unmitigated.
But polling by the Detroit Regional Chamber showed that the majority (57 percent) of Michigan residents approved of Whitmer's response to the coronavirus pandemic. Meanwhile, only 44 percent approved of Trump's management of the crisis, while 50 percent disapproved.
Separate polling by Fox News, released this week, showed Biden 8 points ahead of Trump in Michigan in a general election matchup. The former vice president was backed by 49 percent of respondents, while the president was only supported by 41 percent.
Michigan's electoral college votes went to the Democratic presidential candidate in every election going back to 1992, until 2016 when the state was won by Trump. The president pulled off a narrow victory in the Midwestern state, winning 47.5 percent of the votes cast in the state compared to former Democratic presidential candidate Hillary Clinton's 47.3 percent.