Stanford Professor's Tweets Mocking Camille Vasquez Angers Johnny Depp Fans
A Stanford University law professor is facing a barrage of criticism from Johnny Depp fans online after she appeared to criticize the actor's lawyer, Camille Vasquez, in a series of tweets earlier this month.
"In a society that strips women of real power, some women have learned to seek male approval in the hopes they won't be raped or abused or humiliated. Sucking up to power might feel good to you but it won't work. You will be next," Michele Dauber tweeted on June 2.
In a subsequent tweet, she shared a photo of Vasquez and wrote, "Of all the women who suck up to male power, women lawyers are the absolute worst of the bunch. Desperate to prove they are 'real lawyers' and understanding that being a woman undermines their identity as lawyers, they throw women under the bus as hard and fast as they can."
The professor's initial tweet came just a day after a jury ruled in favor of Depp in his defamation trial against his ex-wife Amber Heard. A jury awarded him $10 million in compensatory damages and $5 million in punitive damages for the 2018 op-ed Heard published in The Washington Post, where she claimed that she was a victim of domestic abuse. Depp, known for his role in the Pirates of the Caribbean movie series, was never named in the op-ed. The jury also awarded Heard with $2 million in compensatory damages, after she filed a counterclaim against her ex-husband for nuisance.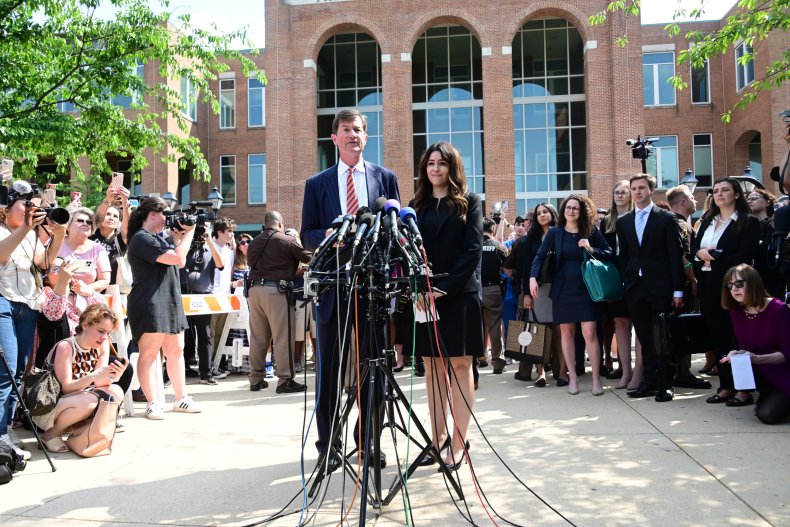 Shortly after Dauber's tweets, a number of social media users responded with criticism.
"This is vile. When will women stop trashing other women? How does someone who refers to fellow female lawyers as "skirts" have the audacity to do so in the name of women? I too had qualms about Depp v Heard but this is gross. Troubling that this woman is a proff at Stanford," Twitter user Joanne L. Molinaro wrote.
Twitter user TheWonderfulWorldofTracy wrote, "@Stanford your professor is now insinuating women will be raped/abused if they are nice to men & is clearly aiming this sexist, vile message at supporters of #JusticeForJohnnyDepp. She's been targeting JD & his supporters for days. This looks very bad for you. Get your girl."
Similarly, Twitter user Jennifer Barreto-Leyva responded to Dauber's tweet saying, "That's a dumb statement. Keep trying Michele. One day you can be like #CamilleVasquez or me."
Twitter user Jennifer Price also responded to the tweet, writing, "Cannot believe the absolute audacity of this woman. She's disgusting. #AmberHeardIsALiar #AmberHeardIsAnAbuser #JusticeForJohnnyDepp."
The professor also shared screenshots of replies she received following her initial tweet.
"Today Depp fans called me c***, criminal, b****, misgendered me as male, and a troll tried to threaten my job for my lack of decorum (after calling me a c***). One of them had his account locked," she wrote.
Newsweek reached out to Dauber and Vasquez's law firm for comment.