Amber Heard's $2M Compensatory 'Win' Against Johnny Depp Explained
Amber Heard has lost in a sensational, weeks-long defamation trial after being sued by ex-husband Johnny Depp for $50 million, but she received a compensatory $2 million in damages.
The seven-person civil jury deliberated for 12 hours and 45 minutes before agreeing on the verdict, which was read Wednesday in the Fairfax County Courthouse in Virginia, where the trial has taken place for the past six weeks.
After beginning deliberations last Friday and taking a break for the Memorial Day weekend, the jury ruled largely in Depp's favor, awarding him $15 million in damages. Heard's $2 million in damages came from her countersuit against her ex-husband.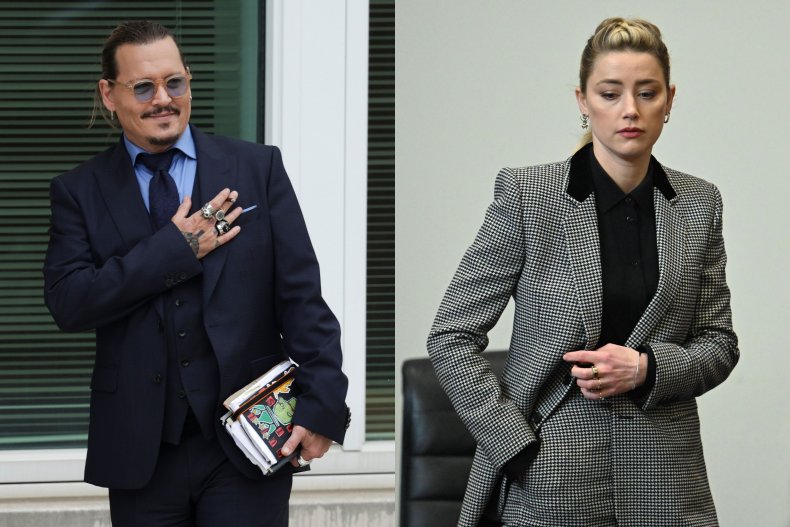 Depp had sued Heard for $50 million after she wrote about domestic abuse in a 2018 op-ed for The Washington Post. She did not name Depp in the piece, but he charged in his defamation suit that it was clearly about him and had damaged his reputation and acting career.
In response, Heard filed her $100 million countersuit, and she won a small amount of that on Wednesday. The jury found that Heard's legal team proved some, but not all, of the defamation claims in her suit.
Statements made by Depp's attorney Adam Waldman, which were published by London's Daily Mail, were the subject of her defamation claims. In an article from April 8, 2020, Waldman said: "Amber Heard and her friends in the media used fake sexual violence allegations as both sword and shield, depending on their needs. They have selected some of her sexual violence hoax 'facts' as the sword, inflicting them on the public and Mr. Depp."
The jury ruled that Heard did not prove all elements of defamation for that statement. In addition, another statement that Waldman made in late April 2020—"We've reached the beginning of the end of Ms. Heard's abuse hoax against Johnny Depp"—was not proved to be defamatory.
However, the jury decided a third statement from Waldman was defamatory.
"Quite simply this was an ambush, a hoax," Waldman told the Daily Mail article in 2020. "They set Mr. Depp up by calling the cops, but the first attempt didn't do the trick. The officers came to the penthouses, thoroughly searched and interviewed, and left after seeing no damage to face or property. So Amber and her friends spilled a little wine and roughed the place up, got their stories straight under the direction of a lawyer and publicist, and then placed a second call to 911."
For over a month, the court heard testimony from both actors, who accused each other of domestic abuse in their marriage, which ended in divorce in 2016. Heard emotionally recounted the humiliation and injuries allegedly caused by Depp, detailing bruises and cuts and making multiple sexual assault accusations. The Pirates of the Caribbean star testified that he was physically abused himself, saying he had suffered injuries because of Heard, including a severed finger.
Many witnesses and experts testified about the abuse allegations from the ex-spouses, including Depp's former girlfriend Kate Moss.
Despite the focus on accusations of abuse, the jury had to decide whether Heard's op-ed was defamatory and had hurt his film career. Several witnesses with knowledge of the film industry testified.
Newsweek reached out to representatives for Depp and Heard for comment.