What Happened to Johnny Depp's Finger? Experts Can't Agree
A pivotal dispute emerging from the Johnny Depp and Amber Heard trial is the case of the severed finger.
Depp has accused Heard of cutting off the tip of his finger during a heated argument they had in Australia in August 2015. Heard, her legal team and now expert witnesses have disputed Depp's account of events.
Depp and Heard are currently embroiled in a $50 million defamation suit after Depp's team argued Heard's 2018 op-ed resulted in loss of career earnings for the actor. Depp was never mentioned by name in the article in which Heard stated she was a survivor of domestic violence, but his team argue the insinuation was damaging enough.
The claim has become a big part of the trial amongst the public too. An Australian bakery sent a box of cakes shaped like a hand and a Smirnoff vodka bottle to Heard. Depp alleges that the injury occurred when Heard threw a bottle at him.
But what actually happened to Johnny Depp's finger? Newsweek have compiled the evidence we've heard in court so far.
What Johnny Depp said about his finger
Depp's testimony has always been that the tip of his finger was severed after Heard threw a large bottle of vodka at him during an argument in Australia.
"She threw the large bottle and it made contact [with the bar] and shattered everywhere. I honestly didn't feel the pain at first," Depp testified on April 20.
"I felt heat, and I felt as if something were dripping down my hand and then I looked down and realized the tip of my finger had been severed and I was looking directly at my bone sticking out.
"I don't know what a nervous breakdown feels like, but that's probably the closest I've ever been," Depp continued, "I knew in my mind and my heart, this is not life. This is not life. No one should have to go through it."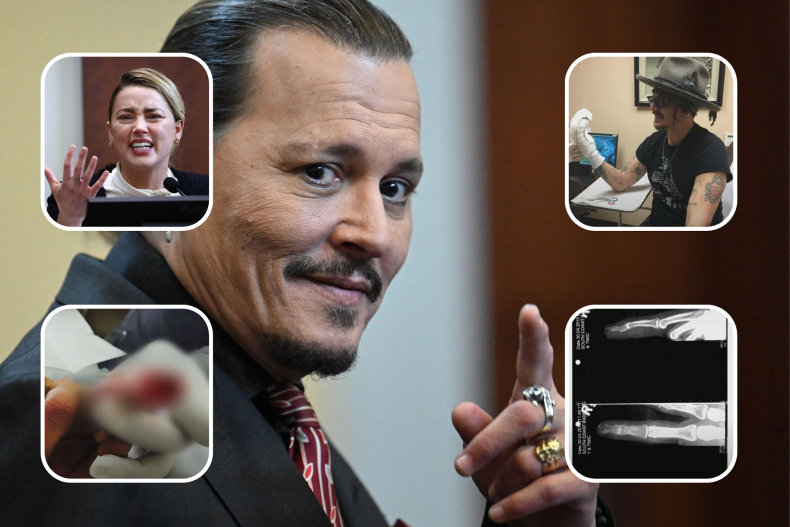 Initially, Depp admits that he lied to medical professionals after the incident occurred to protect his then-wife Heard. "I didn't want to get her in trouble. I tried to just keep things as copacetic and as easy as possible for everyone," he said. "I did not want to put her name in that mix."
While Depp's legal team were making their case in court, witnesses including David Kipper, Debbie Lloyd and Ben King described searching the Australian property for Depp's missing finger.
What Amber Heard said about Johnny Depp's finger
Heard has always denied causing Depp's severed finger. During her own testimony, she disputed Depp's claims and told the jury how Depp had caused the injury to himself whilst intoxicated for three days.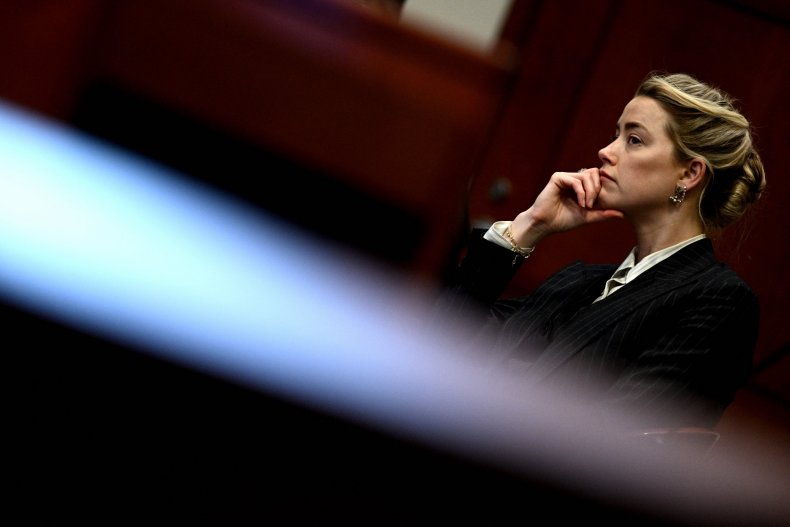 During Heard's time on the witness stand, she described how on the night in question, Depp had hit her, choked her and sexually assaulted her with a bottle during the argument. Heard also said she had taken a sedative and gone to sleep before the accident involving Depp's finger happened.
Heard's legal team contend that Depp injured his own finger and they also highlighted a text in which Depp states that he cut the top of his finger off.
What the experts said about Johnny Depp's finger
On Monday, hand surgeon Dr. Richard Moore, who has worked for over 25 years and performed "thousands of surgeries," was called as a witness by Heard's legal team. Having inspected the injury, his professional opinion was that the injury was not likely to be because of "a bottle being thrown from above." He stated that such an incident would not cause such an injury including "partial amputation."
When the orthopedic surgeon was questioned by Camille Vasquez from Depp's team, she pointed to his previous written testimony under oath that said, "I cannot rule anything out completely... I can't rule out that the injury was caused by a car door... I can't definitively say what caused the injury."
Depp's reactions have often caught the attention of viewers, and more specifically his fans, throughout the trial. He once again reacted with amusement as Dr. Moore gave testimony on Monday.
Private physician David Kipper testified and described his own experience with Depp after the finger incident. During the first week of the trial, he described how he saw blood and mess around the house before he accompanied Depp to the hospital. While Heard's team had said Depp's incident was a result of Depp being "intoxicated" for three days, Kipper suggested Depp was "stable" for the surgeries on his finger.
The Depp and Heard trial continues today as the final week of court proceedings continues. Follow Newsweek's live blog for all of the biggest breaking news coming out of Fairfax County, Virginia.