Chats With 'Picard' and What Else Star Trek Fans Can Expect From Comic-Con
With centuries of combined holodeck experience, Patrick Stewart and other Star Trek mainstays are set to dominate this year's Comic-Con, which will be held virtually in light of the ongoing coronavirus pandemic.
Comic-Con@Home will be held from July 22 through July 26, presenting more than 350 panels virtually, rather than from Comic-Con's traditional seat at the San Diego Convention Center. But the big day for Trekkers will be Thursday, July 23, which will be dominated by a sprawling Star Trek panel, details for which were shared by Deadline on Thursday.
The marquee Star Trek event scheduled for Comic-Con@Home will include Stewart's July 23 appearance in support of Star Trek: Picard, the first season of which premiered in January on the CBS All Access streaming service.
Stewart will be joined by other Star Trek actors, including virtual appearances by cast members from Star Trek: Discovery and the upcoming Star Trek: Strange New Worlds, in addition to the animated series Star Trek: Lower Decks, which will premiere in August.
The Comic-Con@Home Star Trek panel will begin at 10 a.m. Pacific on Thursday, July 23, opening with an overview from executive producers Alex Kurtzman and Heather Kadin, who oversee the expanding slate of Star Trek shows.
This will be followed by a virtual table read, featuring the full cast of Star Trek: Discovery reading, in character, the Season 2 finale.
Actor Sonequa Martin-Green, who plays Discovery protagonist Michael Burnham, will be joined by: Michelle Yeoh (deposed Mirror Universe Emperor Philippa Georgiou), Doug Jones (Commander Saru), Anthony Rapp (interdimensional mycologist Paul Stamets), Mary Wiseman (Ensign Sylvia Tilly), Wilson Cruz (Dr. Hugh Culber), Mary Chieffo (L'Rell of the Klingon High Council), Tig Notaro (engineer Jett Reno), Alan Van Sprang (Leland of Section 31), Jayne Brook (Starfleet Admiral Katrina Cornwall), plus the Discovery Bridge crew, played by Emily Coutts, Ronnie Rowe Jr., Oyin Oladejo, Patrick Kwok-Choon and Sara Mitich. Also slated to appear is Star Trek: Discovery co-showrunner Michelle Paradise and the finale episode's director, Olatunde Osunsanmi.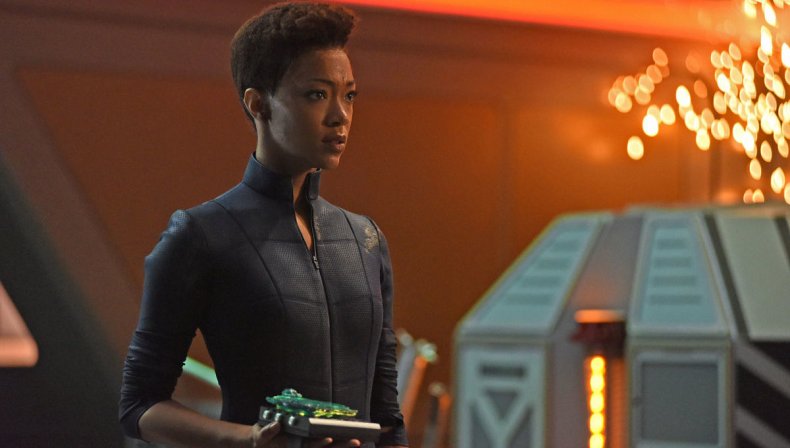 In the episode, the second half of the two-part "Such Sweet Sorrow," the Discovery and the Enterprise launch their final assault against a runaway AI called Control, which can only be defeated with the use of time travel.
In Star Trek: Discovery season 2, the titular ship teams up with the Enterprise of Star Trek: The Original Series, so actors Anson Mount (Captain Pike), Ethan Peck (Spock) and Rebecca Romijn (Number One) will also join for the table read. The trio's adventures will continue in the upcoming series Star Trek: Strange New Worlds, which we're likely to learn more about in the Q&A subsequent to the "Such Sweet Sorrow" reenactment.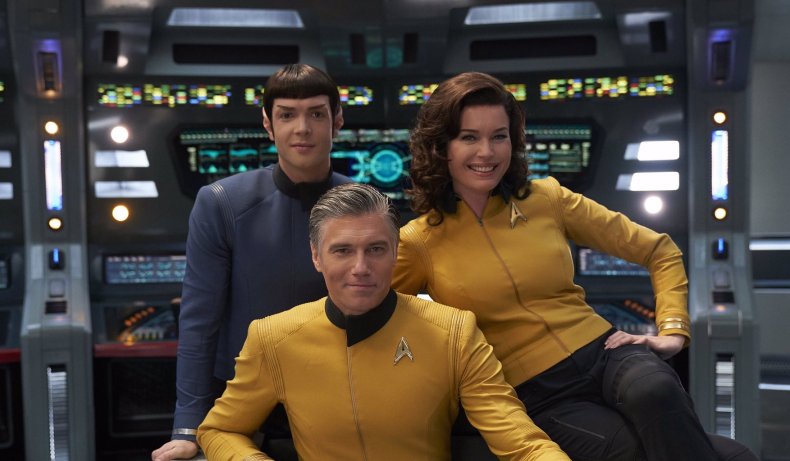 The Discovery table read will be followed by a panel with the voice actor cast of the upcoming animated series Star Trek: Lower Decks, to be moderated by the show's creator, Mike McMahan (Rick & Morty, Solar Opposites). The series is partly inspired by a Star Trek: The Next Generation episode called "Lower Decks," which follows the lives of Starfleet's lower ranks and service workers—the people not making commands or leading away missions.
McMahan has previously described the characters of Lower Decks, who serve aboard the U.S.S. Cerritos, as responsible for "second contact."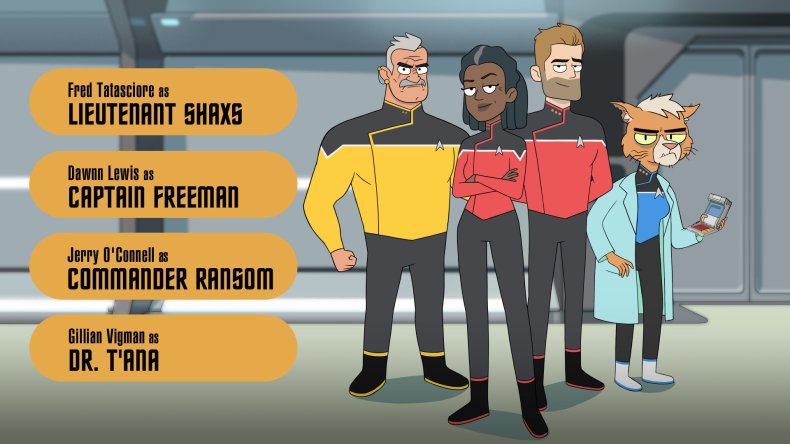 "Second contact, you're showing up to the planet, you're finding the good places to eat... you're like the Yelp of Starfleet," McMahan said at a 2019 Las Vegas convention.
McMahan and the voice acting cast will introduce an extended clip from the premiere episode of the series during their Comic-Con@Home panel. Star Trek: Lower Decks will premiere on CBS All Access on August 6.
Star Trek's Comic-Con@Home blowout will then conclude with the Star Trek: Picard panel, featuring not only Stewart, but also most of the rest of the first season's cast: Isa Briones (Dahj), Alison Pill (Agnes Jurati), Michelle Hurd (Raffi), Santiago Cabrera (Rios) and Evan Evagora (Elnor). Returning Star Trek: The Next Generation cast members Brent Spiner (Data), Jonathan Del Arco (ex-Borg Hugh), Marina Sirtis (Deanna Troi), Jonathan Frakes (William Riker) and Jeri Ryan (ex-Borg Seven of Nine). Expect to learn some of the first substantial details regarding the upcoming Star Trek: Picard season 2.
So tune in to Comic-Con@Home on Thursday, July 23, to check out the future of Star Trek.