Stacey Abrams on 'Star Trek: Discovery' Sends Fans Wild—'Brilliant Casting'
Sci-fi merged with the real world in the latest episode of Star Trek: Discovery when politician Stacey Abrams appeared in what some fans are calling the "best Star Trek cameo of all time."
Abrams may currently be running for Governor of Georgia, but the fiction fan and author is also a self-proclaimed Trekkie.
Viewers have reacted positively for the most part after seeing the Democrat appear in the franchise.
Abrams is perhaps best known as the founder of Fair Fight Action, an organization that addressed voter suppression and is credited with boosting voter turnout in Georgia during the 2020 presidential election.
The latest episode of Star Trek: Discovery, "Coming Home," was the Season 4 finale, and Abrams appeared as the "President of the United Earth." On Twitter celebrities, fans and critics have shared their reaction to Abrams' cameo online.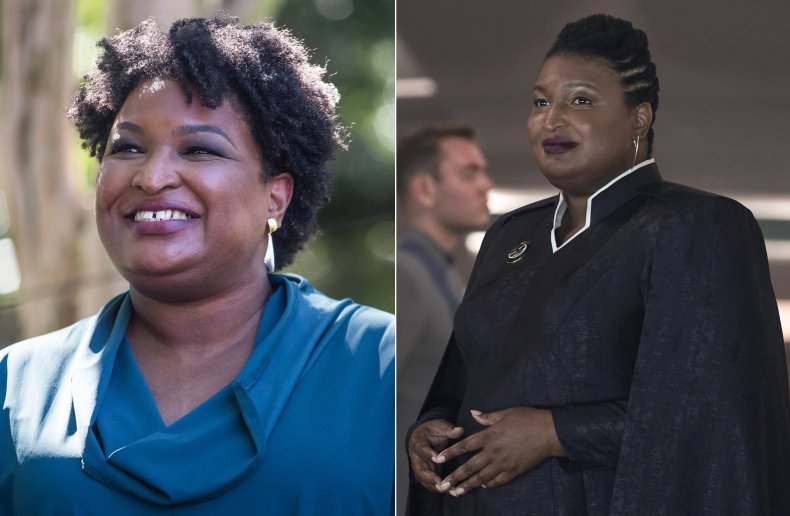 Stacey Abrams Role as President of the United Earth
Abrams didn't simply have a walk-on role in Episode 13 of Season 4 of Star Trek: Discovery, she had lines which were pivotal to the plot.
Meeting President Rillak (Chelah Horsal), Abrams' United Earth President brings her planet back into the federation. A clip of the scene has been viewed thousands of times, and shared by political reporters.
In terms of Star Trek pedigree, it's hard to find anyone more impressive than one of the original cast members George Takai.
He commended the "brilliant casting" and welcomed Abrams to the Star Trek family, whilst also making sure to include the Vulcan hand signal emoji.
He wasn't the only celebrity seemingly thrilled with the choice made by the Star Trek: Discovery team.
Community actress Yvette Nicole Brown included several heart emojis in her response but also commented on how thrilled Abrams herself will be as she's such a "Blerd"—a portmanteau for Black nerd.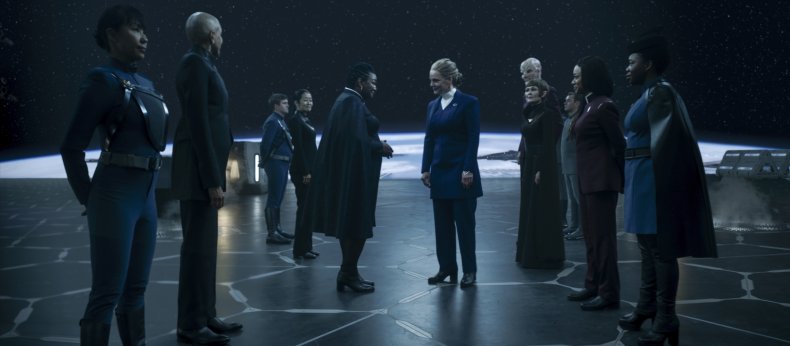 A number of people involved with politics commented on Abrams' cameo too, though the reactions depended on which side of the political divide they were on.
Political journalist Greg Bluestein explained on Twitter how the cameo made sense as "Abrams has appeared as a guest on fan shows and has talked extensively about how the show shaped her perspective."
Democratic nominee for Pennsylvania State Representative Johnathan Lovitz is also a self-proclaimed Star Trek fan, and wrote, "Black female Presidents. ...these are a few of my favorite things!"
Writer Robin Beth Schaer was equally as impressed with the brief appearance, definitively writing on Twitter, "Stacey Abrams as President of United Earth is the best Star Trek cameo of all time."
Those who seemingly disagree with Abrams as a politician were less impressed with the choice of casting. Several people voiced their disapproval on Twitter, including Siraj Hashmi, Lavern Spicer and Erick Erickson.
Abrams has yet to say anything about her own appearance on Star Trek: Discovery since the episode aired on Thursday, March 17. The episode and the rest of the season are available to watch on Paramount+ now.