'Star Wars: The Bad Batch' Release Schedule: When Do Episodes Come Out?
Star Wars: The Bad Batch has now released two episodes, which re-introduced fans to Clone Force 99 (and Omega) and took them on their first set of missions. The first episode came out of Tuesday, May 4, aka Star Wars Day, while the second instalment followed on Friday, May 7.
Bad Batch fans logging on to Disney+ on Tuesdays expecting to watch the latest episode, however, will be disappointed. Though the first episode aired on that day, this was a one-time release day to coincide with "May the Fourth Be With You."
The remaining 14 episodes are expected to air on another day of the week.
Star Wars: The Bad Batch release schedule
From May 7 onwards, episodes of the Star Wars show will air on Fridays. Usually, Disney+ releases episodes of its shows around 00:01 a.m. Pacific Time on the west coast. Elsewhere in the mainland United States, that means episodes will come out at 1:01 a.m. Mountain Time, 2:01 a.m. Central, and 3:01 a.m. Eastern.
When episodes come out in other countries and territories will depend on your time difference from the U.S.
So far, Disney+ has only released its schedule up to the end of June, which means we know the following release dates:
Star Wars: The Bad Batch Episode 3: May 14
Episode 4: May 21
Episode 5: May 28
Episode 6: June 4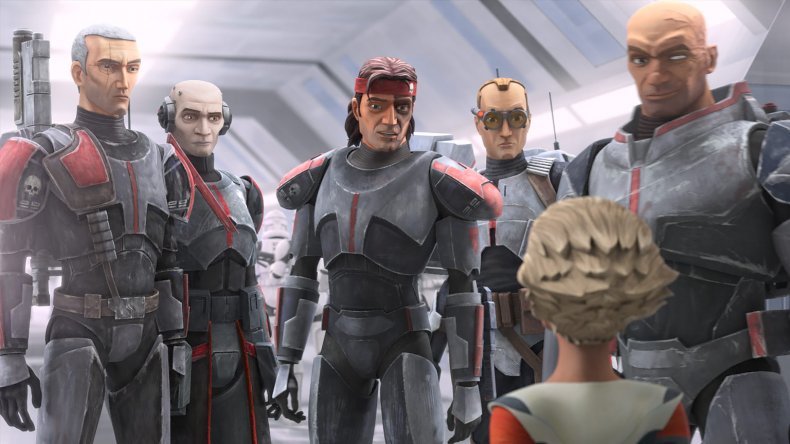 Assuming the show stays on this release schedule (and it seems likely it will, especially as Disney+ 's other major June show is now airing on Wednesdays) then the remaining episodes will air on the following dates:
Episode 7: June 11
Episode 8: June 18
Episode 9: June 25
Episode 10: July 2
Episode 11: July 9
Episode 12: July 16
Episode 13: July 23
Episode 14: July 30
Episode 15: August 6
Episode 16: August 13
So far, Disney+ has not released episode titles for any upcoming episodes of The Bad Batch, and fans should not expect any: we did not get any titles for episodes of fellow Star Wars show The Mandalorian until they aired.
Cast and crew have been dropping hints about what viewers can expect from the upcoming episodes, however. Per producer Brad Rau, Star Wars fans should expect more of a focus on Omega, the mysterious girl who joined The Bad Batch in the first episode.
He told Slash Film: "We do have a lot of action, we see them using their finely honed skills, certainly, but also how to deal with this more emotional situation [of raising Omega] is really, really interesting."
The show will also continue to explore the impacts on the galaxy of Order 66, an order from the Sith that ordered all Jedi to be executed.
Head writer Jennifer Corbett told GamesRadar: "As a history buff, I was drawn to that because I wanted to see what the early years of the Empire were like in terms of not only the clone troopers but also just the galaxy. It was fun exploring planets that were in favor of the end of the war and embraced the Empire, not knowing what that actually means."
The crew also teased that a few familiar faces from the Star Wars universe are set to appear in the show, including Freddie Prinze Jr.'s Caleb Dume from Star Wars: Rebels and The Mandalorian's Fennec Shand (played by Ming-Na Wen).