Forget the haters and ignore the disgruntled fan petitions—Disney's Star Wars reboot is here to stay.
Over the weekend, Episode VIII, The Last Jedi, raked in more than $220 million—the second-best opening for a Star Wars movie ever. That haul represents many generations of fans rushing out to buy tickets. But it also reflects a core demographic that is evolving with the new, inclusive era of Star Wars.
According to data collected by Box Office Mojo, the audience breakdown for opening night for The Last Jedi was 58 percent male and 43 percent female. That's a 10 percent jump in how many women attended opening night for The Force Awakens in 2015. That opening-night audience was 67 percent male, according to The Hollywood Reporter. (More women showed up to the box office in the weeks that followed.) Viewers are also getting younger—37 percent of those who turned out for opening night of The Last Jedi was 25 years old or younger. That's a big showing for young women for a franchise that has historically attracted boys and older men.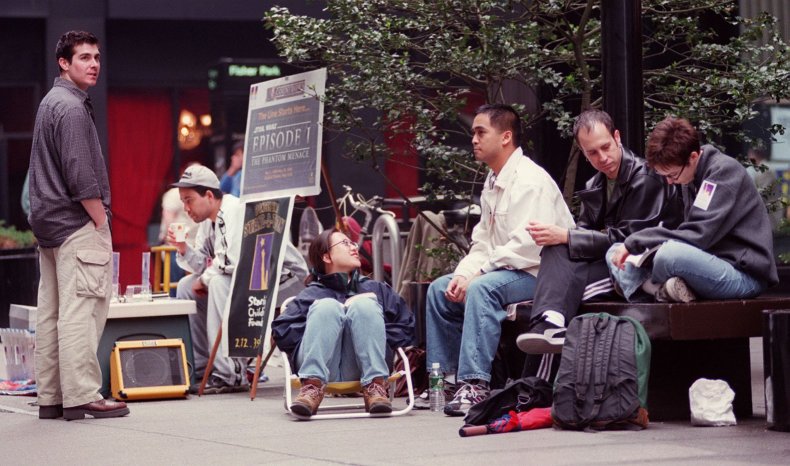 It's no accident.
"I love Rey. She's so brave, I love watching her," 16-year-old Faith Rodriguez told Newsweek while she waited for the rest of her friends to arrive at the AMC Empire 25 theater in Times Square Thursday night. Faith grew up watching Star Wars with her dad, but she didn't become a superfan until the new series. "I like The Force Awakens more than the first Star Wars," she said.
The first film in Disney's new Star Wars trilogy introduced Rey, the Jedi hero played by Daisy Ridley. And she's undoubtedly one of biggest draws for new, young female fans. "I gotta say, when I see a woman who is the lead in a big action film, I instantly felt more connected to the series," 18-year-old Addie Golden said.
Lisa Calagna, 29, agreed. She said she didn't get into Star Wars until late in life—her fianceé forced her to watch the films before they were married. But she thinks a character like Rey might have piqued her interest earlier. "My niece is 8, and she's obsessed with the films," Calagna said. "It's great to have that female role model. If I had [Rey], it might have helped me get into the movies earlier."
Make no mistake: Star Wars fandom still has a certain core demographic. At the Times Square opening-night screening, there were plenty of what one might consider stereotypical original film fans: pony-tailed white men in their 40s wearing Darth Vader shirts and swapping theories about Supreme Leader Snoke. There were a few women of that age range, too, hair done up in Carrie Fisher's famous Princess Leia buns.
But the appeal to women—especially younger women—is deliberate on the studio's part. After introducing Rey in 2015, Lucasfilm president Kathleen Kennedy, a vital female addition to the Hollywood's executive universe, promised even more "really strong women." And she has delivered, first with Ridley as Rey and Gwendoline Christie as Captain Phasma in The Force Awakens, and then Felicity Jones' starring role in the 2016 anthology film Rogue One. In The Last Jedi, the Star Wars universe finally gets a woman of color in its main cast: Kelly Marie Tran, who plays Rose, a Resistance maintenance worker who gets close to Finn (John Boyega).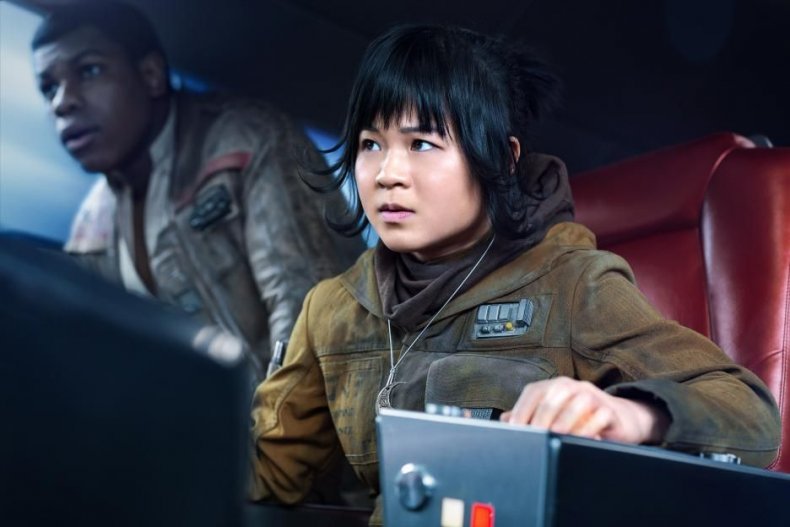 "Rose is so important to me, as the first main woman of color," said Chelsea St. Juniors, 29, who is black. "To see all my friends who are Asian so excited for Rose, it's amazing. Our time is now, basically!"
Disney being Disney, the company has put a lot of effort into promoting the new women of Star Wars through toys, clothes and other memorabilia. This, too, is new ground for the galaxy far, far away. Kate Fueyo, 21, and Alex Welch, 20, are screenwriting students at New York University and lifelong Star Wars fans. The attended the opening-night screening decked out in Star Wars shirts.
"I used to own like every piece of Leia merch they made, and it wasn't much," lamented Fueyo. Welch agreed, laughing, "Yeah, I had like the two Leia figurines you could find at Toys 'R' Us."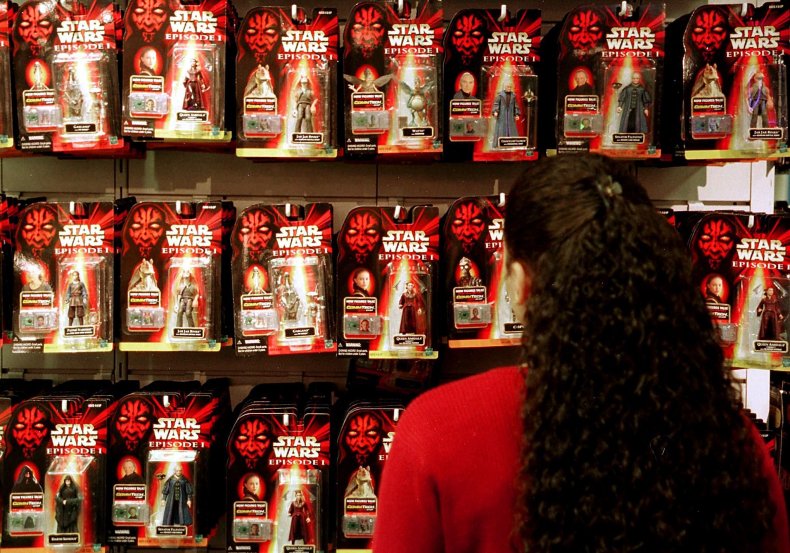 Today, girls can buy any number of Leia, Rey, Jyn, Phasma and Rose action figures. But even more important than the Rey toys, these new Star Wars movies are more accessible to every gender than ever before thanks to Twitter, Tumblr and Reddit.
"You can find Star Wars fans a lot of places, but social media helps you find specifically female fans who are on the same wavelength," said Fueyo. Welch agreed, adding, "Because of the internet, now I have friends who I can talk about Star Wars with all over the country. I have friends in Ireland, Scotland—I think that's pretty cool. And they're all women."
Star Wars' female fan base is not new. Women who love the original trilogy adore Carrie Fisher's Princess Leia, while viewers who grew up with the prequels had Natalie Portman's Queen Amidala. But as more and more female characters enter the Star Wars universe, it's not surprising that more and more women will show up and buy tickets—taking the place of the older, male fans who are so vocal about losing interest in the series.
And it's about time, say the die-hard women who have been there all along.
"Growing up, I was the only girl I knew who liked Star Wars," said Chloe Jandsten, 27, who was in full Han Solo gear for opening night. "Seeing a woman central on the Star Wars posters—even now it makes me tear up."