Starbucks Customer Horrified by 'Mysterious Clump' Allegedly Found at Bottom of Drink
Amid an onslaught of troublesome TikToks regarding the popular coffee shop, a Starbucks customer alleged that she received a beverage with a mysterious brown lump at the bottom.
Katie, also known as @katiewatsonnn on the video-sharing platform, uploaded wild accusation last week. Since posting, the video has been watched over 763,000 times and liked by more than 168,000 viewers.
Set to the Kreepa song "Oh No," Katie explains her alleged predicament using text overlay on the video. "Me innocently sipping my caramel macchiato from Starbucks," she writes. "Gets to the end and glances down at the cup..."
"WHAT IS THIS," Katie concludes, turning her camera to her drink. At the bottom of the cup sits an unidentified light brown lump. It appears to cover a third of the cup's base.
"@starbucks WHAT IS THIS IN MY DRINK," Katie captions the video.
A spokesperson for Starbucks said in a statement to Newsweek that, while the situation happened at "a licensee store ... owned and operated by Safeway," the coffee company is "investigating the situation."
Viewers flooded the comments to express their horror at the alleged situation. "IT LOOKS LIKE CHEWED GUM," one person wrote. "I literally work at Starbucks and I can tell u I have no clue what that would even be," another employee commented.
Some offered their insights on what the mysterious clump could potentially be. "Honestly I think they might [have] dropped a paper towel in it and it got soggy," one hypothesized. "It looks like the caramel froze into a clump," another offered.
While some also claimed that it could be the remnants from an aging dairy alternative milk, Katie confirmed in the comments that she ordered her beverage with "just the milk they usually use."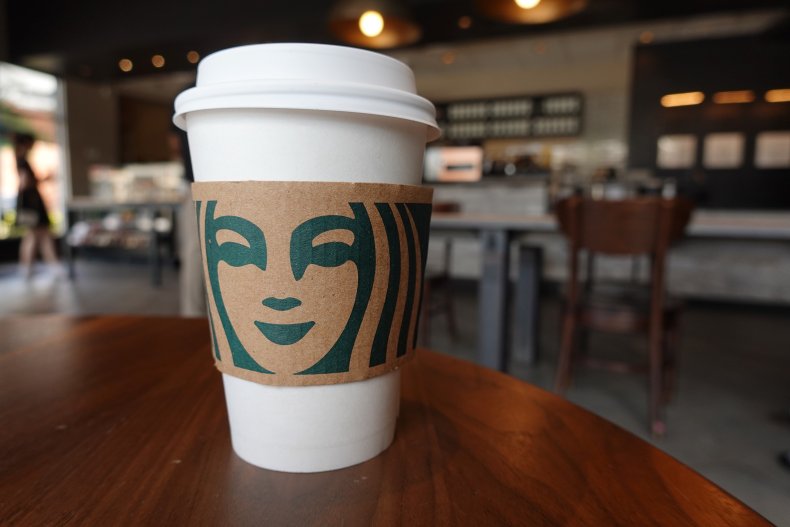 The official Starbucks TikTok account also caught wind of the allegations and wrote a comment urging Katie to get in touch with their corporate offices.
"We're concerned and urge you to call 1-800-782-7282 so that our customer service team can notify the appropriate teams. Thank you," the company wrote.
Katie later posted a video response expressing shock that Starbucks appeared to take her claims very seriously.
"The fact that Starbucks commented .." one viewer commented in surprise. "I can't believe they commented. They do that on every one of these types of vids," another added.
In a follow-up video posted the next day, Katie said: "So I called Starbucks and they basically said they would just notify the store that I went to, and then they gave me $7 credit."
Some viewers felt that Starbucks' reaction was not enough. "Starbucks: we're very concerned .. here is $7 ... what," one person wrote in confusion. "Bruh my brother got $50 gift card when this happened to him," another alleged.
Newsweek reached out to Katie and Safeway for additional comment on the viral allegations but did not hear back in time for publication.
Katie's viral video was published amid the company's nationwide shortage of fan-favorite drinks like the Very Berry Hibiscus Refresher and drinks using oat milk. One TikTok went viral showing that some baristas have been forced to purchase generic brands like Smucker's from the grocery store in order to meet customers' demands.
Earlier this month, a Starbucks employee also went viral filming herself taking different sandwiches and pastries out of her store's food display case and throwing them away, with on-screen vomiting emojis. According to the TikTok video, the food smells "funky" and "sour."
While the comments section expressed concern over customers choosing to eat the display food when they run out, the video also sparked conversation over the sustainability of it all, with many pointing to how much waste it produces, especially given Starbucks' 2016 FoodShare mission to reduce food waste across the U.S., with plans to donate unsold food from 100 percent of its U.S. stores.
Another video of a former Starbucks employee allegedly engaging in an angry conversation with a woman she claims was her manager has also gone viral. While the TikTok video does not encompass the entire discussion, which can be seen on YouTube and runs for some 16 minutes, the parts of the exchange featured offer a glimpse of their apparently frayed working relationship.