Starbucks Shortage Forces Baristas to Use Products Like Smucker's Caramel Sauce in Viral TikTok
As Starbucks faces a shortage of fan-favorite drinks due to nationwide supply issues, one TikTok has gone viral showing what some baristas have been forced to do in order to meet customers' demands.
The anonymous barista, known only as @walkienockie on the video-sharing platform, posted the video on Sunday, in which he claimed his undisclosed Starbucks location has reportedly resorted to purchasing off-brand ingredients in order to meet the high demand for specialty drinks.
The Starbucks employee posted the clips of a barren storage room, now with generic brands of syrups and other drink ingredients rather than the traditional Starbucks-branded ones. Alongside the off-brand peppermint and brown sugar bottled syrups, the TikToker highlights one unusual product—Smucker's Sundae Syrup Caramel Sauce.
The video, paired along with audio in which a woman repeatedly uses the phrase "the ghetto," struck a chord with Starbucks' fanbase on the app, quickly reaching over 300,000 views and more than 52,000 likes since posting. Many viewers were shocked at how dire the Starbucks shortage had become.
"Absolutely not ... tell corporate to reduce their prices," one commenter said. "I'M SO EMBARRASSED FOR Y'ALL," another exclaimed.
"My entire [For You Page] is Starbucks employees showing their stores collapsing," one shocked viewer even commented.
Other viewers remarked that this could explain seemingly sudden changes to the taste of their usual orders.
"NO BECAUSE MY $6 COFFEE DID NOT TASTE RIGHT TODAY," one person remarked. "That makes sense [to be honest] Starbucks tastes like chemicals and sadness," another claimed.
Several even used the comments to get tips from other Starbucks loyalists on how to make their favorite drinks at home, since none of their local spots have the ingredients to make specialty drinks like the Very Berry Hibiscus Refresher and the Vanilla Bean Frappuccino.
Some Starbucks employees also took to the comments encouraging viewers to make their drinks at home in an effort to mitigate the ingredient shortage.
"For everyone saying they're gonna make their drinks at home, please do," one barista desperately asked. "I'm literally on my break at Starbucks & we are running out of everything ... yet y'all still complaining," another said.
One employee even feared potential lawsuits on the basis of "allergic reactions" to ingredients that are found in the generic additives that are not present in the official Starbucks products.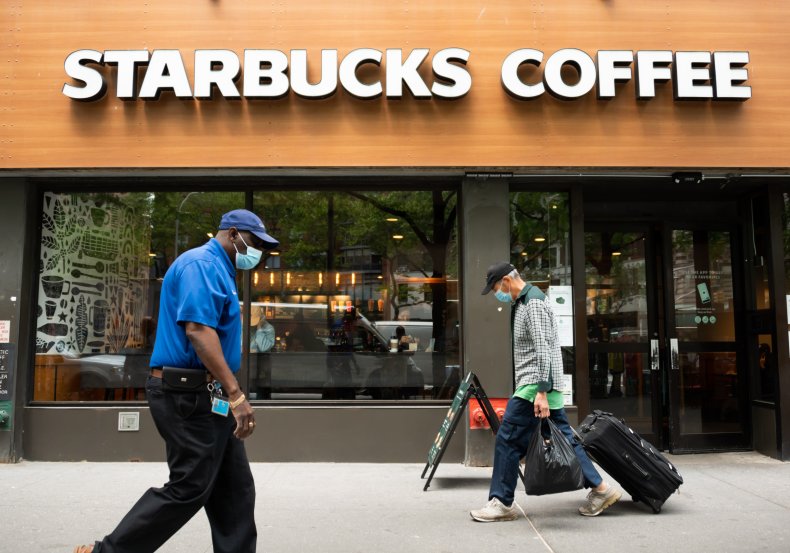 Starbucks responded last week to concerned customers on Twitter, confirming that its coffee shops across the country are experiencing supply issues.
"Some stores are experiencing outages due to the overwhelming popularity [of] menu items, and constraints in the supply chain," but Starbucks said that it is, "working quickly and closely with our supply chain vendors to restock items as soon as possible."
Newsweek has contacted Starbucks for additional comments on the nationwide shortages.
Many have also pointed to the popularity of viral concoctions and "secret menu" items shared on Twitter, Instagram and TikTok, which have led to an increase in specific drink orders. Last month on Twitter, hundreds of baristas got brutally honest with "selfish" customers whose very detailed orders drained resources and take a lot of time to create.
In fact, one spurned former Starbucks barista recently shared online that there were several occasions in which he would serve customers a decaffeinated beverage rather than the full-caffeinated one they ordered when he "felt like it." He has since been met with much negativity online.