Starbucks Drops Jewish Group Anti-Defamation League From Anti-bias Training Following Outcry
Starbucks will no longer be working with the Anti-Defamation League for its upcoming anti-bias training day following criticism from campaigners, according to reports.
The ADL, an organization which "fights anti-Semitism and all forms of hate" will still work with Starbucks as part of their long-running plan to combat discrimination, but will no longer feature in the nationwide training day for all members of staff on May 29, reports Politico.
The racial bias education training day, which will result in the closure of all 8,000 Starbucks stores in the U.S. and involve around 175,000 members of staff, was announced following worldwide outcry over the arrest of two black men who asked to use the bathroom without purchasing a drink while waiting for a friend at a branch in Philadelphia.
After a video of the incident went viral the company faced a huge backlash, with accusations of racism and racial profiling and tens of thousands of people calling for a boycott of the company.
It is unclear what prompted the decision to remove the group from the curriculum for the training day. However, the move to include the ADL as one of the organizations Starbucks will work with was met with criticism from activists and campaigners who accuse them of racism.
The group were also criticized for their anti-Palestine stance and unwillingness to support the Black Lives Matter movement.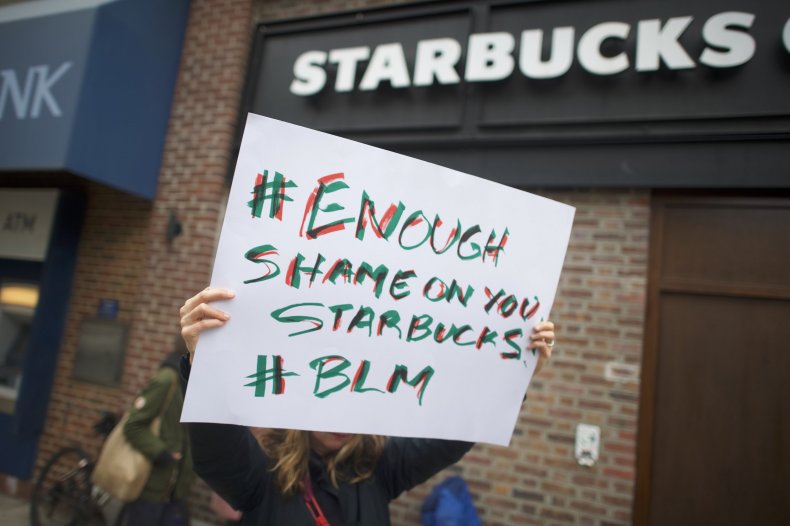 "So you are aware, Starbucks was on a decent track until they enlisted the Anti-Defamation League to build their anti-bias training," Tamika D. Mallory, activist and the national co-chair for the Women's March, tweeted in April.
"The ADL is CONSTANTLY attacking black and brown people. This is a sign that they are tone deaf and not committed to addressing the concerns of black folks. Be clear about what's happening here."
Cat Brooks, co-founder of the Anti Police-Terror Project, also told ABC News : "You can't be a piece of an anti-bias training when you openly support a racist, oppressive and brutal colonization of Palestine."
In a statement released April 24 giving further details on the upcoming training day, Starbucks named the ADL as part of a "diverse array of organizations and civil rights experts" that they will be consulting with as part of their long-term efforts to "deepen its diversity and inclusion efforts" in the upcoming months.
"When Starbucks asked for assistance, we agreed to help," ADL spokesman Todd Gutnick told Politico. "As to whether Starbucks may or may not now want to utilize our expertise, you should ask them."
Jaime Riley, spokeswoman for Starbucks, denied the decision to remove ADL from the training day plans was due to political pressure. "We are architecting a multi-phase approach to addressing bias," she said.
"It's important we get this step right, and we can't do that alone," Starbucks CEO Kevin Johnson said in a statement. "That's why we've brought together the top thought leaders in this space to help us make this impactful, scalable and lasting.
"Starbucks has sought engagement and counsel to ensure it has a broad historical view on race; access to diversity, equity, and inclusion (DEI) experts; views from civil rights leaders; and deep conversation and engagement with a wide number of diverse communities."