Starbucks Fired 19-Year-Old Union Leader for Allegedly Recording Harassment
Starbucks worker and union leader Laila Dalton said her heart was "broken" after the company fired her from a store in Phoenix, Arizona, on Monday.
The 19-year-old told Newsweek that she was fired after recording audio of alleged harassment and unjust reprimands from her managers, a pattern that began days after she started organizing a union at her store. She had been working for the company since she was 17.
Starbucks spokesperson Reggie Borges confirmed that Dalton was terminated for recording audio on her phone at work. Although Arizona is a one-party consent state, meaning that permission is not required for a person to record a conversation in which the recording party is present, Borges claimed that Dalton recorded conversations between managers on two separate occasions by leaving her phone in the room with them and walking away, meaning there was no one-party consent.
Dalton had previously recorded footage in which a Starbucks manager allegedly harassed her and pressured her to resign. The video was leaked by More Perfect Union.
"I don't deserve a write-up," she said while breaking down in the footage. "I close this store all the time. I do my best. I do [cleaning]. I ask for [cleaning]. I do everything and I get this? I get this 'improper call out' when I'm in the hospital? A 'call-out' a different time because my aunt died? You guys are, like, out to get me because I'm the only one that speaks up and it's not fair."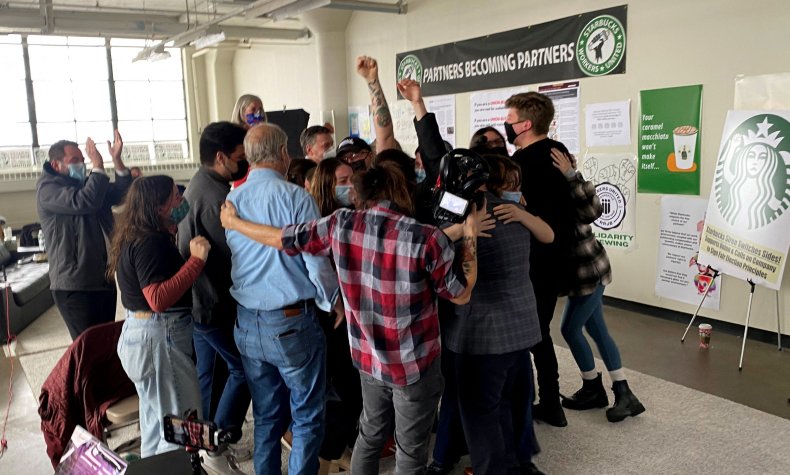 Dalton told Newsweek that she began recording videos because she felt unsafe at work. She said that managers first confronted her days after she handed out union ballot cards to her coworkers. A manager presented her with six months of supposed infractions that Dalton called "petty," including arriving nine minutes late once and texting instead of calling to report an emergency absence on her way to the hospital.
On Twitter, the Starbucks Workers United page said Dalton's firing constituted "blatant retaliation" for her union organizing efforts.
In March, the National Labor Relations Board (NLRB) issued a complaint against Starbucks for retaliating against Dalton, stating that she was disciplined for raising concerns about wages, hours and insufficient staffing. Dalton was fired one day before the NLRB sent union election ballots to the Starbucks store where she worked, she said.
Borges denied that Dalton's termination had anything to do with retaliation. "A partner's interest in a union does not exempt them from the standards that we have always held," he said. "We will continue enforcing our standards consistently for all partners."
But Dalton said that she had dedicated herself to the company and worked hard to become a shift supervisor. "Ever since the start I have been putting my all into this company," she said. "Starbucks is trying to enforce policies that we've never heard before. Now they're just firing people off the bat."
Within hours of her termination, Starbucks CEO Howard Schultz said in a town hall that companies throughout the United States were "being assaulted in many ways by the threat of unionization."
Since the first Starbucks location voted to unionize late last year in Buffalo, New York, 10 other stores have voted. The company's flagship store in Manhattan voted in favor on April 1 and became the largest Starbucks to unionize.
In February, another Starbucks union leader at the chain's first unionized store was fired after taking on a second job.
And last year, a video of a former Starbucks employee engaging in an angry conversation with a woman she claimed was her manager went viral.