Starbucks-Lover Carries Sanitizer Bottle of Pumpkin Spice Syrup in DIY Clip
A woman carrying alleged Starbucks pumpkin spice syrup around in a sanitizer bottle has gone viral for adding it to drinks despite the flavor no longer being in season.
The TikTok showcasing the viral moment, captioned, "Pumpkin spice all year round #pumpkinspice #pumpkinspicelatte #starbucks," has been viewed 2.7 million times since it was shared on February 19.
In the short seven-second clip posted by TikToker @222gigii, or Gigi, the video showed two hot Starbucks coffees in a travel carrier in a car, and the TikToker filmed as her mother took out a small travel container filled with amber liquid, the pumpkin spice syrup, squeezing it into one drink and then into the other cup as well as music played.
"When Starbucks doesn't have pumpkin spice anymore, but your mother carries the syrup everywhere she goes," the screen read and the words also said out loud.
In a 2021 Ipsos poll, it was found that one in five people in the United States enjoyed drinking a pumpkin spice latte at least occasionally during the fall. However, 46 percent have never had one and they don't want to either, and 22 percent of respondents don't like any pumpkin foods at all.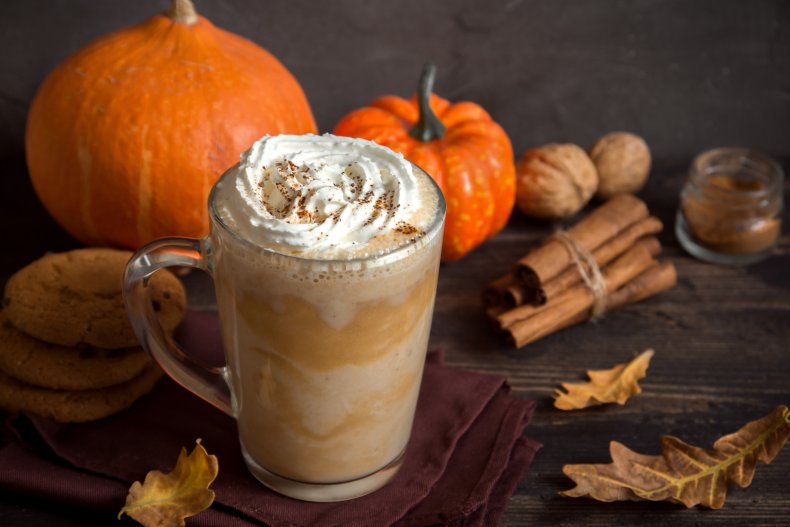 In two follow-up videos, the TikToker revealed where the travel containers were from as well as the syrup. The containers came from Amazon, and the syrup was bought off eBay. The large bottle alleged it's "Starbucks pumpkin spice flavored sauce" as well.
Some people weren't positive about what the liquid was being poured into the cups of coffee. "Thought that was hand sanitizer," a TikToker revealed.
Another viewer thought it was "a tiny bottle of ketchup at first."
Many other people weren't sure about the liquid either. "You scared the living crap out of me, I thought this was dish soap," a TikToker added.
But some seemed to appreciate the DIY hack. "Can I be friends with your mom Lol?" a user asked.
A TikToker thought the woman is "definitely onto something! I might just have to do this."
While some viewers can relate to the situation. "I used to carry my own salt for salted caramel fraps 'cause they were always out," a TikToker pointed out.
However, not everyone agreed with the move. "I really don't understand why everyone likes pumpkin-flavored coffee," a viewer expressed.
Other people had comments like, "She's literally Buddy the Elf," and "Your mom is the queen of all the basics. We bow to her."
Newsweek reached out to @222gigii for comment.
Updated 03/10/2022, 4:56 p.m. ET: This story has been updated with a verified video of the incident.