Starbucks' Union War as Activists Launch 'Pumpkin Spice Labor' Movement
On August 30, Starbucks' signature Pumpkin Spice Latte came back on the coffee chain's menu for the 19th consecutive year. The velvety, sweet drink has become a symbol for the joys of fall, and a way to mark the arrival of the new season after a summer of iced coffees.
But this year, the familiar name has been hijacked by a group of young activists, who have transformed it to stand for much more than just a well-loved drink. Under the hashtag of #PumpkinSpiceLabor, young activists are asking Starbucks' customers to stand by the chain's baristas who have unionized to get better conditions from their employers.
"Starbucks' new pumpkin-flavored drinks are back, and as their recent TikTok states, 'it's PSL season.' Little did they know, it's not Pumpkin Spice Latte —it's Pumpkin Spice Labor," said Elise Joshi, an activist representing non-profit Gen-Z For Change, in a video on TikTok.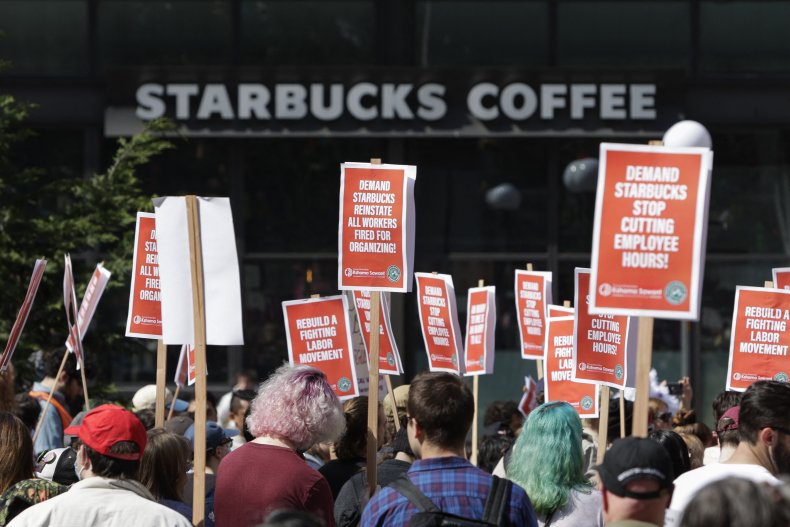 The video, which Starbucks Workers United incorporated in a duet, was watched by nearly 25 million people.
What the activists are calling for is not a boycott of Starbucks. They are asking the public to get involved to support unionized Starbucks workers, using those three bucks they would spend on a Pumpkin Spice Latte to donate to Starbucks' employees and unionized stores.
"For the past few months, Gen-Z For Change has been closely monitoring the developments surrounding SB Workers United," said Jack Petocz, an activist with Gen-Z for Change, which tackles climate change, political, labor and other issues.
"We're inspired by their organizing, advocacy, and resilience in the face of union-busting efforts by Starbucks. We want to support them in any way that we can, so we decided to utilize the current craze of pumpkin spice to fundraise for their co-worker aid fund," Petocz told Newsweek.
While in other companies workers have struggled to organize into unions despite repeated attempts —one example being Amazon—, some 220 individual Starbucks stores across the U.S. are now officially unionized after the first victory of a Buffalo branch in December last year.
But since then, Starbucks has initiated negotiations with only three of the more than 200 unionized stores, a move that reflects the company's decision to deal with each union individually rather than as a collective. This strategy has been harshly criticized by unions as an attempt to delay reaching a contract with all unionized stores, a move that could discourage the formation of new unions.
Starbucks had 8,947 company-operated and 6,497 licensed stores in the United States in 2021, according to Statista.
Baristas have also complained of Starbucks offering raises and promotions only to non-unionized workers —a move that's been condemned as illegal by federal labor regulators. In a statement, the coffee chain said it was required under federal law to negotiate changes in wages and benefits with the individual unions and that it could not unilaterally make changes, as it does in non-union stores.
Starbucks Workers United, the upstart union, has also accused Starbucks of union busting: firing union leaders and closing unionized stores to weaken the workers' movement.
Similar accusations have been made against the coffee chain by the regional director of the National Labor Relations Board in Buffalo, N.Y., who issued a complaint against Starbucks for 29 unfair labor practice charges that included over 200 violations of the National Labor Relations Act.
"The complaint, issued by the NLRB Regional Director in Buffalo, involves important issues," Starbucks spokesman Reggie Borges said in a statement to CNBC in response to the claims in May.
"However, Starbucks does not agree that the claims have merit, and the complaint's issuance does not constitute a finding by the NLRB. It is the beginning of a litigation process that permits both sides to be heard and to present evidence. We believe the allegations contained in the complaint are false, and we look forward to presenting our evidence when the allegations are adjudicated."
Newsweek has contacted Starbucks for comment, but has not received a response.
Starbucks' employees —whom the company refers to as 'partners'— say they're underpaid, undertrained and poorly treated. Finn, who has worked for Starbucks for four years and is now part of a unionized store, said the past two years were particularly hard for the company's baristas.
"I was one of the first people who came back after my store opened after the initial month-long [COVID] shutdown," Finn told Newsweek. "I used to live in Kalamazoo, Michigan, and I worked at the one store out of five that had reopened. And we were funneling all of the traffic from every other store for two months. Customers are different now. Customers are a completely different breed than they were before in the pandemic."
Asked about how the customers are different now, Finn referred to a "sense of entitlement" as the pandemic had made people take for granted the kind of at-your-door service that was the standard during the COVID-related shutdowns.
"There's definitely a convenience factor that the general public and consumers have tapped into that doesn't take into consideration the people providing those services, I think," they added, only wishing to give their first name.
Finn is now a barista at the unionized Chicago store at Clark & Ridge. The store voted to join the SB Workers United union on May 25.
"We have incredible camaraderie at our store," Finn said. "I adore the people that I work with. And we would often spend time going to the bar down the block after work and doing trivia nights. And it started becoming this thing—what if we unionized? Things haven't been so hot lately. What if we got together and did some sort of collective action?"
"We were able to start the union planning process late March, I believe, and by May 25 we won our election," they added.
But employees at the Clark & Ridge store have reported that, since unionizing, Starbucks corporate has cut their hours, forcing them to do more on the floor with fewer people.
"We have several openings at this store but have been denied the ability to hire. These reduced hours and personnel have led to reduced cafe and mobile hours, slower drive times, and a lack of customer connections," the store's workers wrote on a GoFund me page set up to support striking workers.
"Starbucks Corporate refuses to work with us on what we need to run our store properly. Because of this, we have decided to strike."
The store first went on strike in July and then again on August 30, but Finn said Starbucks didn't engage in negotiations with the workers, despite issuing a statement in support of striking employees.
But Finn is glad the unions have the support of activists, and the general public.
"We are lucky enough to have a lot of community support," they said. "When we've done community outreach, our shows of solidarity, we will have a lot of people come out and some of them are local older people. Some of them are local public officials who are coming out and supporting us," Finn said, adding the former Starbucks baristas often join in excitement about the company's workers now taking action.
Finn's store was tagged under the #PumpkinSpiceLabor hashtag, and they jumped on the chance to promote their union's cause. But it's unclear how Starbucks feels about the initiative. The coffee chain has not directly addressed the issue, but Petocz says his account has been blocked by Starbucks on Twitter.
"Yes, Starbucks has blocked me for calling them out for union-busting," he said. "This is a common tactic their social media team utilizes, which is quite sad, to be honest. I've been a customer of Starbucks for many years, but they evidently do not value my opinion."
Petocz said #PumpkinSpiceLabor has raised $400 until now but the movement will continue to boost this initiative throughout the fall months. The contributions will go to support the needs of workers striking.