Starbucks Worker Arrives on First Day to See Staff Strike: 'I Joined Them'
A new Starbucks employee said she arrived for her first day of work to find the store's entire staff on strike.
Mikey said she showed up on Friday for her training at the Starbucks store on Genesee Street in Cheektowaga, New York, a suburb of Buffalo. She captured what she saw and posted it under the username @mikeys_titanic on TikTok, racking up over 675,000 views. You can view it here.
"Just got hired at Starbucks," Mikey said in text over the footage. "Arrived and the workers are on strike outside the entrance."
The astonished new employee asked the internet if she "should pick up a sign."
She updated viewers in a follow-up video later that day, seated next to a worker while showing off her new outfit: a union T-shirt covered with images of picketers.
"I joined them," Mikey announced.
In another video, the new employee shared a pamphlet explaining the strike, which lasted from July 29 to July 31. The Genesee Street Starbucks was the fourth Buffalo area location to go on strike in July, according to WKBW-TV.
The union's flyer read, "We, the workers at 4255 Genesee St. Starbucks are going on strike over Starbucks' lack of appreciation for our hard work and continued unfair labor practices from the local to the national level."
The store's workers detailed conditions including understaffing, which led to overworked baristas and shift supervisors along with frequent early closures of the store due to lack of staff, cutting the workers' paid hours. They said that requests for transfers to other stores were often denied, forcing employees to quit and find other jobs.
Some people were scheduled to work six days in a row of only short shifts because the business refused to provide 30-minute breaks, according to the pamphlet.
The Genesee Street store became the second Starbucks to unionize in the United States in January, following the store in December in Buffalo, New York.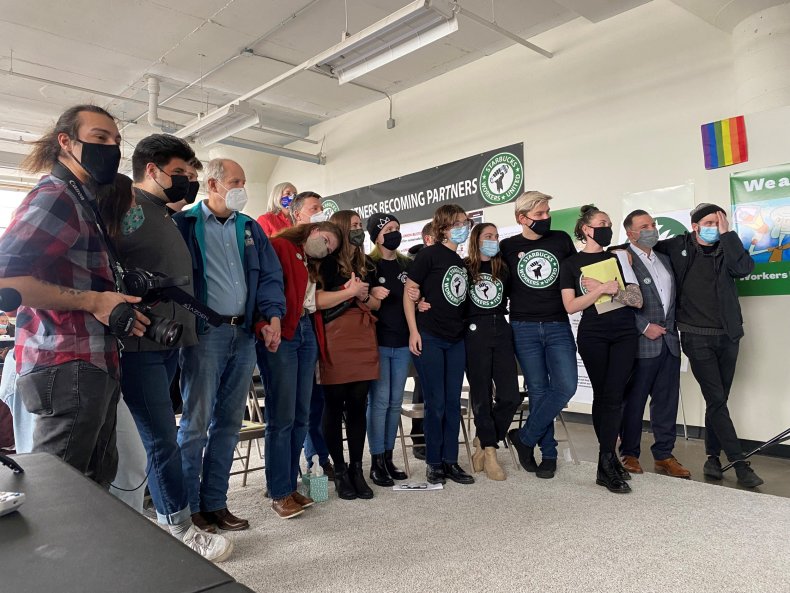 Starbucks is currently being prosecuted by the National Labor Relations Board (NLRB) in Buffalo, which has accused the company of 29 unfair labor practice charges including over 200 violations of the National Labor Relations Act. The complaint details allegations that Starbucks interfered with, restrained or coerced employees who were seeking to unionize.
On TikTok, Mikey's viewers cheered her decision to start the job by joining a strike.
"Day 1 of training, learn your rights!" said one comment.
"If [you're] hired it's [your] union too," another user agreed.
Newsweek reached out to Mikey and Starbucks for comment.