The Status of the Paris Attacks Suspects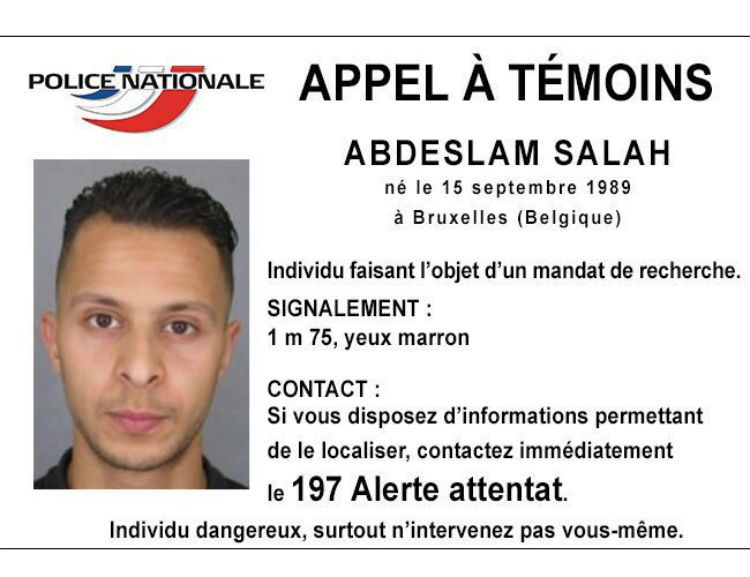 The following information on the suspects in the November 13 shooting and suicide bomb attacks in Paris is based on statements by French and Belgian police and government officials, unless otherwise noted.
Dead:
Abdelhamid Abaaoud, 27.
The suspected Belgian orchestrator of the shooting and suicide bomb attacks was one of two people killed during a police raid on an apartment in Saint-Denis on November 18, the office of Paris prosecutor Francois Molins said. He was believed to be in Syria and French authorities said on November 19 that they had received no information that he had returned to the country before the attacks took place.
French Interior Minister Bernard Cazeneuve said Abaaoud had a "decisive role" in the suicide operation and had already been involved in four of the six plots to commit atrocities on French soil since the start of the year. Belgian authorities previously jailed him in 2010 for armed robbery before he left to join the Islamic State militant group (ISIS) in Syria.
Brahim Abdeslam, 31.
Abdeslam, a French national who lived in Belgium, detonated an explosive device at the Comptoir Voltaire café, wounding several people. He was himself an owner of a café in Brussels, named Les Beguines. He lived in the Brussels district of Molenbeek, known for its links to a number of jihadis.
Ismail Omar Mostefai, 29.
French national of Algerian descent, Mostefai was one of the attackers at the Bataclan theatre where 89 people were killed, the deadliest incident on the night of November 13. He detonated a suicide vest and killed himself after entering the venue with a Kalashnikov. Mostefai was identified by his fingerprints. He was born in the town of Courcouronnes in the Essonne department, south of Paris, and later lived in the town of Chartres. He was a frequent attendee at a mosque in the nearby town in Lucé, 60 miles from the French capital. He had a series of prior convictions for petty crime and French authorities had flagged him as a radicalized individual in 2010.
Samy Amimour, 28.
Amimour was one of the gunmen and suicide bombers at the Bataclan, killing himself in the attack. A French national of Algerian descent, Amimour lived in the northern Paris suburb of Drancy. He had planned to travel to Yemen but his attempt was stopped in October 2012 by police, who investigated him for a terror-related offense and placed him under judicial supervision . However, he was able to travel to Syria in 2013 in violation of a travel ban.
Bilal Hadfi, 20.
Hadfi was one of three suicide bombers to attack the Stade de France, the country's national football stadium, but his device killed nobody. He had travelled to Paris from Belgium in a rental car. He was a French national, but was raised in Belgium and studied in Brussels. He had travelled to Syria to join ISIS and assumed the nom de guerre Abu Moudjahid Al-Belgiki. Belgian security services were monitoring him for months using a wiretap on his house, a Belgian justice ministry spokesman told Politico .
Hasna Aitboulahcen, 26,
A French-Moroccan citizen who was the cousin of Abaaoud, she was reportedly killed when she detonated an explosive vest as French police raided the apartment where she was holed up with Abaaoud, three French police officials, speaking on condition of anonymity as the investigation into the attacks was ongoing, told the Associated Press . She grew up in the Paris region. In blowing herself up, she became the first ever female suicide bomber in Western Europe.
Dead but unidentified
Second of three suspected Stade de France suicide bombers.
A Syrian passport was found next to body of the second male bomber, which claimed his identity was Ahmad Al Mohammad, 25, but this remains unconfirmed by authorities as the passport may be a forgery . The passport was used to travel from the Middle East to Greece, through Macedonia, Serbia and then Croatia, officials from the respective countries told the Associated Press .
Third of three suspected Stade de France suicide bombers.
The seventh attacker to die in Friday's attacks, and the sixth to be killed by a suicide bomb, is yet to be identified or named by French or Belgian authorities.
At large:
Salah Abdeslam, 26.
Belgian national Abdeslam has been a fugitive since the attacks and French police have issued an international arrest warrant for him. He was stopped by police on a French motorway with two other accomplices heading to Belgium on Saturday morning but was allowed to continue as his connection with the attacks had not yet been revealed.
A black Volkswagen car used by a team of gunmen in the attacks was rented under his name. Reports have emerged that Abdeslam may have decided against carrying out the attack and fled to Belgium instead. He grew up in the Molenbeek district of Brussels, where a number of the attackers resided, according to Belgian authorities. He was a tram engineer by profession.
Possible ninth attacker
French authorities discovered surveillance footage that possibly showed a ninth attacker, the BBC reported citing anonymous French security sources. The video reportedly shows a third person in a rental car used by one team of gunmen to attack a number of Parisian bars and restaurants.
Detained:
Mohammed Amri, 27, and Hamza Attou, 21.
Belgian police detained the pair for questioning after they were believed to have driven from Paris to the Brussels district of Molenbeek with Salah Abdeslam after the attacks. They were arrested with five other people. Mohammed Abdeslam, the brother of Salah and Brahim, was released after questioning along with the four other suspects.
Detained but unidentified:
Belgian police arrested nine people in nine separate raids of properties across Brussels on November 19. Seven of those were detained because of suspected links to Hadfi, according to Reuters .
In France, police arrested 25 people in connection with the attacks in raids across the country on Sunday, Cazeneuve said.
In the police operation to target Abaaoud at a Paris apartment on Wednesday, French authorities arrested eight people.The following information on the suspects in the November 13 shooting and suicide bomb attacks in Paris is based on statements by French and Belgian police and government officials, unless otherwise noted.
This file will be updated as and when new information is known.