Drought Exposes Steamboat That Sunk in Missouri River Over 100 Years Ago
A century-old steamboat wreck has been uncovered in the Missouri River after its water levels dropped dramatically due to drought.
The steamboat, known as the North Alabama, sank in the Missouri River in 1870 near Goat Island, which spans the border between Nebraska and South Dakota. According to Missouri River National Park, the steamboat sank as it was bringing cargo worth $12,000 worth of flour and whiskey (at the time) from Sioux City, Iowa to Montana.
"It wasn't until 1904 that the North Alabama was exposed again and now when the water is low and the sands of time have shifted you might be able to catch a glimpse of her wreckage when you are out on the Missouri National Recreational River," said the Missouri National Recreational River in a Facebook post.
The boat is only visible now due to the reduction in water levels in the Missouri River as a result of the drought facing areas of Nebraska and South Dakota.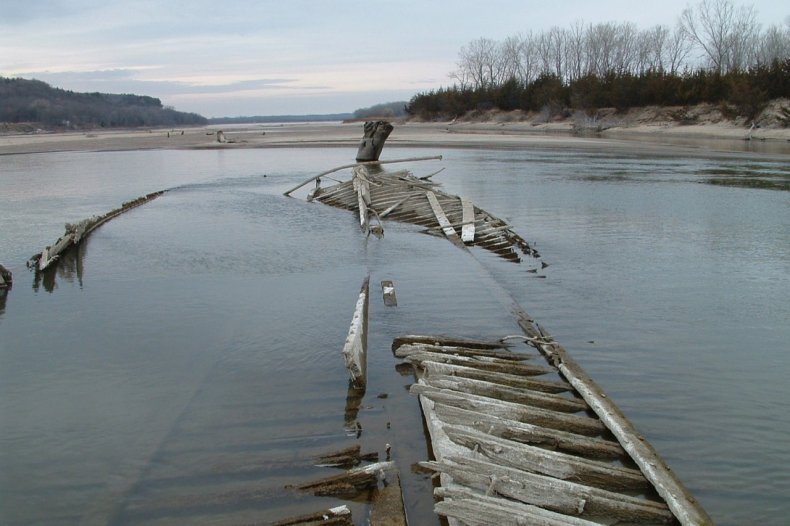 Cedar County in Nebraska is currently experiencing "Severe" drought in its northernmost section, where the wreck is found, and "Extreme" drought in its southern third, according to the U.S. Drought Monitor.
Large portions of the rest of the U.S. are also currently in some degree of drought: 64.43 percent of the continental U.S. is categorized as somewhere between "Abnormally Dry" and "Exceptional" drought, with 13.05 percent of the contiguous U.S.'s area being in either "Extreme" or "Exceptional" drought.
This intensely hot and dry weather has resulted in other strange things being found in bodies of water, previously hidden beneath the waterline.
In Lake Mead, which in 2022 has dropped to its lowest water level since it was constructed, five separate sets of human remains have been discovered. Many are suspected to be drowning victims, however, the first body that was discovered on the lake's shores was found inside a barrel, and was riddled with bullet holes, leading authorities to suspect the person may have been a victim of organized crime of some sort.
One Texas river that dried up revealed traces of a different dead creature: dinosaurs. The drought-dried Paluxy River, which usually flows through Dinosaur Valley State Park in Texas, revealed previously unseen dinosaur footprints on the riverbed.
Worldwide, there have been countless more cases of weird and wonderful things being found in the aftermath of drought. In China, an ancient island that is normally submerged in a lake was visible much earlier than normal as a result of dry conditions in China's largest freshwater lake, Poyang Lake.
In Spain, the dried-up Valdecañas reservoir revealed a prehistoric stone circle, usually completely submerged, dubbed the "Spanish Stonehenge." Also in Spain, the ruins of an 11th-century church were unveiled by receding water levels.
"Normally, you can only see the bell tower," one tourist told The Guardian.