Woman Finds Steamy Letter From 1895 as Man Describes His 'Volcano of Love'
A woman has stumbled across a saucy love letter written in 1895, with its author seemingly referencing a night of passion with his lover.
Chelsey Brown is an unofficial "heirloom investigator," who reunites lost treasures with living family members.
Brown, from New York, was browsing at a flea market, which she often does in her role as an interior decorator, when she came across the typed letter, two-and-a-half pages long.
It piqued the interest of the 28-year-old, who claimed it's one of the most suggestive she's found.
Written in 1895, the steamy prose is from Clayton, who calls himself Clate, to one Marie.
Brown picked out excerpts from the love letter, with Clate writing: "I have caught myself lately two or three times in the act of caressing you in public and I must watch myself."
While he also references the "volcano of love burning within him," and adds: "When I get blue moods and say naughty things do not think for an instant that I doubt your love for me."
And possibly referencing the illicit nature of their unmarried relations, he wrote: "It was a close shave last night and you must not hold me quite for close next time, darling, or your boy will have to shamble home in a street horse car."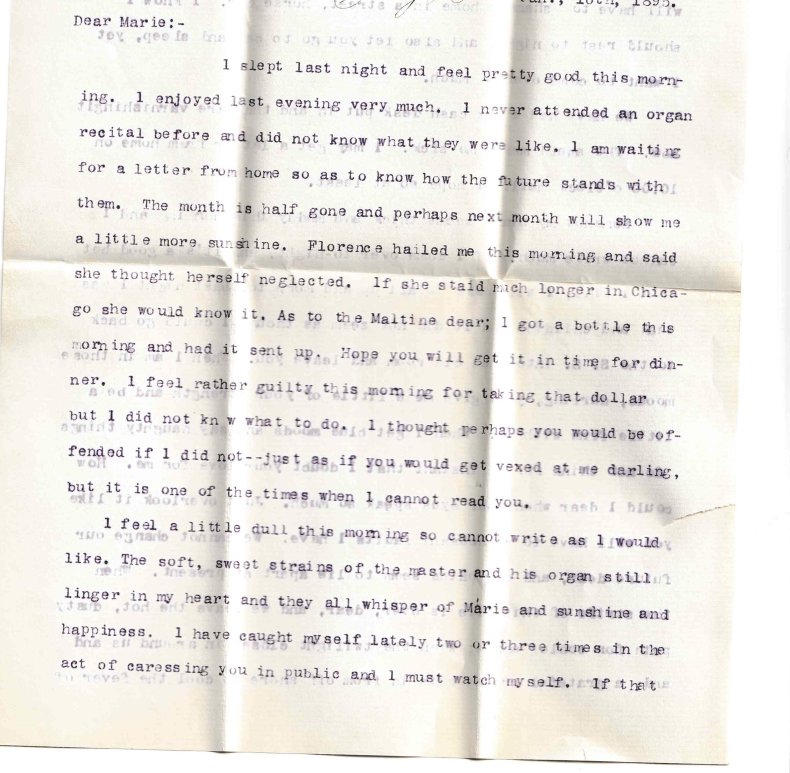 While he notes: "I know I should rest tonight, and also let you go to bed and sleep, yet I want to come over so much."
Brown told Newsweek: "I think this has to be one of my favorites because of how "suggestive" it was for the time. I also love Jane Austen, and the way "Clate" speaks reminded me of a male figure in one of her books.
"I mean, men just don't talk like this any more. These letters give me a high-standard for love, haha! I've returned many love letters, but this is definitely the most risqué out of all of them.
"From the letter, it seems he had just spent the previous night with her."
But it wasn't a fleeting affair or a one-night stand, as Brown dug a little deeper, and discovered the lovers ended up getting married.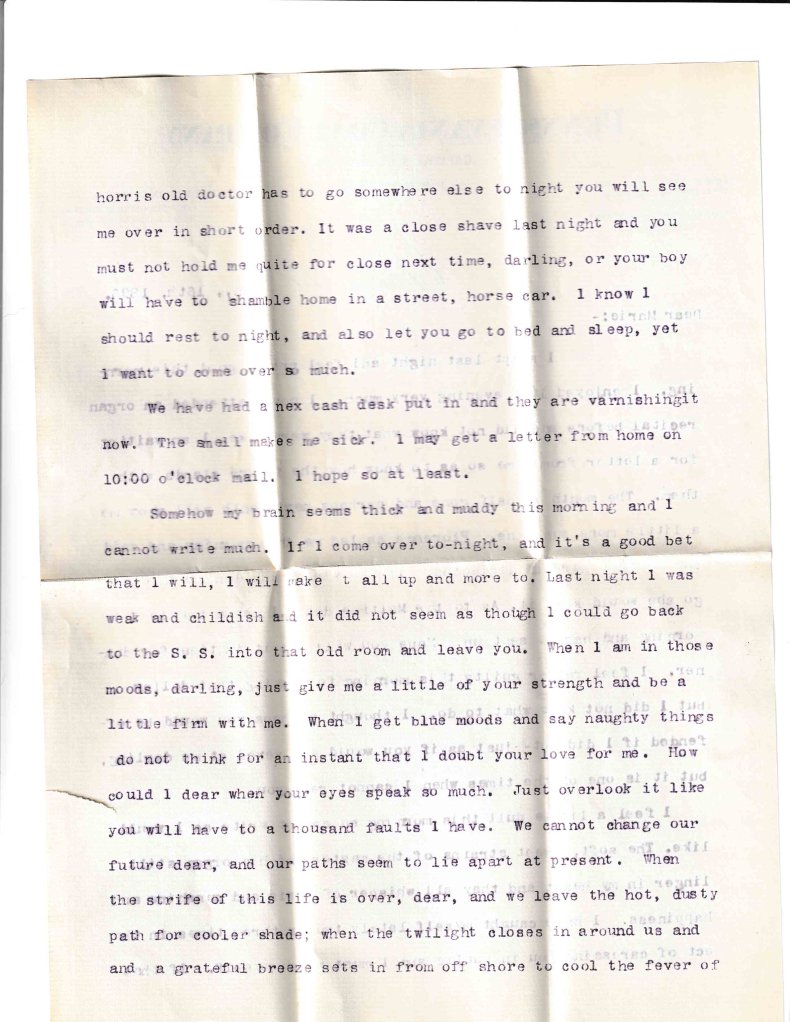 Brown continued: "The letter was written in January 1895 and they got married on March 9th, 1895. They moved to New York and had their daughter, Evelyn, in 1897.
"Evelyn married in 1921 and had her son, Robert, in 1924. Robert had 4 children.
"So, Robert was their grandchild and they had 4 great-grandchildren. Marie died in 1927 at 59 years old and her husband died in 1954 at 87 years old.
"Marie died a day after having an operation after feeling ill for a while. Clayton and Marie remained married for the rest of their lives. Evelyn died in 1992 and lived to 95."
Brown is currently trying to track down Clate and Marie's descendants to reunite them with the letter, and has returned hundreds of items to other families over the years.
Speaking about how she got into it, Brown said: "My dad is a genealogist and growing up I saw him help families from around the world for free, not only help them with find heritage but also help them fill in the missing pieces of their family history. Because I am an interior decorator, I thrift often and it always broke my heart seeing a family heirloom in some box at the flea market instead of with its rightful family.
"Collecting and returning these heirlooms is really the only way to connect with those people from our past, and there's something so beyond special about that. It makes me so excited when I reach out to a family and they are over-the-moon about the heirloom I've found. It just makes it all worth it!
"I've found and returned everything from love letters, books, portraits, photographs, photo albums, postcards, diaries, degrees and more. Mid-19th century is probably the era of the oldest items I've returned. A few weeks ago, I returned love letters from the 1960s to the direct recipient (78 years).
"She never received the letters so when I gave them back to her, that was actually her first time reading the letters which was very emotional for her. I also recently returned a letter from the Holocaust to its rightful family. It's hard to pinpoint which returns are my favorite as they are all meaningful and emotional in their own right."
Brown shares her treasures on her Instagram page, @citychicdecor, including the love letter, with her finds amassing thousands of likes.
"While I love design, there's something so special about these heirloom returns. I love being able to do what my dad loves to do, and I love changing people's lives with these returns," she said.
Brown, who used MyHeritage to track down the family tree, added: "I want people to know that anyone can get into genealogy and family history (whether their own or someone else's) if they're interested.
"I find the genealogy platform MyHeritage really resourceful, easy to use, and you can find tons of fascinating and useful documents (if people want to start doing what I do!) Their records go back hundreds of years which has been super helpful with my research. I couldn't do what I do without them!"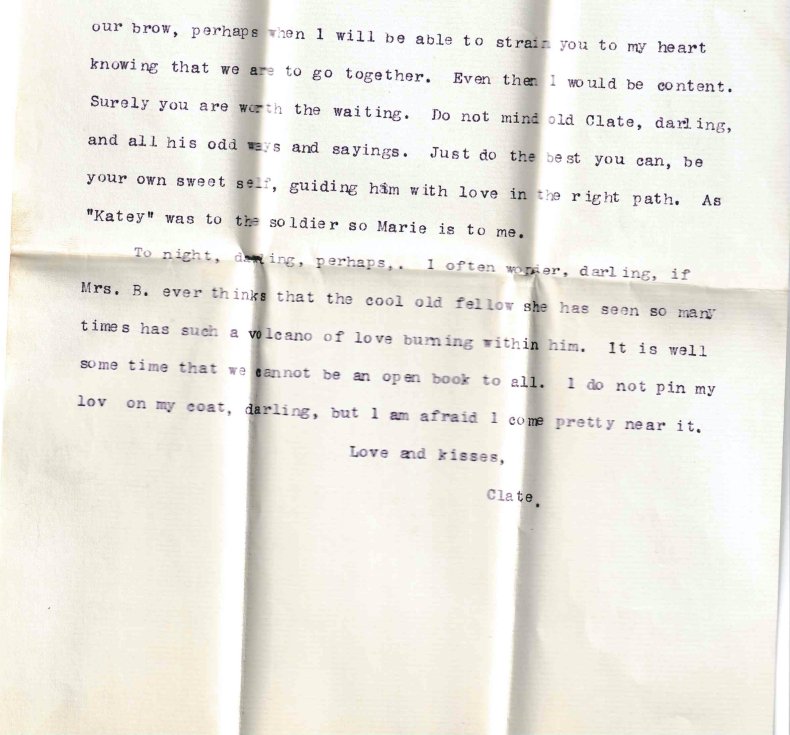 Update 12/23/21, 7:56 a.m. ET: This article was updated with an additional comment from Brown.