Stephen Colbert Mocks Donald Trump's 'Jaw Dropping' Georgia Phone Call
President Donald Trump's leaked phone call to Secretary of State Brad Raffensperger of Georgia is the subject of much discourse as numerous comedians and celebrities mock the incumbent's attempts to overturn the election results.
One person who had plenty to say about the situation was Late Night host Stephen Colbert, who lambasted Trump in his Monday night monologue.
"Happy New Year! 2020 is over!" Colbert began. "All that badness is finally behind us and we are off to a fresh start... with a raging pandemic and a president who's trying to steal the election. Turns out 2020 is dropping some bonus tracks."
He continued: "Yesterday we got a hot new recording of a jaw-dropping phone call between the president and Georgia Secretary of State Brad Raffensperger."
Colbert explained that Raffensperger oversaw Georgia's election count and recount "each of which verified that Joe Biden in fact, won the state of Georgia. So on Saturday, the president got him on the phone to convince him that 'nu-uh.'"
Referencing the infamous Watergate scandal that led to Richard Nixon's resignation, Colbert joked: "This call is like if Watergate and the Ukraine scandal had a baby that they made on the Access Hollywood bus. When you're a star they let you do it."
The move was branded an "impeachable offense" by Congresswoman Alexandria Ocasio-Cortez.
After playing a clip from the call, Colbert mocked Trump for insisting he won due to having a larger attendance at his rallies.
"One problem, rally size does not decide who wins the election—that's why on January 20, we won't be swearing in President BTS."
During the call, Trump was heading saying to Raffensperger: "All I want to do is this. I just want to find 11,780 votes...Because we won the state."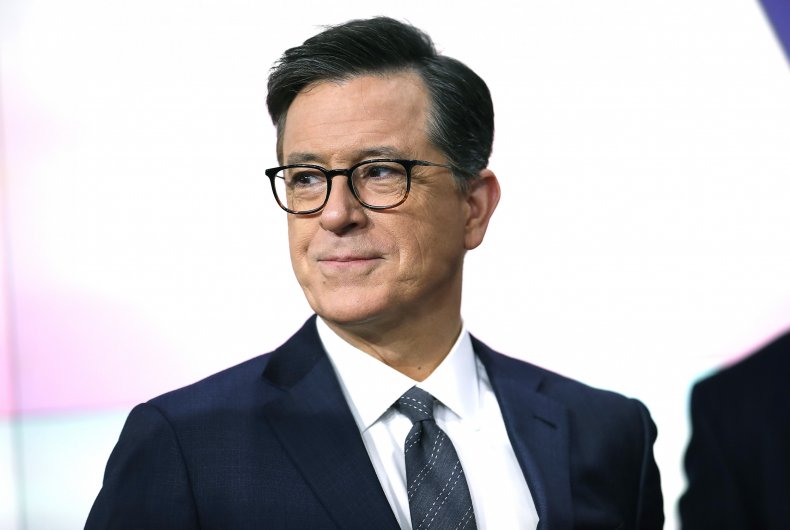 Prompting Colbert to joke: "Even though he knows he won, he still knows how much he lost by."
The leaked call was the subject of many late-night monologues on Monday as Jimmy Fallon, Jimmy Kimmel and James Corden also ridiculed the president's pleas to Raffensperger.
"Apparently every January, Trump's New Year's resolution is to find another way to get impeached," Fallon mocked.
While Kimmel joked the call was like a "surprise Taylor Swift album."
"Trump's not even good at being a bad guy," Corden said. "At least a mobster assumes that he's being recorded at all times and speaks in vague terms like 'beautiful state you got down there, be a shame if something happened to it.'"
Unsurprisingly, however, Fox News anchor Tucker Carlson defended the president on Monday night and said that the call was getting so much media attention in order to create a diversion from the Georgia Senate elections.