Video: Stephen Colbert Says Only Thing Worse Than Trump Telling an Immigrant to Go Back to Their Country Is 'Marry Me?'
For a second night running, comedian Stephen Colbert has mocked President Donald Trump's tweets saying that four congresswomen of color should "go back" to where they came from.
As the fallout continues over Trump's tweets aimed at Reps. Ilhan Omar (D-Minn.), Rashida Tlaib (D-Mich.), Ayanna Pressley (D-Mass.) and Alexandria Ocasio-Cortez (D-N.Y.), The Late Show host weighed in with his take.
He had started his monologue on Tuesday by saying that Trump's tweets showed "old-school racism, minus the school."
"It's one of the most terrible things that Donald Trump could possibly say to an immigrant other than, 'Will you marry me?'" to laughter from the audience.
Trump's Slovenian-born wife Melania has been a U.S. citizen for less time than Omar. The representative for Minnesota was born in Somalia and moved to the U.S. as a child, becoming an American citizen at the age of 17 in 2000, according to The New York Times.
The first lady became a U.S. citizen in 2006, a year after she married Trump, CNN reported. The other three women Trump targeted are natural-born U.S. citizens.
Colbert then went on to make fun of Trump's defense of his tweets, which the president claimed were "not racist," adding "I don't have a racist bone in my body!"
Colbert said on his show on Tuesday night: "OK. I'm going to stop you right there. We've seen your body. I'm not sure there are any bones in your body, just mascarpone cheese pumped into a cheap suit," he added.
He then listed how Trump had "said a lot of racist things," such as demanding the execution of the "Central Park Five," claiming that former president Barack Obama was born in Kenya, saying that he wanted to ban Muslims from entering the U.S., claiming that Mexicans were murderers.
He went on to say: "Racism is your brand. It's like Colonel Sanders saying 'I don't have a finger-lickin' bone in my body.'"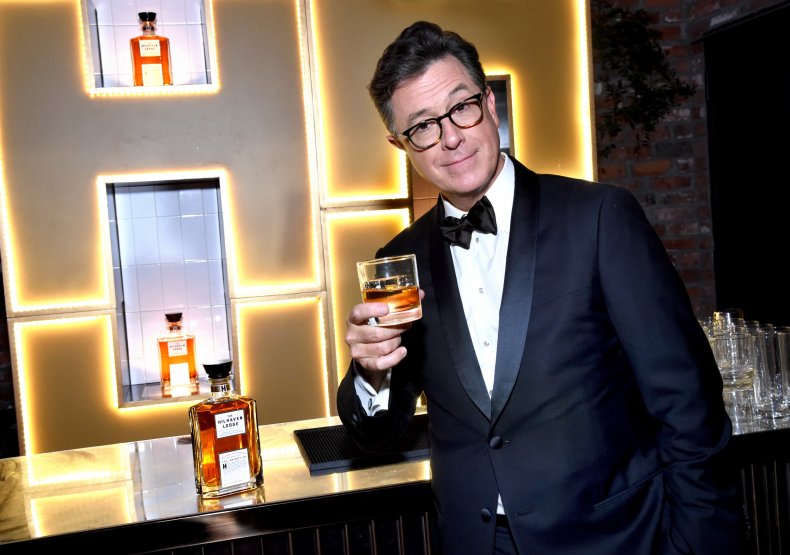 Meanwhile, the U.S. House of Representatives formally rebuked Trump in a resolution that denounced his "racist comments that have legitimized fear and hatred of New Americans and people of color."
The vote was approved on a mostly partisan line vote of 240 to 187, although four Republicans—Reps. Will Hurd of Texas, Brian Fitzpatrick of Pennsylvania, Fred Upton of Michigan, and Susan Brooks of Indiana—joined Democrats in approving the resolution.