Stephen A. Smith: Cowboys Not Firing Jason Garrett Is 'The Kind of Thing That Makes African-Americans Uncomfortable'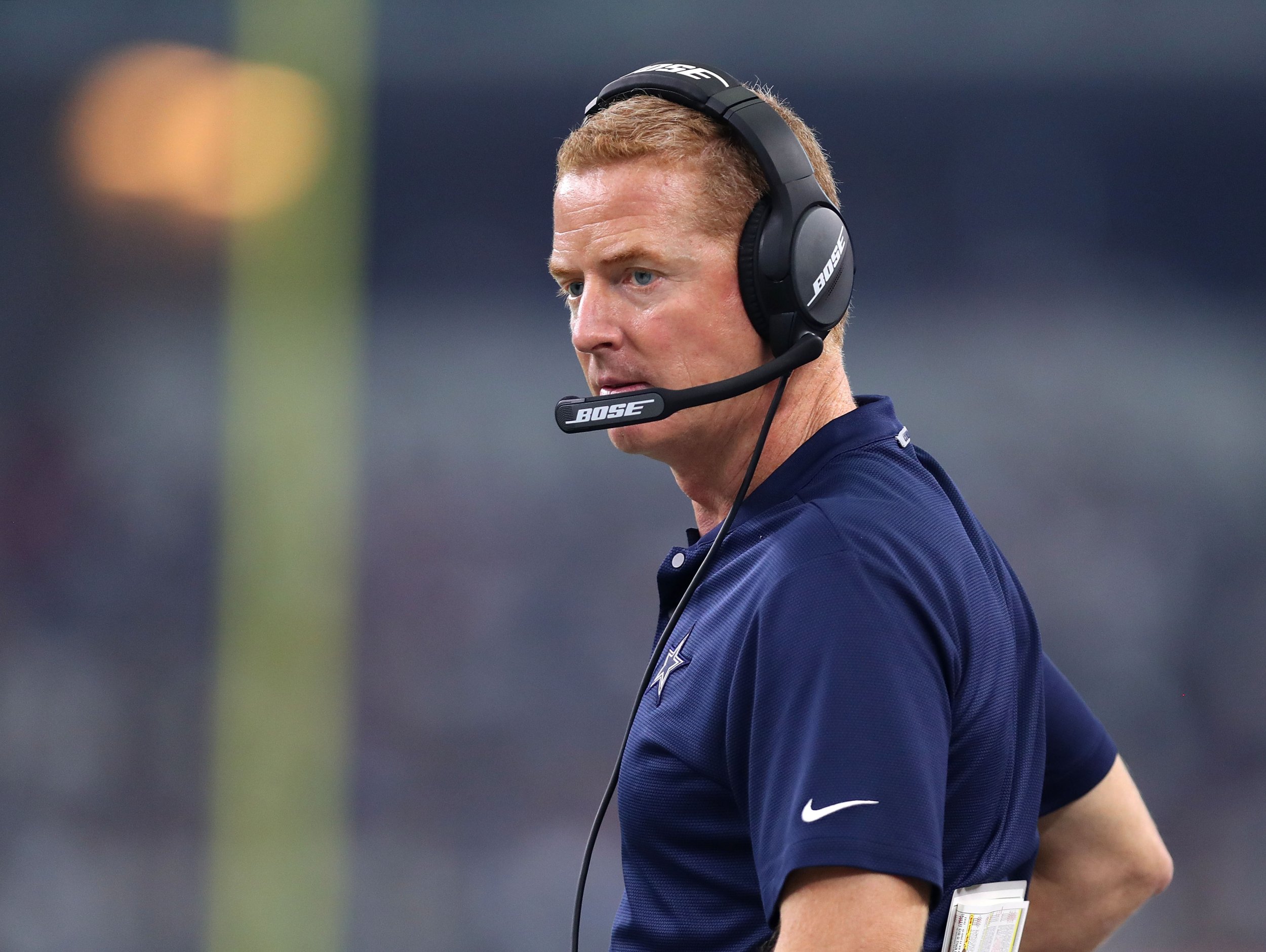 Stephen A. Smith has claimed the only reason Dallas Cowboys head coach Jason Garrett has not been fired yet is his relationship with team owner Jerry Jones.
The Cowboys lost 19-16 to the Houston Texans on Sunday night, slumping to 2-3 for the season. While the record is still good enough to place them second in the NFC East, Smith suggested Garrett was clearly out of his depth and hinted there might even be a more sinister reason as to why he was still in a job.
"These are the kind of things that make African-Americans uncomfortable," Smith said on ESPN's Get Up show on Tuesday.
"Because clearly Jason Garrett has this job still because of his relationship with [Cowboys owner] Jerry Jones. There's no other reason he is the head coach."
Garrett joined the Cowboys as offensive coordinator in 2007 and transformed Dallas into the second best offense in the NFL, which made him an attractive option for head coach. Between 2008 and 2009, he interviewed for the job of head coach with the Atlanta Falcons, the Baltimore Ravens, the Denver Broncos, the Detroit Lions and the St Louis Rams. He eventually remained in Texas and was named interim head coach in November 2010, following the sacking of Jim Haslett.
However, in eight season as Cowboys' head coach, Garrett has taken Dallas to the postseason just twice, in 2014 and 2016. They lost to the Green Bay Packers in the NFC Divisional Game in both occasions.
"I am not saying that Jason Garrett couldn't be someone's offensive coordinator [and] I'm not saying he doesn't deserve a cheque from an NFL team," Smith continued.
"But when you see something like this, where an absence of production is repetitive, year after year after year [and] there's underachievement all over the place and this man gets to continue to keep his job.
"That is the kind of stuff that throughout history African-Americans have complained about religiously because again, that relationship [with Jones] is the only reason he is still the head coach of the Dallas Cowboys and that is not something that customarily happens for us.
"I'm sorry, I had to say it."
Smith's comments will go down like a lead balloon in Dallas, particularly as they come just months after Jones was involved in a controversy surrounding his response to the Papa John's row.
John Schnatter, the founder of the popular pizza chain, was caught using racist language during a conference call. This prompted a number of NFL teams to distance themselves from the company.
Jones, however, declined to follow the example of his peers and stood by the pizza chain and Schnatter, who in November last year had blamed sluggish sales on NFL players kneeling during the national anthem.
"Some teams that I've noticed that have addressed the Papa John's issue by distancing themselves do not have the same relationship that the Cowboys have with the Papa John's business in Texas," Jones told The Dallas Morning News in July.
After making his opening comments, Smith then elaborated on Garrett's shortcomings, suggesting he lacked the required nous to organize play calling effectively and to run an organization like the Cowboys.
"Jason Garrett has not proven to be a good coach," he added.
"Not with the play calling, not with running the team, not with running the organization. Him and Scott Linehan have made questionable judgment calls all season long. We all know it, and it's really not funny anymore."