Stephen A. Smith 'Sorry' for Shohei Ohtani Comments, Calls Him a 'Bright Star'
ESPN's analyst Stephen A. Smith has apologised for suggesting Los Angeles Angels star Shohei Ohtani shouldn't be the face of baseball in the U.S. as he "needs an interpreter".
The Japanese player has taken Major League Baseball by storm this year and his prowess as both batter and pitcher has already elicited comparisons with the legendary Babe Ruth.
The No. 1 seed in the Home Run Derby on Monday night, Ohtani will be the American League starting pitcher in Tuesday night's All-Star Game.
Smith, however, suggested the 27-year-old was far from the ideal candidate to be the face of the MLB, largely because of what he perceived to be a poor command of English.
"I understand that baseball is an international sport itself in terms of participation," he said on Monday morning on ESPN's First Take, the show he co-hosts with Max Kellerman.
"But when you talk about an audience, gravitating to the tube, or to the ballpark, I don't think it helps that the number one face is a dude that needs an interpreter so you can understand what the hell he's saying, in this country."
Smith's comments immediately went viral and the ESPN analyst swiftly backtracked, issuing an apology to Ohtani and to the wider Asian community.
"Let me apologize right now," Smith wrote in a lengthy statement shared with his 3.2 million followers on Instagram.
"As I'm watching things unfold, let me say that I never intended to offend any community, particularly the Asian Community—and especially Shohei Ohtani, himself.
"As an African-American, keenly aware of the damage stereotyping has done to many in this country, it should've elevated my sensitivities even more. Based on my words, I failed in that regard and that's on me, and me alone!"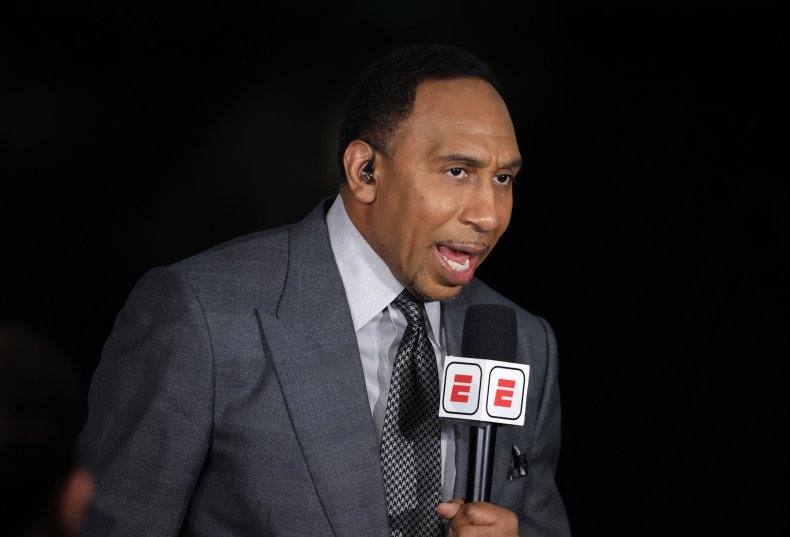 So far this season, Ohtani leads the MLB with 33 home runs, a .698 slugging percentage and 210 total bases.
He has been just as efficient on the mound, where he has a 4-1 record with 87 strikeouts in 67 innings pitched, and a 3.49 earned-run average in 13 starts.
Smith described the 27-year-old as one of the brightest stars not just in the MLB but across the landscape of U.S. sports as a whole, and credited him for "making a difference" to promote inclusiveness.
"Ohtani is one of the brightest stars in all of sports. He's making a difference, as it pertains to inclusiveness and leadership," he continued.
"I should have embraced that in my comments. Instead, I screwed up. In this day and age, with all the violence being perpetrated against the Asian Community, my comments—albeit unintentional—were clearly insensitive and regrettable.
"There's simply not other way to put it. I'm sincerely sorry for any angst I've caused with my comments on First Take this morning. Again, I am sorry. And I'll happily reiterate these words more extensively tomorrow morning, as well."
The apology came after Smith posted a video on Twitter on Monday, in which he explained his comments had been misinterpreted.
"My segment on Ohtani this morning on First Take; people are misinterpreting what I'm saying. I'm not talking about the state of the game," he said.
"I'm talking about the marketability and the promotion of the sport [...] if you are a sport trying to ingratiate yourself with the American public the way Major League Baseball is because of the problems you've been having to deal with, in terms of improving the attractiveness of the sport, it helps if you spoke the English language. [...]
"In the United States, all I was saying is that when you're a superstar, if you can speak the English language then guess what—that's gonna make it that much easier and less challenging to promote the sport."