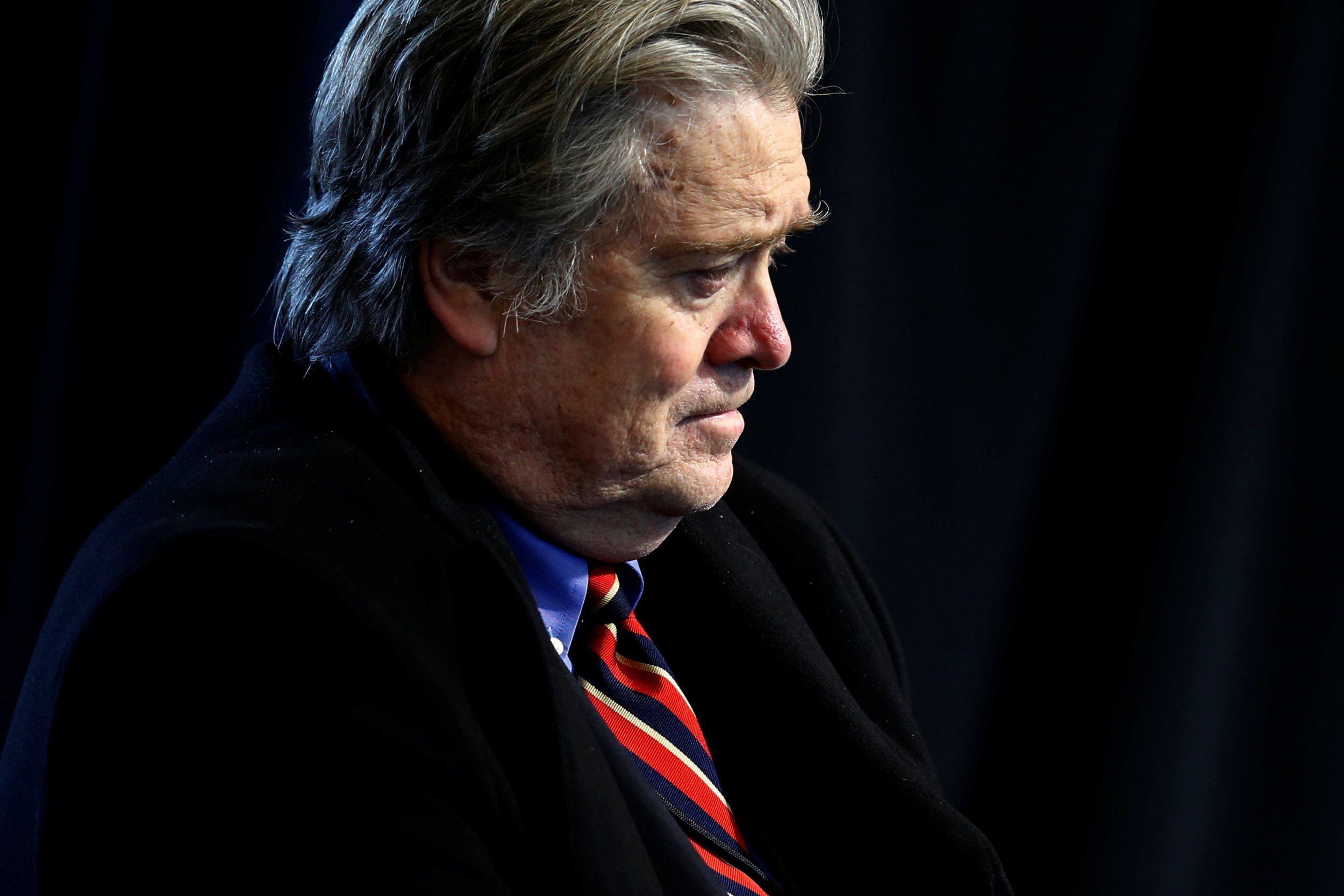 Steve Bannon did not hold back in his 60 Minutes interview, broadcast Sunday on CBS News, taking potshots at various targets including the Republican establishment, Jared Kushner, and the Catholic Church.
For seasoned Bannon watchers, the last target is both surprising and unsurprising. Bannon, who hails from an Irish Roman Catholic background, has powerful allies in the church. But at the same time, he has looked increasingly at odds with the stance taken on social issues by Catholic bishops, particularly under Pope Francis.
When questioned about the opposition expressed by some U.S. bishops to President Trump's decision to rescind immigration protections afforded under the Deferred Action for Childhood Arrivals (DACA) program, Bannon accused the church of supporting immigration for economic reasons and because "they need illegal aliens to fill the churches."
Bannon's comments prompted an angry response from senior Catholic bishops in the United States, who dismissed the remarks as "preposterous" and claimed the Bible required Catholics to look out for immigrants.
Here's a short history of Bannon's long struggle with the Catholic church.
Coming home to the Catholic Church
Bannon was raised in a "blue-collar, Irish Catholic, pro-Kennedy, pro-union family of Democrats," as he told Bloomberg News in 2015. He attended Catholic schools and went to Mass with his family as a child, but later flirted with various world religions while serving in the Navy. This included a period of practicing Buddhism, according to Joshua Green, who has written a biography of Bannon.
Bannon eventually returned to his Catholic faith, and Green told the Washington Post that he believes the former White House strategist's worldview is significantly informed by his religious faith. In particular, Green said that Bannon is "captivated by this idea that the world is in decline," which is partially rooted "in some medieval variant of Catholicism."
Breitbart's Bureau in Rome
Bannon became Breitbart News' executive editor in 2012 and, two years later, decided to set up a permanent bureau in Rome, the Italian capital and heart of the Roman Catholic Church. Bannon chose Thomas D. Williams, a former Catholic priest, to lead Breitbart's coverage from Rome; Williams regularly writes about church affairs and Pope Francis, an unpopular figure with Breitbart's readership.
In summer 2014, Bannon also gave a talk via Skype at a conference held in the Vatican and hosted by the Human Dignity Institute, a conservative think tank that says its mission is to defend "the Judeo-Christian foundations of Western civilization." In the speech, Bannon lamented a "crisis both of our church" and Western capitalism in general and called upon believers to fight against the "new barbarity" of "Islamic fascism" and global financial elites.
Bannon's Ties to Pope Francis's Critics
During the 2014 double canonization of Popes John XXIII and John Paul II, Bannon broadcast his Breitbart radio show from the Vatican. During that visit he held a meeting with Cardinal Raymond Burke, a conservative American cardinal. Burke has been characterized in the media as Francis's arch-opponent in the Vatican, clashing with the Argentinian pope to the degree that Burke had to clarify that he had not accused Francis of heresy.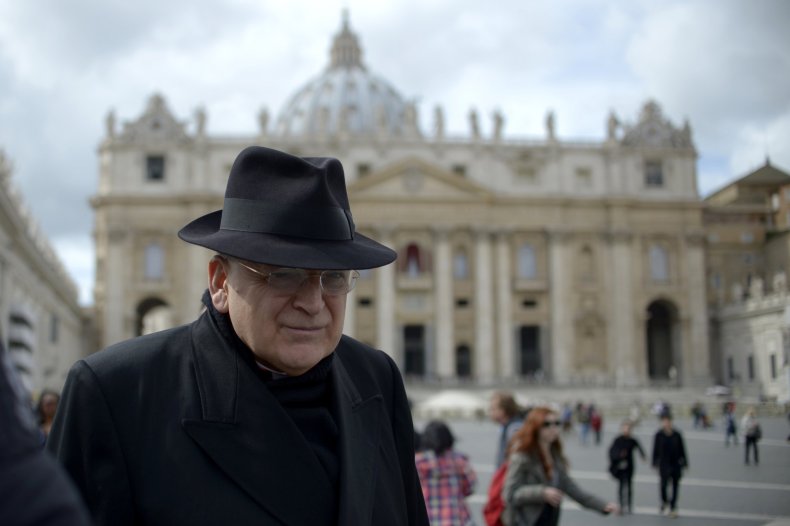 Benjamin Harnwell, a confidant of Burke who organized the 2014 meeting with Bannon, told the New York Times that he was not surprised by the pair's connection. "When you recognize someone who has sacrificed in order to remain true to his principles and who is fighting the same kind of battles in the cultural arena, in a different section of the battlefield, I'm not surprised there is a meeting of hearts," said Harnwell.
Pope's Allies Compare Bannon's Ideology to Islamist Fundamentalism
An article published in July in La Civiltà Cattolica, a Vatican-vetted journal, criticized the strain of "evangelical fundamentalism" in the United States that had set up threats to Western, Judeo-Christian values as equivalent to Armageddon. In particular, the article singled out Bannon as a "supporter of apocalyptic geopolitics," the logic of which is "no different from the one that inspires Islamic fundamentalism."
While it is not clear whether the pope approved of the content of the article, the journal's contents are vetted by the Vatican secretary of state—the church's top diplomat—before publication. The two authors are also close allies of Francis: one was Antonio Spadaro, a Jesuit journalist who has interviewed the pope; the other was Marcelo Figueroa, an Argentinian friend of Francis.
The DACA Debate
In his 60 Minutes interview, Bannon—who actually said that he did not agree with Trump's decision to end DACA—laid into the American Catholic hierarchy for supporting undocumented immigration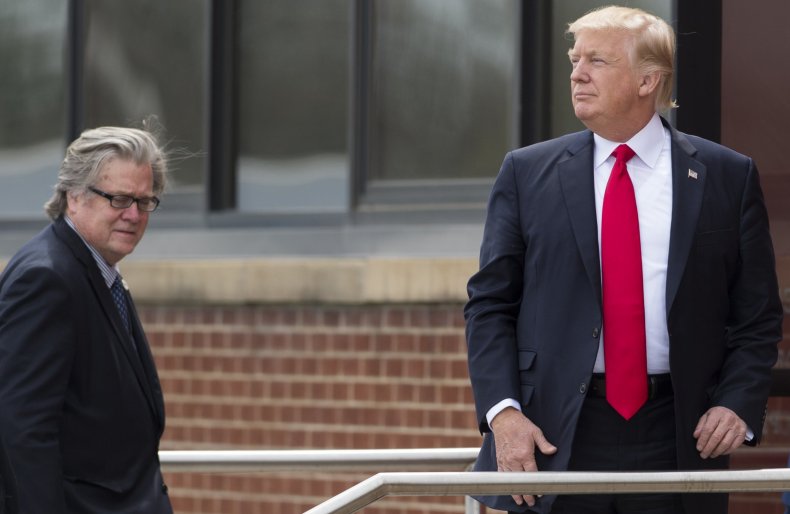 "The Catholic Church has been terrible about this," said Bannon. "You know why? Because unable to really come to grips with the problems in the church, they need illegal aliens, they need illegal aliens to fill the churches...They have an economic interest in unlimited immigration, unlimited illegal immigration."
Bannon said that while he respected the pope and bishops on doctrine, immigration was a matter of national sovereignty. "And in that regard, they're just another guy with an opinion," he said.
The comments prompted curt responses from U.S. Catholic leaders. Cardinal Timothy Dolan, the archbishop of New York, described Bannon's remarks as "preposterous and rather insulting" and claimed that the church's support for immigrants is rooted in the Bible, in an interview with Cathoic radio station Sirius XM.
Dolan's response was backed up by an official statement issued by the United States Conference of Catholic Bishops (USCCB) on Thursday. "Our pro-immigration stance is based on fidelity to God's word and honors the American dream. For anyone to suggest that it is out of sordid motives of statistics or financial gain is outrageous and insulting," said James Rogers, the USCCB's chief communications officer.