Steve Bannon Backs Joe Biden's Billionaire Tax Plan
Former White House strategist Steve Bannon supports taxing America's billionaires, a plan recently proposed by President Joe Biden as part of a budget request to Congress. On Thursday, he blamed billionaires for supporting "woke" culture and argued that it's time for them to pay the price.
"Billionaires Hate MAGA ...Billionaires Want to destroy MAGA...Billionaires Hate The Deplorables...Billionaires Support WOKE ....Billionaires Support the NeoLiberal/NeoCon Order. Billionaires Support Democrats Billionaires Support Biden. Why Should Billionaires not pay for what they have created," Bannon, who served during the Trump administration, wrote on Gettr.
Biden plans to propose a 25 percent minimum income tax on billionaires, "the wealthiest 0.01 percent," as part of a budget request to Congress, the White House said Thursday morning. The president's budget plan aims to cut the deficit by nearly $3 trillion over 10 years. The 25 percent is higher from Biden's budget proposal last year, which was a 20 percent tax rate on households that are worth more than $100 million.
Bannon remains a strong critic of the Biden administration, but he told Newsweek on Thursday that he "directionally" supports imposing a 25 percent minimum tax on billionaires. He said he supports tax increases for the wealthiest 1 percent of Americans.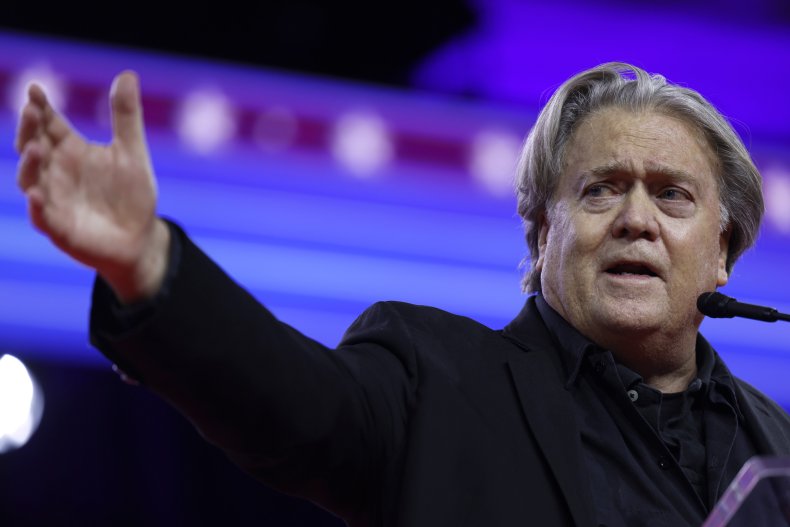 Biden's proposal would impose tax increases on rich investors and corporations. The plan would almost double the capital gains tax rate for investment to 39.6 percent from 20 percent and would set the corporate tax rate at 28 percent and increase income levies on corporations and billionaires.
The president's plan appears to have little chance of making it through the Republican-controlled House, which flipped in the 2022 midterm elections.
Bannon told Newsweek on Thursday that spending cuts are needed, emphasizing "massive spending cuts NOW. But we also need to tax billionaires—the ones most associated with the D.C. cartel."
Bannon is an ally and staunch supporter of former President Donald Trump, who is a billionaire. Bannon has been outspoken about taxing the richest Americans, calling for tax increases in 2021. He argued that the country was "being scammed" by multibillionaires.
In 2021, a ProPublica report showed that many of the richest Americans paid little or no income tax in various years over the prior decade, according to tax records. Biden's budget proposal would help end a loophole that allows some rich investors to avoid paying taxes on their investments.
"They don't pay any taxes anyway," Bannon said during his War Room podcast at the time. "You've got to start increasing the marginal tax increases for the wealthy.
"Over five years with a half a trillion dollars of assets, they've paid collectively under $15 billion in taxes," Bannon said, arguing that this is "the reason the game is rigged."
Biden's plan is expected to increase taxes on Americans earning more than $400,000 a year as part of a move that could help support Medicare over the next two decades. It has been widely reported that 1.8 percent of taxpayers—nearly 2.5 million people—earn $400,000 or more, though Newsweek has been unable to independently verify the figure.
Update 3/9/23, 2:50 p.m. ET: This story has been updated with additional information.