Will Bannon's Split from Trump, Breitbart and the Mercers Ignite a GOP Civil War?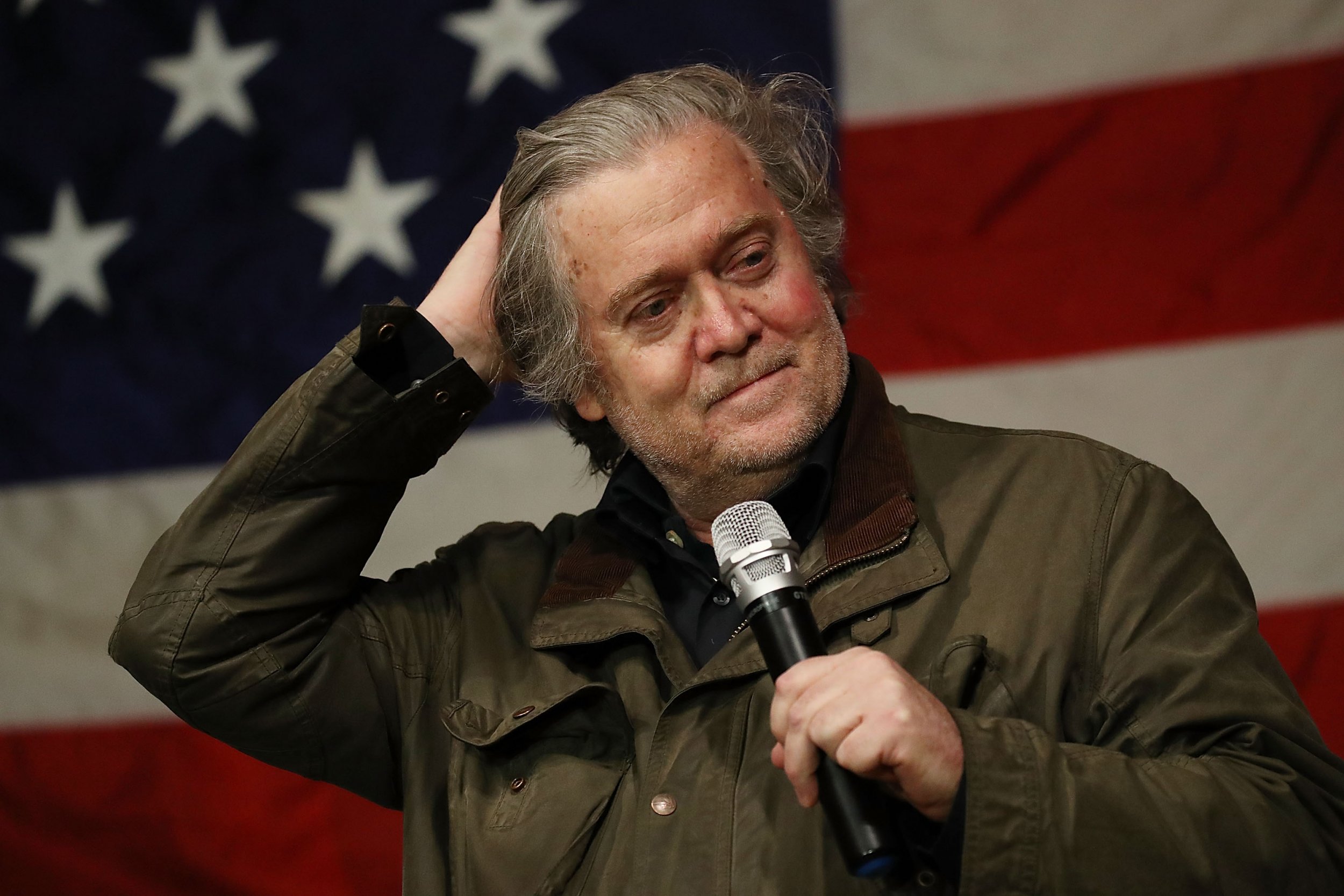 In the seven days since comments Steve Bannon made to author Michael Wolff first went public, Bannon has gone from an unlikely force near the top of the Republican Party power structure to a political outcast considered radioactive by his former financial backers and news outlet.
Just a few months ago, after the Bannon-backed U.S. Senate candidate in Alabama beat the one President Donald Trump had supported, it seemed as if Bannon had a better grip on the future of the GOP than the president did. Reports said Bannon was working with Robert Mercer, the megadonor behind Trump's 2016 campaign, to cultivate a network of 2018 candidates. In December, a headline suggested Bannon—who Trump fired in August as his chief strategist—might run for president.
Related: Trump megadonor Mercer cutting ties with Milo Yiannopoulos
Now, all that has changed. On January 3, The Guardian published comments Bannon made in Wolff's book Fire and Fury: Inside the Trump White House. Bannon had told Wolff that the June 2016 meeting between Trump campaign officials and Russians was "treasonous" and "unpatriotic," and that investigators are "going to crack Don [Trump] Junior like an egg on national TV." In response, President Trump said in a statement that his former strategist had "lost his mind." Trump later used the disparaging moniker "Sloppy Steve" in a tweet about Bannon.
The rift had been growing even prior to Trump's firing of Bannon. But perhaps more surprising—and consequential—is the recent response from Rebekah Mercer, the daughter of Robert Mercer. She oversaw the political action committee that supported Trump and is widely reported to have convinced Trump to hire Bannon. In a statement to The Washington Post on January 4, she said, "My family and I have not communicated with Steve Bannon in many months and have provided no financial support to his political agenda, nor do we support his recent actions and statements." She reportedly issued the statement following a call with Trump.
It was the second statement from the Mercer family in recent months regarding Bannon. In November, facing scrutiny about his ties to right-wing figures such as Bannon and Milo Yiannopoulos, Robert Mercer said in a letter to people associated with his hedge fund, Renaissance Technologies, "I have great respect for Mr. Bannon, and from time to time I do discuss politics with him.... However, I make my own decisions with respect to whom I support politically. Those decisions do not always align with Mr. Bannon's."
The break-up is so extraordinary because the Mercers and Bannon go back. The family partly owns Breitbart News Network, the far-right website where Bannon served as executive chairman until stepping down on Tuesday. He and Rebekah Mercer produced at least one documentary together and served on the boards of at least two nonprofits together.
Wolff wrote in Fire and Fury: "Bannon was not so much an entrepreneur of vision or even business discipline, he was more simply following the money—or trying to separate a fool from his money. He could not have done better than Bob and Rebekah Mercer, who had set themselves up as almost professional fools."
When Trump was first considering firing Bannon, months before he ended up doing so, the Mercers even arranged "emergency meetings" to convince the president otherwise, according to Wolff. Later, as Trump was about to terminate him, Bannon met with the elder Mercer to discuss new opportunities.
In case there was any confusion about the Mercer-Bannon split, Trump tweeted on January 5, "The Mercer Family recently dumped the leaker known as Sloppy Steve Bannon. Smart!"
Rebekah Mercer could not be reached through a spokesperson for her father or through Breitbart. Neither Bannon nor his publicist responded to requests for comment on Tuesday about his departure from Breitbart.
Given the level to which Bannon rose in the Republican Party, it perhaps seemed at first as if the GOP base might split between him on one side and Trump and the Mercers on the other. But it did not take long for Republicans to follow the Mercer family's example.
"I don't think it's really an issue in Republican insiders' and voters' minds, in terms of where their loyalty stands," said Jessica Proud, a Republican strategist. "The president is the president, and I cannot imagine him losing any allies in this fight."
"President Trump is the undisputed leader of the Republican Party," Harlan Hill, a political consultant and advisory board member for Trump's 2020 campaign, said via Twitter message. "In the GOP, there's only the Trump wing and the Never-Trump wing. The choice is binary, you have to pick a side. The Mercers are firmly in the Trump wing. It's unclear where Mr. Bannon is now."
Bannon's spectacular fall from grace could prove most consequential for his network of 2018 candidates. Some of them were quick to distance themselves. Michael Grimm, the former U.S. congressman who Bannon was supporting as he runs to reclaim his seat in New York after being convicted of a felony, tweeted, "I strongly denounce the comments by Steve Bannon as quoted by Michael Wolff. They are baseless attacks against the president's family, beyond disturbing, and I fully support our commander in chief."
Grimm's comments were different than what he told Newsweek in October: "We're definitely going to work together," he said at the time, referring to Bannon, "and I can say that Steve Bannon was very excited about it."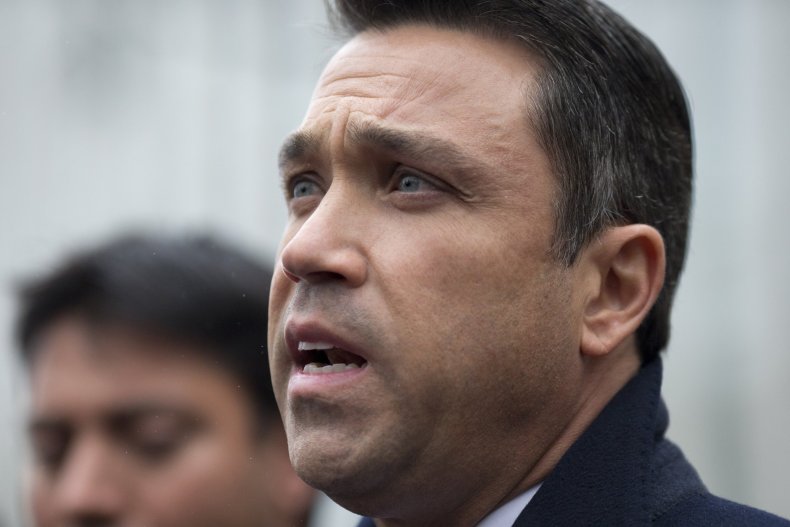 The campaign of Dr. Kelli Ward, a Bannon disciple running for a U.S. Senate seat in Arizona, also issued a statement. "The most important endorsements in this race will come from the voters of Arizona," said Ward spokesman Zachery Henry. "Steve Bannon is only one of many high-profile endorsements Dr. Ward has received. Her focus remains on winning this race, which she is in a great position to do, and then helping President Trump advance an America First agenda."
On Tuesday, former Arizona Sheriff Joe Arpaio, who Trump pardoned in August, declared that he would run against Ward. It was not immediately clear if the timing of the announcement was meant to take advantage of any fallout from Ward's Bannon link. Constantin Querard, an Arizona-based conservative political consultant with the firm Grassroots Partners, said by email it seemed unlikely: "I do sometimes wonder if people remember that everything happened without Bannon just a year or two ago, so why on earth is he somehow supposed to be the cause and/or effect of everything that happens now?"
It could be hard for those candidates to disentangle themselves from Bannon, according to strategists. "I think they're going to have problems explaining" why they ever aligned with him, said Proud, whose clients include Representative Dan Donovan, Grimm's opponent. "The writing was on the wall, and I think they made a calculation that turned out to be bad judgement."
What comes next for Bannon could depend on Trump. On Sunday, Bannon said in a statement published by Axios that he continues to support the president, though a colleague reportedly sent the statement without his permission.
"Donald Trump is a very forgiving person," said Michael Caputo, a former Trump adviser who is close with Bannon. "You may not believe that…. You can talk to Mitt Romney, you can talk to Roger Stone, you can talk to Lindsey Graham. But these comments were about the president's family, and that's much farther to go for forgiveness."