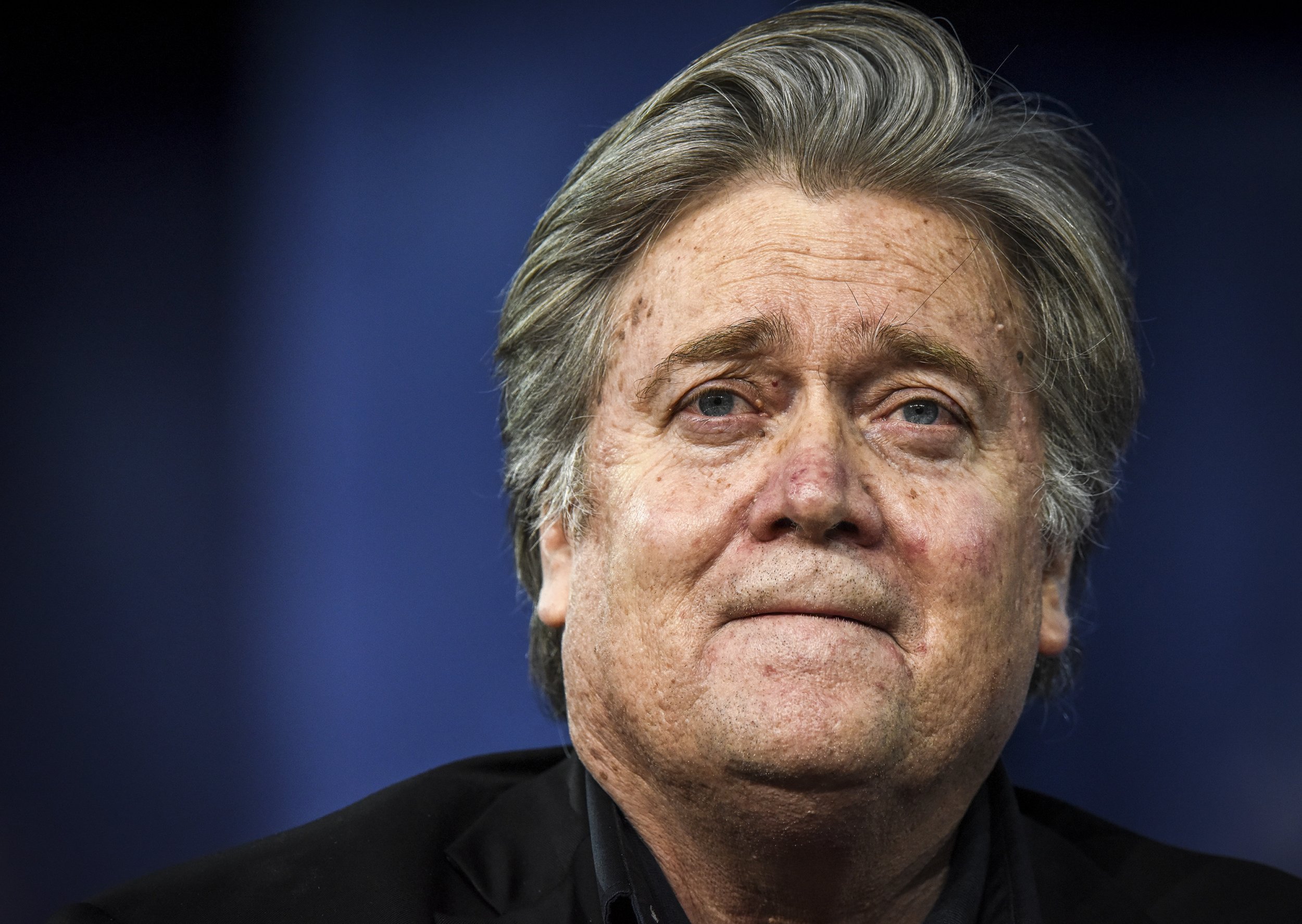 President Donald Trump's former chief strategist Steve Bannon has vowed to remove establishment Republicans who are critical of the president's agenda from office.
Bannon called on Tennessee Senator Bob Corker—who has quarreled publicly with President Trump over the past week—to resign during an interview with Fox News' Sean Hannity on Monday.
"If Bob Corker has any honor, any decency, he should resign immediately," Bannon said.
Corker, who chairs the Senate Foreign Relations Committee, said Sunday Trump could put the U.S. "on the path to World War III" because of his aggressive approach the North Korea and unpredictable behavior in office "like he's doing The Apprentice or something."
Corker is set to retire in 2018, but Bannon told Hannity "there's a coalition that's coming together that's going to challenge every Republican incumbent except for Ted Cruz."
"We're going to cut off the oxygen to Mitch McConnell," Bannon said, taking aim at the Senate's Republican Majority leader. Bannon said he intends to cut off money to McConnell, who is unpopular in his home state and got a 19-percent favorability rating in a recent national poll.
Bannon also named Utah Senator Orrin Hatch, chair of the Senate's Finance Committee, as another target. Bannon said the names of more establishment Republicans he intends to target "will come out over the next couple weeks," suggesting there would be about 15.
Read more: Ex-convict Michael Grimm: Steve Bannon is "very excited" to get me re-elected to Congress
Bannon accused Republicans of taking part in "economic hate crimes on the American working men and women in this country because of the trade deals."
"We're going after these guys tooth and nail," he said. "We are declaring war on the Republican establishment that does not back the agenda that Donald Trump ran on. This agenda works. The American people voted for it."
Bannon said he would replace establishment Republicans and then go after the Democrats. "This is something you're going to have to grind out day in and day out for the next five, ten, fifteen, twenty years," he said. "There's no magic wand we can wave and drain the swamp."
Bannon left his White House position on August 18, capping a tumultuous period of changeover in the Trump administration that saw the rapid resignations of White House Chief of Staff Reince Priebus, Press Secretary Sean Spicer, and the firing of Communications Director Anthony Scaramucci.
The same day he left the Trump administration, Bannon returned to his former job as executive chairman of the hard-right news website Breitbart News. "I'm free. I've got my hands back on my weapons," Bannon told The Weekly Standard at the time. "I built a f***ing machine at Breitbart. And now I'm about to go back, knowing what I know, and we're about to rev that machine up. And rev it up we will do."
An investigation of Breitbart by BuzzFeed News October 5 revealed how Bannon used the publication to give a voice to white supremacists and white nationalists.
Since his return to Breitbart, Bannon has helped hard-right Republican Roy Moore in his bid to unseat establishment Republican Luther Strange in the primaries of Alabama's special election in December. Bannon has said he intends to be Trump's wingman outside the administration.