Steven Bannon's Pardon 'Won't Be an Issue' in New Fraud Case: Lawyer
A lawyer for Steve Bannon denied that his 2020 pardon by Donald Trump in a federal fraud case is an acceptance of guilt, as the the former White House adviser faces a new criminal indictment on similar charges.
Bannon is preparing to surrender to authorities on Thursday to face charges in a case that echoes a 2020 federal investigation over the alleged defrauding of people who contributed to a $25 million "We Build The Wall" campaign.
Trump went on to pardon Bannon, just as the former president was leaving office. The Manhattan district attorney's office is reported to have opened its investigation soon after Trump left the White House in January 2021. Presidential pardons can only be applied in federal probes, and not in state investigations like the one Bannon is due to be indicted under.
Speaking on Wednesday night, Bannon's attorney, David Schoen, told NewsNation's Ashleigh Banfield that it won't be an issue that his client previously accepted a pardon from Trump in connection with the same fraud allegations.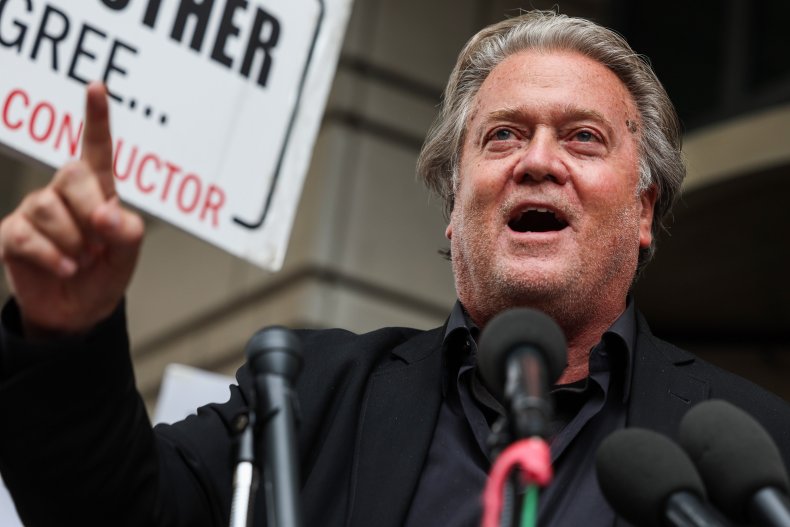 "Really that won't be an issue," Schoen said. "One is often given a pardon, because the process is perceived as unfair, not because there's any finding of guilt or any admission of guilt whatsoever.
"The pardon was given in this case, in particular because of a perception that the process was simply unfair," Schoen added. "Mr Bannon is presumed innocent at all times, unless and until he's ever proven guilty."
Banfield also brought up Bannon's statement regarding the new investigation into him, calling the charges "phoney" and "nothing more than a partisan political weaponization of the criminal justice system."
Banfield asked Schoen why Bannon believes there is a political conspiracy against him over this probe, when it was originally launched by the Department of Justice under the Trump administration.
'Hit Job'
In response, Schoen said that many people believe that the Department of Justice during the former president's time in office contained people who "were very anti-Trump and out to get Trump and make sure Trump never held office."
Schoen also noted that Bannon was charged in 2020 just a few months before the presidential election, and now is being charged two months prior to the midterms.
"He [Bannon] perceives it as a hit job to really shut down Trump through him," Schoen said.
In his previous statement, Bannon said "they are coming after all of us" and that "they will have to kill me first" before he and Trump "stop fighting."
Bannon is already awaiting sentencing after being found guilty of contempt of Congress for defying a subpoena issued by the House Select Committee investigating the January 6 attack.
Schoen has been contacted for further comment.