Steve Bannon Suggests Merrick Garland, FBI Involved in 'Coup' Plot to Oust Trump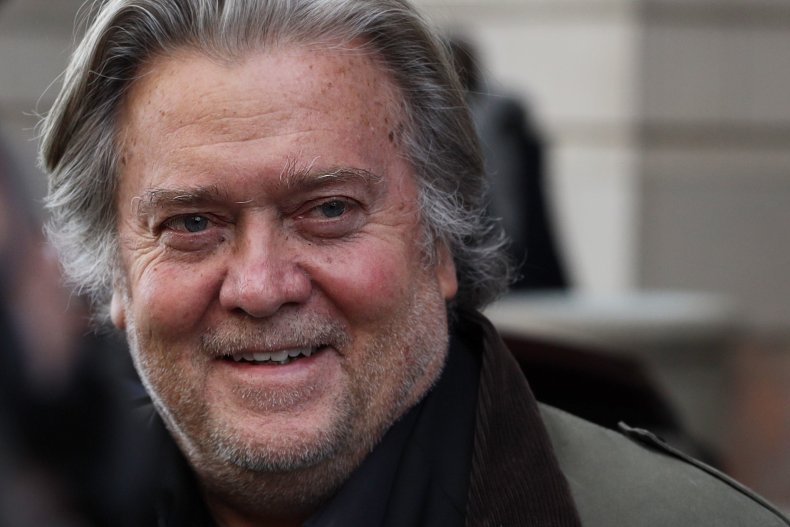 Former President Donald Trump's ex-adviser Steve Bannon has suggested that Attorney General Merrick Garland and the FBI took part in a "coup" to remove Trump from the White House.
Bannon insisted that it was "no conspiracy" to suggest that Garland, who did not become Attorney General until nearly two months after Trump left office, was involved in a plot to remove Trump, during his podcast War Room: Pandemic on Monday. Bannon and his guest Darren Beattie, a former Trump speechwriter who was fired after a CNN report alleged that he met with white nationalists, discussed an evidence-free conspiracy theory that claims FBI informants instigated the deadly breach of the Capitol on January 6.
Last week, the House voted to hold Bannon in criminal contempt for defying a subpoena from the House committee investigating the January 6 attack on the Capitol. The charge was referred to the Department of Justice (DOJ), with Garland still to decide on whether to prosecute Bannon. On Monday, Bannon insisted that Biden opponents were "crushing" the president's "illegitimate regime," while maintaining that others would be "outraged" after learning about the unsubstantiated conspiracy theory.
"What did the FBI know, what did the national security apparatus know, what does [FBI Director Christopher Wray] know, what does Merrick Garland know and what did they not tell the president of the United States? What did they not tell Donald Trump?" asked Bannon. "What did they plan? What did they plot? And what did they hide from Donald J. Trump when he was commander-in-chief?
"This is an outrage," added Bannon. "You talk about coups. I can show you a coup and we will show you a coup. No conspiracy. We're going to connect hard dots."
Bannon also called out January 6 committee chair Rep. Bennie Thompson (D-Miss.), promising that he would not be intimidated "in any way, shape or form" despite facing potential criminal charges for defying the committee's subpoena. Bannon previously said that he refused to comply with the subpoena at the direction of the former president, whose lawyer also reportedly sent similar instructions to other former Trump administration officials who received subpoenas.
Thompson hinted that Trump himself could face a subpoena from the committee during a Sunday interview on CBS' Face the Nation, vowing to go where "the evidence leads." Trump has promised to "fight" all of the subpoenas. After the House voted to hold Bannon in contempt last week, the former president issued a statement maintaining that the real "insurrection took place on November 3, Election Day," while the January 6 insurrection was only "the protest."
Newsweek reached out to the FBI and DOJ for comment.