Steve Bannon Vows War Against Fox News Will Get 'a Lot Nastier'
Steve Bannon vowed that his war against Fox News will get "a lot nastier" after he blasted the network for "disrespecting" former President Donald Trump at the Conservative Political Action Conference (CPAC) this week.
Fox News has found itself at the center of the GOP's debate over whether the party should move past Trump. The former president remains popular with large swaths of the Republican electorate. However, his approval has taken a hit in recent months as some Republicans raise concerns that he elevated weak candidates during the 2022 midterms, leading to losses in several key races.
Trump-aligned Republicans have criticized the network for not providing Trump more coverage, while offering more time to his potential opponents, including Florida Governor Ron DeSantis, who has not yet announced a presidential bid, but is seen as Trump's top competition, according to polls.
Bannon, who served as an adviser during the Trump administration, called out Fox News over its coverage during his speech at CPAC, a gathering of the country's leading conservative figures. Specifically, he slammed Fox News for not covering Trump's visit to East Palestine, Ohio,—the community that continues facing health concerns after a train carrying chemicals derailed early last month.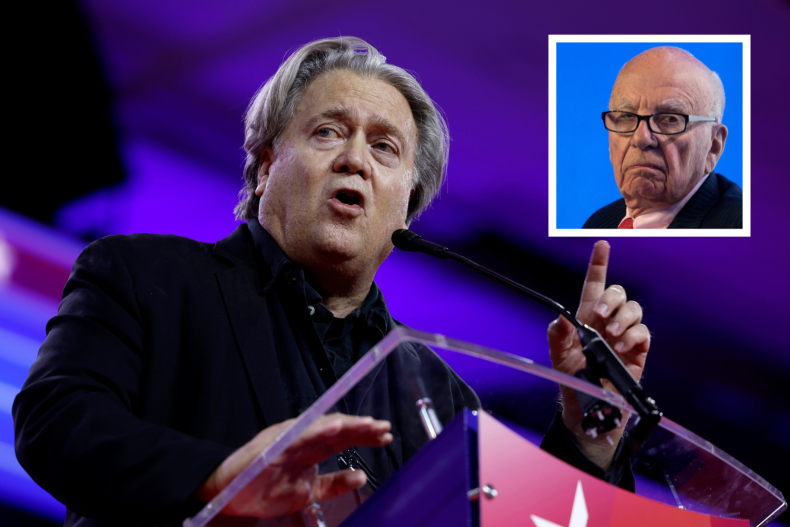 "You've disrespected Donald J. Trump long enough. He goes to East Palestine against the Biden administration. It's a global news event, and you don't cover it live. Is there that much happening on Fox News at two in the afternoon that you can't cover him live?" Bannon said. "He hasn't been on Fox News since he announced his presidency."
He added that Fox News not hosting Trump to discuss recent issues with China indicates the company's executives do not "respect" their audience.
"They have a fear, loathing and contempt for you," he said, calling on Fox to "get rid" of former House Speaker Paul Ryan, who recently said he would not attend the Republican National Convention (RNC) if Trump wins the 2024 presidential nomination, as a board director.
Meanwhile, in a series of Gettr posts following his speech, Bannon continued to declare "war" on Fox News.
"Going to get a lot nastier," he wrote in one post.
Fox News Comes Under Fire From Trump World
Bannon is only the latest Trump-aligned Republican to attack Fox News, which has faced growing scrutiny from many conservatives amid a defamation lawsuit brought against the network over claims of voter fraud following the 2020 presidential election.
Rupert Murdoch, the chairman of Fox Corporation, sparked backlash from conservatives as he has sought to distance himself from Trump's voter fraud claims, saying in a recent deposition that the network should have been "stronger in denouncing it in hindsight."
Trump wrote in response to the deposition: "If Rupert Murdoch honestly believes that the Presidential Election of 2020, despite MASSIVE amounts of proof to the contrary, was not Rigged & Stollen [sic], then he & his group of MAGA Hating Globalist RINOS should get out of the News Business as soon as possible, because they are aiding & abetting the DESTRUCTION OF AMERICA with FAKE NEWS."
Fox News has remained quiet on both Bannon and Trump's attacks, offering no public statements in response, but has defended itself against the defamation lawsuit, which is led by Dominion Voting Systems.
A spokesperson for the network previously told Newsweek: "Dominion's lawsuit has always been more about what will generate headlines than what can withstand legal and factual scrutiny, as illustrated by them now being forced to slash their fanciful damages demand by more than half a billion dollars after their own expert debunked its implausible claims."
Newsweek reached out to Bannon and Fox News for comment.