Donald Trump Doubles Down on Rupert Murdoch Attack as Fox News Rift Widens
Donald Trump has launched another attack on Rupert Murdoch after the media mogul said he wished Fox News had been "stronger in denouncing" the former president's false claims of election fraud.
In a March 1 post on Truth Social, Trump hit out at the comments made by Murdoch in a deposition for the $1.6 billion defamation lawsuit brought by voting machine company Dominion Voting Systems.
Dominion's suit alleges that Fox News and its parent company Fox Corporation defamed the company and harmed its business by continually giving air to the conspiracy theory that its machines were used to rig the 2020 election against Trump.
In the deposition, which was unsealed on Monday, Murdoch said he wished "in hindsight" that the cable news network had been "stronger in denouncing" the fraud claims. He also said several of its top anchors, such as Sean Hannity and Jeanine Pirro, had "endorsed" the misinformation.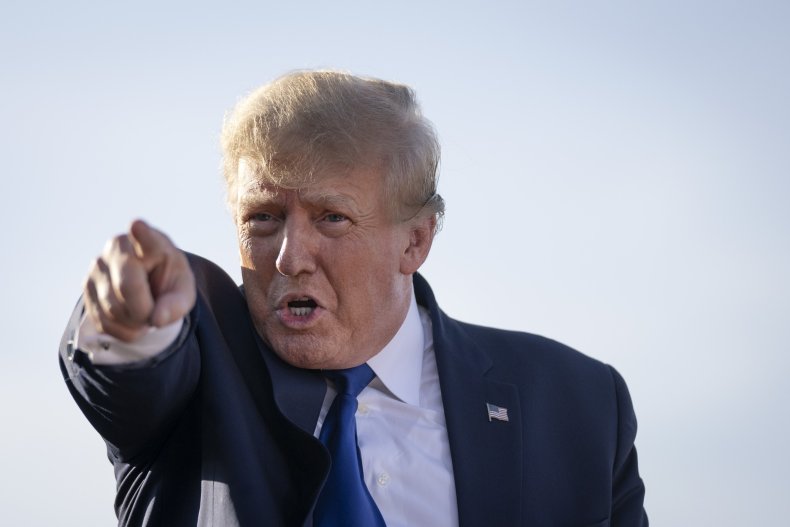 The former president wrote on Wednesday: "If Rupert Murdoch honestly believes that the Presidential Election of 2020, despite MASSIVE amounts of proof to the contrary, was not Rigged & Stollen [sic], then he & his group of MAGA Hating Globalist RINOS should get out of the News Business as soon as possible, because they are aiding & abetting the DESTRUCTION OF AMERICA with FAKE NEWS."
He went on: "Certain BRAVE & PATRIOTIC FoxNews Hosts, who he scorns and ridicules, got it right. He got it wrong. THEY SHOULD BE ADMIRED & PRAISED, NOT REBUKED & FORSAKEN!!!"
This is the second time in as many days that Trump has attacked Murdoch in a Truth Social post. On February 28 the former president accused the media mogul of "throwing his anchors under the table" with his testimony.
"Which also happens to be killing his case and infuriating his viewers, who will again be leaving in droves—they already are," Trump added.
Murdoch's media empire, which includes Fox News and the New York Post, had been providing the former president with positive coverage for years.
However, the Post turned its back on Trump in the wake of the 2022 midterm elections. The tabloid is now openly calling for Florida Governor Ron DeSantis to lead the GOP into 2024.
In response, Trump has attacked the Post, which he had previously described as his "favorite" newspaper.
In February the paper drew his ire by publishing a positive interview with DeSantis, who is expected to confirm his 2024 bid soon.
He wrote: "In writer Salena Zito's Fake News 'puff piece' about DeSantis, which supposedly appeared in the dying New York Post, which is way down in readership just like Fox News is way down in Ratings, why doesn't she mention that he wants to cut Social Security & Medicare, loves losers like Jeb Bush, Paul Ryan, and Karl Rove, and is getting CLOBBERED in the polls by me. DeSantis is a RINO who is trying to hide his past."
In a statement about the defamation suit, Fox News said: "Dominion's lawsuit has always been more about what will generate headlines than what can withstand legal and factual scrutiny, as illustrated by them now being forced to slash their fanciful damages demand by more than half a billion dollars after their own expert debunked its implausible claims.
"Their summary judgment motion took an extreme, unsupported view of defamation law that would prevent journalists from basic reporting and their efforts to publicly smear Fox for covering and commenting on allegations by a sitting president of the United States should be recognized for what it is: a blatant violation of the First Amendment."
Newsweek has contacted Dominion for comment. A jury trial in the defamation case is expected to begin in April.