Donald Trump Bites the Hand That Feeds
Donald Trump has given a rare rebuke of conservative media mogul Rupert Murdoch after the billionaire owner of Fox News admitted under oath that several of the channel's presenters supported the former president's false election-fraud claims.
In a post in Truth Social, Trump accused Murdoch of "throwing his anchors under the table" after the testimony he gave as part of a $1.6 billion defamation lawsuit brought forward by voting machine company Dominion Voting Systems was made public.
The suit against Fox News and its parent company Fox Corporation alleges the cable TV network defamed Dominion. It states Fox repeatedly pushed the false claim that Dominion's voting machines were used to rig the 2020 election against Trump.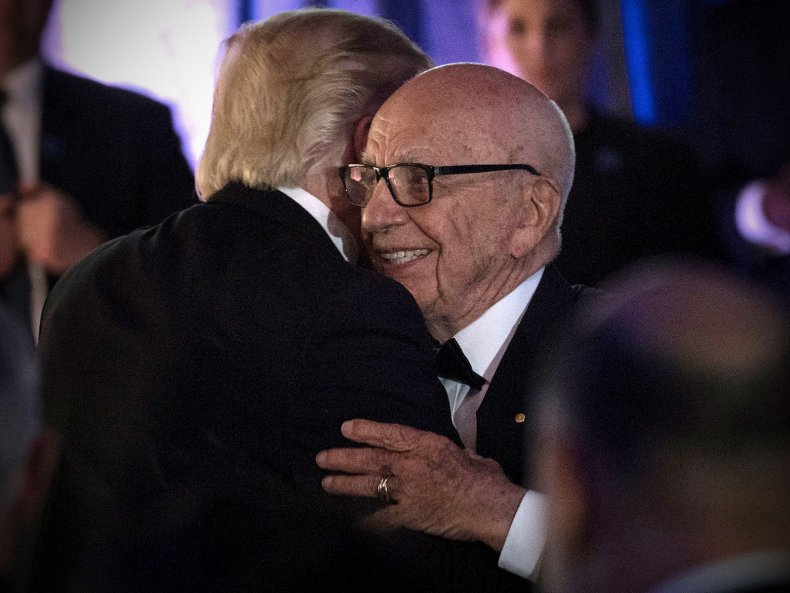 The testimony, first reported by The New York Times, revealed Murdoch said Fox News anchors had "endorsed" the false claim that the 2020 election had been "stolen" from Trump due to widespread voter fraud. These journalists, such as Sean Hannity, Maria Bartiromo, Lou Dobbs, and Jeanine Pirro, also pushed pro-Trump material for years.
"I would have liked us to be stronger in denouncing it, in hindsight," Murdoch said.
Elsewhere, Murdoch said it was "wrong" for MyPillow CEO and conspiracy theorist Mike Lindell to appear on Tucker Carlson's primetime show in January 2021 to repeat the unfounded claims against Dominion if "Carlson didn't contest it."
Trump has been increasingly critical of Fox News and the Murdoch-owned New York Post in recent weeks. He hit out at Murdoch following the reports of his deposition while still pushing false claims about the 2020 election.
"Why is Rupert Murdoch throwing his anchors under the table, which also happens to be killing his case and infuriating his viewers, who will again be leaving in droves—they already are," Trump wrote.
"There is MASSIVE evidence of voter fraud & irregularities in the 2020 Presidential Election. Just look at the documentary "2000 MULES" and you will see large scale ballot stuffing caught on government cameras, or votes cast without Legislatures approval, or just recently, the FBI/Twitter Files Scandal. RIGGED!!!"
This is not the first time that Trump has gone after Murdoch's conservative media empire amid signs that it is starting to turn on the Republican. However, the former president has not openly targeted the 91-year-old in such a way before.
In the midterms, Trump and his losing MAGA and election-denying endorsed candidates were blamed for the GOP's poor performance. Afterwards, the New York Post and The Wall Street Journal both ran pieces explicitly stating that the party should move on from Trump and back Florida Governor Ron DeSantis in 2024.
Earlier in February, Trump also hit out at the New York Post and the Murdoch-empire. The paper had published an interview with DeSantis, who is seen as the former president's potential main challenger in 2024 in the GOP primary.
Trump wrote: "In writer Salena Zito's Fake News 'puff piece' about DeSantis, which supposedly appeared in the dying New York Post, which is way down in readership just like Fox News is way down in Ratings, why doesn't she mention that he wants to cut Social Security & Medicare, loves losers like Jeb Bush, Paul Ryan, and Karl Rove, and it getting CLOBBERED in the polls by me. DeSantis is a RINO who is trying to hide his past."
Murdoch's testimony about the Fox News presenters puts pressure on the network. There are allegations that they willingly broadcast false information about the 2020 election, potentially leaving them liable for defamation.
In a statement after Murdoch's deposition was released, Fox News said Dominion's lawsuit as "always been more about what will generate headlines than what can withstand legal and factual scrutiny, as illustrated by them now being forced to slash their fanciful damages demand by more than half a billion dollars after their own expert debunked its implausible claims."
A jury trial in the defamation case is expected to begin in April. Dominion says the election-fraud rumors have caused irreparable harm to its business.
Newsweek has contacted Fox News for further comment.