Steve Bannon's Plan for Dealing With Mueller's Probe Starts With Firing Rosenstein
Former White House chief strategist Steve Bannon and other hard-line supporters of President Donald Trump are calling for him to hamstring special counsel Robert Mueller's Russia probe by firing the man overseeing it.
Bannon has called on White House aides and Trump's allies in Congress to carry out a plan that would see Trump fire Deputy Attorney General Rod J. Rosenstein as its first step. Four sources familiar with the discussions told The Washington Post about the plan on Wednesday.
Since leaving the White House last summer, Bannon remained in touch with Trump until early January when he accused Donald Trump Jr. of treason in author Michael Wolff's West Wing exposé Fire and Fury. Bannon's involvement in the book saw him removed as the head of the hard-right news website Breitbart by its Trump donor owner Rebekah Mercer.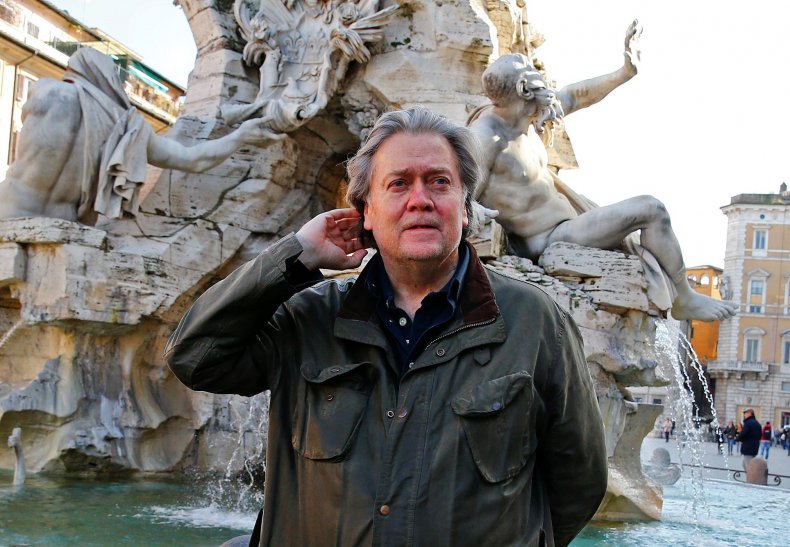 After Wolff's book release, Trump said Bannon was fired from the White House and that "he lost his mind." It is not clear whether Bannon has pitched his plan to the president directly.
Bannon's plan reportedly includes other steps, such as invoking the president's executive privilege as a way to invalidate Mueller's interviews with White House aides as he probes if Trump sought to obstruct justice by quashing multiple investigations into Russian election interference and allegations the Trump campaign knowingly aided the Kremlin. Bannon also suggests the White House stop cooperating with the probe after handing over reams of documents at the suggestion of Trump's legal defense team.
Read more: Devin Nunes threatens to impeach DOJ's Rod Rosenstein and FBI's Chris Wray
Bannon is just one of multiple Trump supporters to call on the president to fire Rosenstein this week after his close, personal attorney Michael Cohen's office, home, and hotel room were raided by federal agents on Monday. The raid is reportedly not connected to Mueller's probe.
On Wednesday night, attorney Joseph diGenova—who attempted to join Trump's legal defense team last month—said during an appearance on Fox News host Sean Hannity's show that Attorney General Jeff Sessions needs to fire Rosenstein "tomorrow morning." Trump urged his Twitter followers to watch Hannity before the show aired.
Rosenstein is overseeing Mueller's investigation into the Trump campaign. "If I wanted to fire Robert Mueller in December, as reported by the Failing New York Times, I would have fired him," Trump tweeted early on Thursday citing a story in The Times.
Trump railed against Mueller's investigation following the raid on Cohen, calling it a "witch hunt" and "biased." Trump has long said the investigation is a politically motivated attack meant to cripple his presidency.
Republican House Intelligence Committee chairman Rep. Devin Nunes also called for Rosenstein to be removed this week. Nunes has taken steps as the head of his committee to defend Trump and told Fox News host Laura Ingraham on Tuesday night that the deputy AG should be impeached if he doesn't turn over a document Nunes says forms the basis of Mueller's investigation. Nunes sees the investigation as a partisan-driven attack on the president and was given access to a redacted version of the document on Wednesday.
On Monday, after the raid, Fox Business host Lou Dobbs—who the president has often called up for advice and put on speakerphone to share his advice during administration meetings—said he would fire Mueller "in the three seconds if it were me." To do so Trump would first need to fire Rosenstein, who has said he sees no reason to put an end Mueller's investigation.
These statements have alarmed Democrats and some Republicans in Congress. A bipartisan group of Senators this week unified two bills in Congress to protect the special counsel. It is expected to come to a vote on April 26 at the Senate Judiciary Committee.