Steve Kerr Says Donald Trump Lacks Leadership to Deal With Peaceful Protests Like Colin Kaepernick's
Golden State Warriors head coach Steve Kerr has criticized President Donald Trump and Vice President Mike Pence's response to the ongoing demonstrations over the death of George Floyd.
Speaking on The Ringer's Flying Coach podcast, which he co-hosts with Seattle Seahawks head coach Pete Carroll, Kerr said the president lacks the required leadership to deal with peaceful protests, such as the one Colin Kaepernick launched four years ago.
The former San Francisco 49ers quarterback became a global icon when he first knelt during the national anthem in 2016 to protest against police brutality and racial discrimination.
"We don't have the leadership to support people like Colin Kaepernick," Kerr said.
"It's really hard for me to look at what's going on right now with all the violence and the protest and not look back to four years ago and say: 'Look this guy [Kaepernick] was trying to peacefully protest and nothing came of it.' The killings went on, nothing changed and he was actually ridiculed [for his actions]."
The gesture transformed Kaepernick into a global icon but split the public opinion. The former Nevada alumni last played football in 2016 before becoming a free agent. He subsequently sued the 32 NFL owners accusing them of colluding to deliberately keep him out of the league.
Kaepernick's non-violent protest has been cast into the spotlight again this week, as nationwide demonstrations sprung up across the U.S. in the wake of George Floyd's death.
Earlier this week, both Trump and Pence tweeted they supported peaceful demonstrations, an approach at odds to the stance they adopted four years ago when Kaepernick first began protesting.
"Pence just this past week tweeted 'We support peaceful protests'. Well no, you don't. You obviously don't,' Kerr said.
"Trump at the time called Kaepernick and all NFL players who were kneeling 'Sons of b******' and said 'Get them out of there and if they don't want to stand for their flag, fire them.'
"Trump yesterday in his comment said 'we support peaceful protest.' So obviously we don't have the leadership to support peaceful protests like Colin Kaepernick's from the top in our government," Kerr said.
Pence attended the Colts home game against the 49ers in Indianapolis in October 2017, only to leave the stadium as a number of players knelt during the anthem.
"I will not dignify any event that disrespects our soldiers, our Flag, or our National Anthem," Pence wrote on Twitter shortly after leaving Lucas Oil Stadium.
As demonstrations began across the U.S. after Floyd died while in custody of the Minneapolis Police Department on May 25, Trump has come under intense criticism at home and abroad for what some have perceived as a tone-deaf reaction.
The president has used his Twitter profile to urge state governors to forcefully crack down on protesters, after warning that he was ready to "send in the National Guard" and that "when the looting starts, the shooting starts."
On Monday, Democrats and members of the clergy accused Trump of fuelling the flames of an already combustible environment when police in Washington, D.C. used tear gas to disperse demonstrators so that he could walk across the road from the White House to be photographed outside St. John's Church holding a bible.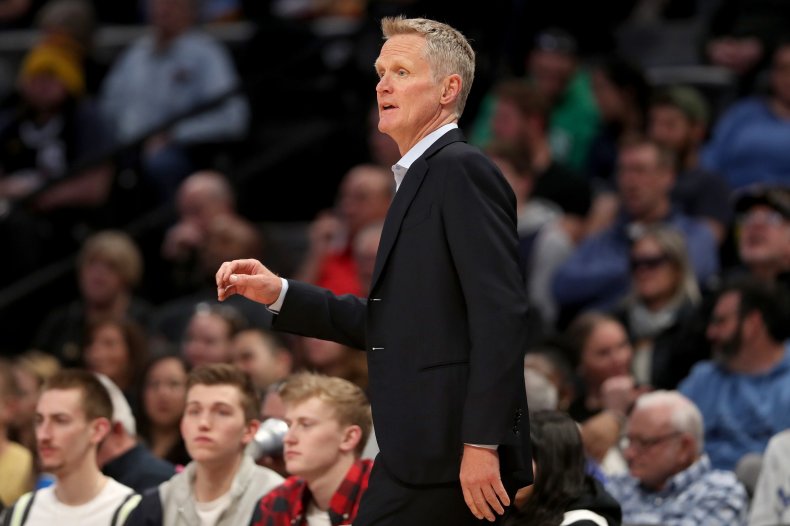 "Leadership and courage go hand-in-hand. We know we don't have that. We have a leader [Trump] whose main purpose in life is himself," said San Antonio Spurs head coach Gregg Popovich, who joined Kerr and Carroll on the podcast.
"He condemned the peaceful protests with Colin Kaepernick and will use whatever he can to advance his own purposes. [...] That leadership is not there."
An outspoken Trump critic, Popovich described the President as a "deranged idiot," a "fool" and "destroyer" during an interview with The Nation on Monday.
Speaking to Kerr and Carroll, the five-time NBA champion, doubled down on his stance insisting that while he did not condone the looting and violence that's unfolded in some parts of the U.S., it was important to understand "the anger, the hopelessness, the anger and the poverty" that some of the protesters deal with on a daily basis and that it was "inevitable and logical" that such discontent would eventually boil over.
Popovich said he hoped the protests would mark a tipping point and that any meaningful social change must include a radical reform of the relationship between police forces and the minority communities.
"Somehow the culture has to change. It's about policing," Popovich said. "This [the police] is not an occupying force. The black and brown people in our society look at them as an invading force, as they should. Now we have tanks and grenade launchers in some police departments, it's like the Soviets going into Hungary [when the Red Army invaded it in 1956]."