'I Don't Find Them Racist': Steve Mnuchin Defends Trump's 'Go Back' Tweets Against Congresswomen of Color
Treasury Secretary Steve Mnuchin on Monday defended President Donald Trump's tweet stating that progressive Congresswomen of color should "go back" to countries where they came from by saying he did not find the president's comments racist.
Mnuchin stood by the president when asked to comment on Trump's tirade during a briefing on regulating cryptocurrencies.
"I don't find them racist," Mnuchin said. "The president just went on and clarified his comments. I think he speaks for himself on that. He was very clear but again, we're focused on cryptocurrencies and then I'll do some debt ceiling stuff."
A reporter said, "You think they're not racist, if I could have a follow up," but Mnuchin ignored the request and went on to another question.
​Trump on Sunday morning over several tweets said ​that "'Progressive' Democrat Congresswomen, who originally came from countries whose governments are a complete and total catastrophe," should "go back and help fix the totally broken and crime infested places from which they came," and that "these places need your help badly, you can't leave fast enough."
The president was referring to four Congresswomen known as "The Squad": Alexandria Ocasio-Cortez who was born in New York and has a Puerto Rican mother, Rashida Tlaib who was born in Michigan and has Palestinian parents, Ilhan Omar who was born in Somalia and moved to New York, and Ayanna Pressley who was born in Ohio and is black.
Mnuchin has remained loyal to Trump. In May, Mnuchin refused to turn over Trump's tax returns, writing that the House Ways and Means Committee's request lacked "a legitimate legislative purpose."
People from both sides of the aisle including Republican strategist Ana Navarro, who was born in Nicaragua, called Trump a racist and #RacistPresident began trending on Twitter. But Mnuchin was not alone in defending the president.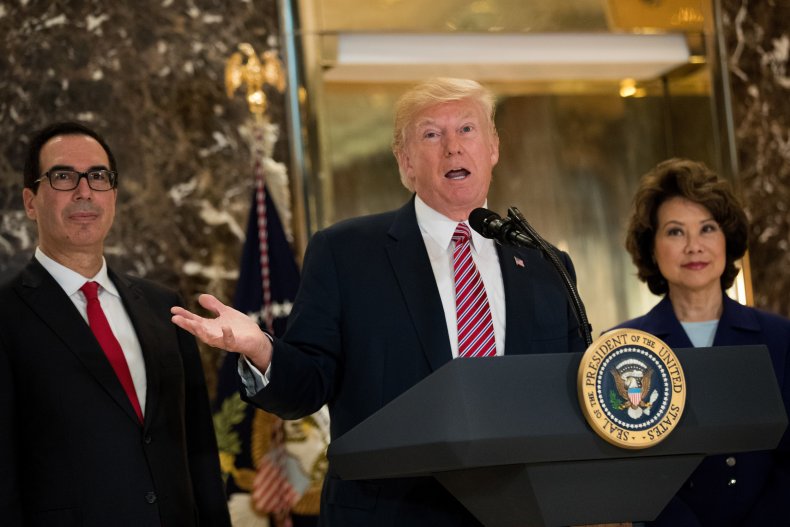 Vice President Mike Pence's Chief of Staff Mike Short told Fox News on Monday that Trump could not have had "racist motives" in his tweets because he choice Elaine Chao, who was born in Taiwan, as his transportation secretary.
"When people write that the president has racist motives here, just look at the reality of who is actually serving in Donald Trump's cabinet," Short said. "I think the president has a great ability to draw attention to Elaine Chao and his ability to tweet has been an effective communication skill."
Fox News senior political analyst Brit Hume tweeted on Monday that Trump's "go back" remarks were "nativist, xenophobic, counterfactul [sic] and politically stupid. But they simply do not meet the standard definition of racist, a word so recklessly flung around these days that its actual meaning is being lost."
Conservative CNN commentator Salena Zito on Sunday opined that Trump's "go back" tweet may not be considered racist by his supporters because the president also said the congresswomen could "then come back an show us how it is done."
"We are so polarized right now that even if you are a Trump supporter and you don't like what he says, you may not even say anything at all, push back at all, or may not even see it as racist," Zito said. "Because they will take that line where it says, 'you can go back and fix it' and then 'come back.' We're just so polarized."