Steven Crowder is being mocked online after he had a meltdown when he was tricked into debating Sam Seder on the latest episode of the H3 Podcast with Ethan Klein.
The conservative political commentator was left panicking when Klein added a surprise guest to the podcast who happened to be none other than progressive political commentator Seder, who Crowder has avoided debating in the past.
Known for sharing controversial and offensive opinions, Crowder hosts the "Louder with Crowder," podcast and its most popular segment called "Change My Mind."
During Monday's podcast, Crowder becomes visibly distressed when Seder appears.
"Oh no, it's Sam Seder! What a f***ing nightmare! I had no idea this was going to happen," he says.
Crowder becomes increasingly agitated and blasts Klein for putting him on the spot.
"I told you, I guarantee you he would do anything he can to avoid a debate," he says, then taking a jab at Klein's recent feud with Trisha Paytas, he adds: "He just takes advantage of women with mental health issues."
Seder, who is the host of The Majority Report, a daily, political talk show, defending Klein, adds: "Yeah, but you, you would do anything to avoid talking to me."
"Sam, I don't start debates with people based on lies!" Crowder protests before turning his camera off.
Klein then mocks: "Steven, you are such a coward. Stop showing your little leprechaun co-host who comes out dressed like your sidekick."
But why did Seder's presence incite such panic in Crowder?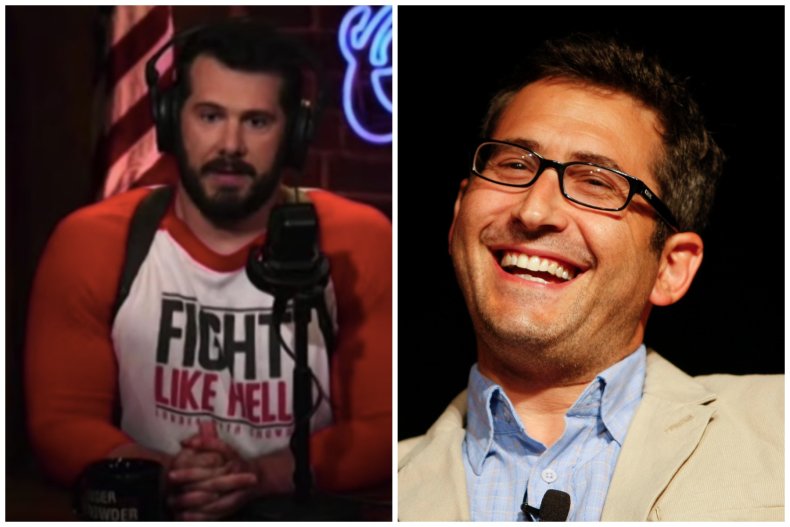 Back in 2018, Seder challenged Crowder to a debate at Politicon which Crowder refused. Ever since, Seder has challenged Crowder to further debates which he has not accepted.
Later in the episode, Seder berates Crowder for backing out of Politicon saying her has the recording of the call when he back out and criticizes Crowder for wanting to debate college students instead of left-wing pundits.
"I think Stephen is afraid of debating somebody—look I do a political show every day, it's dry, it's boring and you [Crowder] don't," Seder says to Klein. "And he's afraid."
The spectacle has prompted ridicule for Crowder on Twitter where he is being mocked for panicking once Seder arrived.
"Seeing Steven Crowder finally being made to face Sam Seder only to run away with his tail between his legs shouting weird shit like 'Ok then take of your glasses!' feels so damn cathartic," reads one tweet.
While another person added: "What Ethan just did is a great example of the only thing 'debate me' culture is good for: Getting Crowder types to shit themselves on camera."