Steven Seagal Given Land by Russia Previously Allocated for Sick Children
Actor Steven Seagal has been given land by authorities in the prestigious Rublevka area near Moscow that was previously allocated for the care of children with cancer, according to a report.
The Gorki Holding Co., which Seagal has a 26 percent stake in, received a huge plot of land in the Odintsovo district, according to Russian news outlet Baza. Authorities in the Moscow region reportedly gave the company 8.2 hectares (20 acres) of land in the Odintsovo district, with a market value of 800 million rubles ($13.6 million).
The company intends to build an International Center for Martial Arts at the site, Baza reported. Seagal's company received the land without bidding, and Moscow authorities justified the decision by saying that the company will create jobs as part of the facility's construction.
The Kremlin has said Putin and the actor and martial arts practitioner are longtime friends. The Russian president personally presented Seagal with a Russian passport in November 2016 when he was granted citizenship and has hosted him at his residence outside Moscow. During the early days of the Ukraine war, the actor expressed support for Putin. He has called him "one of the greatest world leaders, if not the greatest world leader, alive today," according to London's Times.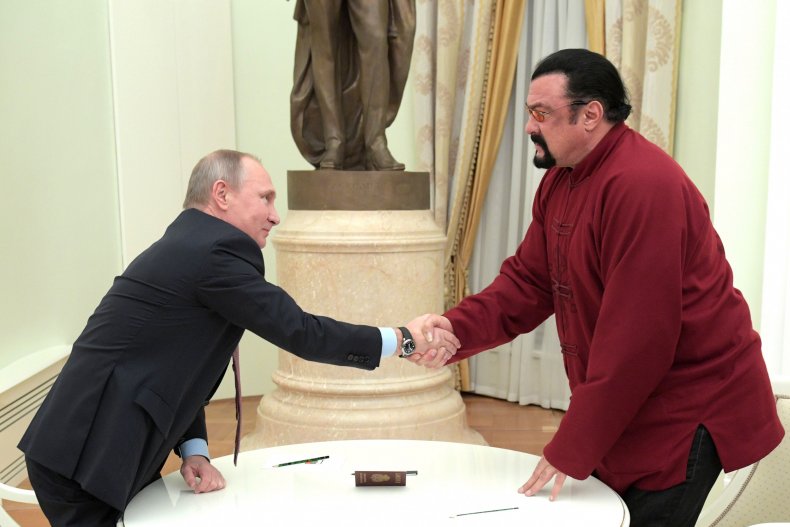 Seagal's paternal grandparents were Russian Jews who immigrated to the U.S. The actor traces his roots in the regions of Kalmykia, Tuva and Yakutia, according to the Russian state-run news agency RIA Novosti.
Putin press secretary Dmitry Peskov has said that Seagal, who is "known for his rather warm feelings towards our country," persistently and for a long time asked for Russian citizenship. Last year, Seagal vowed he would never renounce that citizenship.
According to Rosreestr, Russia's state register, the land given to Seagal's company was earlier registered with plans for a children's cancer rehabilitation center to be built there.
The official agreement concluded between Moscow regional authorities and Seagal's company states that a two-story martial arts center will be built by 2026. It will consist of "a complex of auxiliary buildings with a main aikido wrestling hall, a gym, a conference room and exhibition space," Baza reported.
"As part of the construction of the facility, it is planned to create 8 jobs with an average salary of at least 49.6 thousand rubles per month. Recruitment of personnel for the development of the facility is expected to be carried out among the local population of the Odintsovo urban district of the Moscow region," the agreement reportedly states.
Newsweek has contacted a representative for Seagal and Russia's foreign ministry for comment.