Steven Seagal Tells Putin's Allies 'We Stand Together' at Birthday Party
Steven Seagal has expressed his unwavering support for Vladimir Putin and his allies, even as most of the Western world turns its back on the Russian president following the invasion of Ukraine.
The Hollywood star is a vocal supporter of Putin, who he considers a friend. At a restaurant in Moscow on Sunday, where the actor was attending celebrations for his 70th birthday, Seagal called Putin's allies his "family" and "friends," as reported by The Times.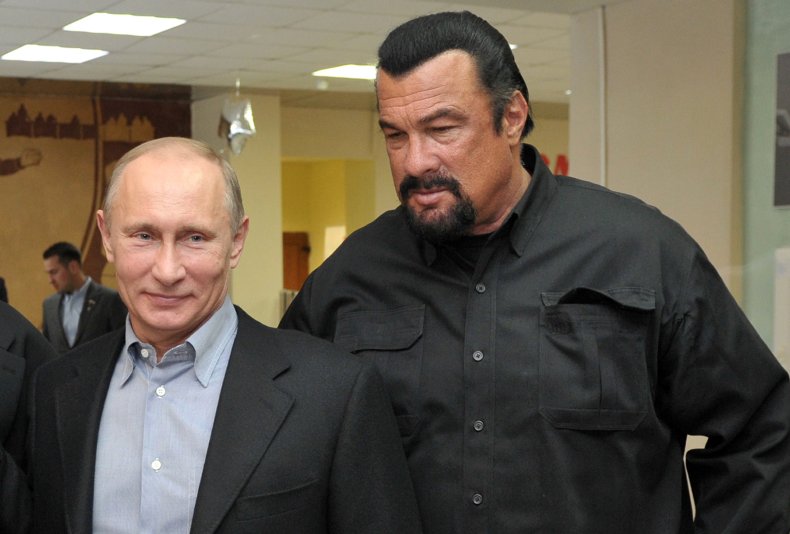 According to The Times, the party was attended by Putin allies including Margarita Simonyan, editor-in-chief of RT, the state-funded Russian broadcaster, and television presenter Vladimir Solovyev—both of whom have been targeted with Western sanctions because of their close ties with Putin.
Solovyev, considered one of the main supporters of the Kremlin on Russian TV, had two of his villas near Lake Como seized by Italian authorities in March. One of the villas was set on fire by unidentified protesters in April.
In a video circulated on Twitter, Seagal, dressed in black, can be heard making a toast to "each and everyone one of you, you are my family and my friends. And I love all of you and we stand together, through thick and through thin."
Seagal previously called Putin "one of the greatest world leaders, if not the greatest world leader, alive today", according to The Times.
The video is evidence that Seagal has not toned down his support for the Russian president, something that other former supporters—French actor Gerard Depardieu, Italian politician Silvio Berlusconi and French presidential candidate Marine Le Pen—have preferred to do in light of recent events.
Talking to Fox News in March, Seagal called for peace between Ukraine and Russia, saying the two were "one family."
"Most of us have friends and family in Russia and Ukraine," he said.
"I look at both as one family and really believe it is an outside entity spending huge sums of money on propaganda to provoke the two countries to be at odds with each other."
Seagal was barred from entering Ukraine in 2017, a year after he received his Russian citizenship. The ban, valid for five years, was justified by Ukrainian security services identifying Seagal as a threat to national security because of his ties with Moscow.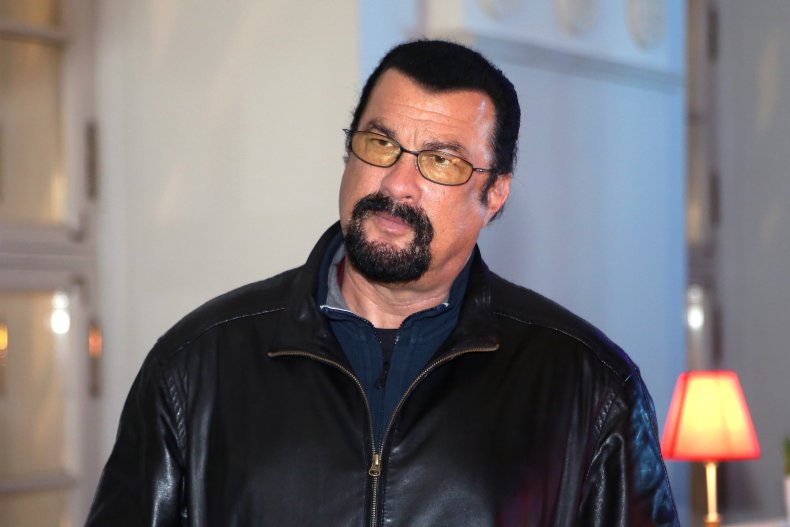 The friendship between the Under Siege star and the Russian president dates back years, likely to 2003 when Seagal attended the Moscow film festival and the two apparently bonded over their love for martial arts. The actor has supported Putin through the annexation of Crimea in 2014, which he called "very reasonable," as reported by The Moscow Times at the time.
In 2018, Moscow appointed Seagal as a special envoy to promote relations between the U.S. and Russia "in the humanitarian sphere."
In May 2021, Seagal joined a pro-Kremlin party called Just Russia - Patriots - For Truth, according to a video released by the party at the time.
Newsweek has reached out to Seagal for comment.