US Actor Steven Seagal, Long-Time Putin Admirer, Joins Pro-Kremlin Political Party
U.S. actor Steven Seagal, best known for his role in producing and starring in Hollywood action movies, joined a pro-Kremlin political party in Moscow this weekend after years of supporting Russian President Vladimir Putin.
On Saturday, Seagal received a party membership for a political alliance named Just Russia - Patriots - For Truth, according to a video released by the party. The alliance was formed earlier this year, after three pro-Putin parties merged into one entity, Reuters reported.
The party currently controls a faction in the lower house of Russia's parliament and plans to take part in an upcoming parliamentary election in September, according to the news outlet.
As part of his welcome speech Saturday, Seagal cited his support for law enforcement and encouraged the use of government crackdowns on businesses that harm the environment.
"We really need to set up a situation where we can investigate, arrest, and prosecute people criminally so that there is results," Seagal said during the event, according to Reuters. "Without being able to arrest people, when we just fine them, they are probably making more money of the production of the things that are defiling the environment."
The actor was also seen posing for photos next to one of the party's controversial leaders, Russian writer Zakhar Prilepin. Prilepin has previously admitted to commanding combat units responsible for killing tens of thousands of people, according to Reuters.
Seagal has had ties to Russia and been close friends with Putin for several years. According to NPR, the two initially bonded over their passion for martial arts fighting, with Seagal being an expert in aikido and Putin in judo. The two have appeared in several martial arts demonstrations and events together.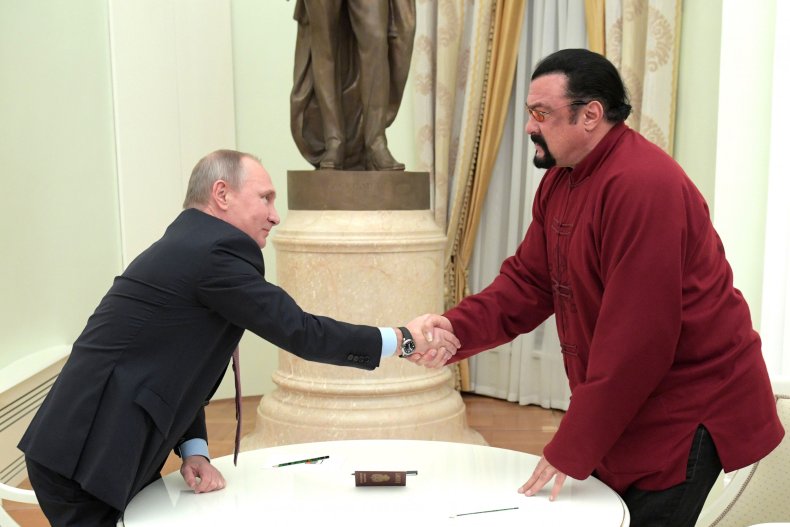 In 2016, the Russian leader granted Seagal a passport and citizenship into the country. Many of Seagal's action movies, including Under Siege and Sniper: Special Ops, are also known to be popular with Russian audiences.
Two years later, Putin appointed Seagal to be a special representative for the country in order to help improve ties between Moscow and Washington. The role has been likened to that of a U.N. goodwill ambassador, in which Seagal serves as a "socio-political" representative and receives no monetary reward.
"I've always had a very strong desire to do all I can to help improve Russian-American relations. I have worked tirelessly in this direction for many years unofficially and I am now very grateful for the opportunity to do the same thing officially," the U.S. actor said following the appointment.
In one of his most recent appearances as a Russian representative, Seagal visited Venezuela earlier this month to present a samurai sword to Venezuelan President Nicolas Maduro.
Throughout his career, Seagal has been accused of sexual harassment and misconduct by several Hollywood stars, including Portia de Rossi, Julianna Margulies and Jenny McCarthy. Seagal has also been accused of raping and assaulting two women when they were teenagers.
Seagal has denied the allegations.