Steven Seagal Goes on Russian TV, Attacks CNN After HIMARS Fact Check
Steven Seagal used expletives on Russian state television as he sided with the Kremlin's explanation for an attack on a jail that killed dozens of Ukrainian prisoners and condemned CNN's analysis of the strike.
Appearing on the nightly show Evening with Vladimir Solovyov, the Hollywood star described his visit to Olenivka prison in the Donetsk region, where an attack on July 29 left 53 dead. The Ukrainian POWs who were killed and injured included troops who had been captured after they had been holed up for months in the giant Azovstal steel mill in the southern port city of Mariupol, which fell to the Russians.
Kyiv accused Moscow of shelling the prison to cover up the murder and torture of Ukrainian POWS. Russia has accused Ukraine of using the U.S.-supplied High Mobility Artillery Rocket System, or HIMARS, to target the facility.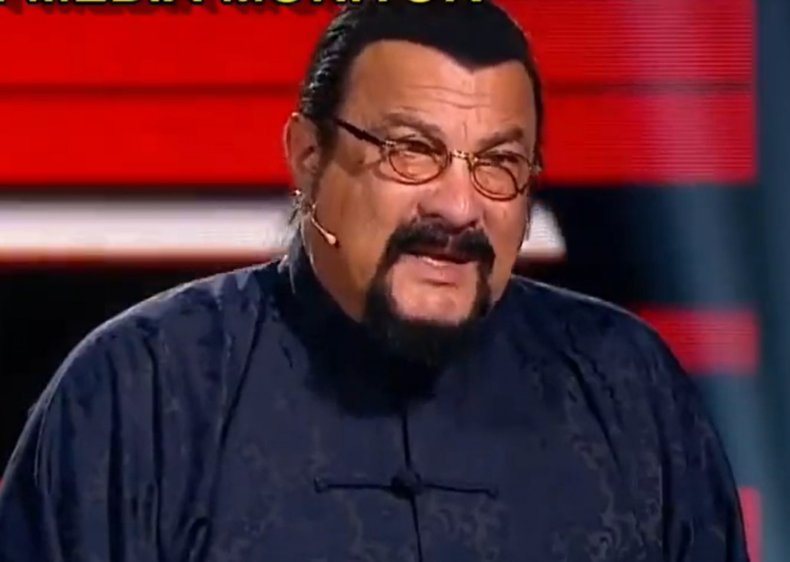 Neither side's account has been verified, although the U.S. warned this month that Russia will try to plant false evidence to make it look as if Ukrainian forces were responsible. Newsweek has contacted the Russian and Ukrainian defense ministries.
Days after video emerged of him at the site claiming HIMARS had been used to silence a "Nazi" being held at the prison, Seagal told the anchor on the channel Russia-1 that he visited the prison as part of a documentary he was filming.
"I saw this missile attack was from HIMARS, I had to go see that for myself and saw indeed that it was a missile, it came through and incinerated the entire area," he said on Thursday.
When asked if he was sure that it was a HIMARS missile, he rejected the explanation from Kyiv that the destruction had been caused by an explosion from the inside.
"I can tell you one billion percent that it wasn't a bomb that would blow from the ground floor up. You could see where a missile came in from outside and incinerated everything."
He was asked about CNN's fact check in which experts said that the prison could not have been struck by HIMARS missiles. "Of all the news outlets in the world, I think CNN has the least respect of any entity on Earth," he said.
The network's article states that the experts "can't say definitively what killed and wounded so many prisoners." Newsweek has contacted CNN for comment.
Seagal then referred to World War II Ukrainian nationalist leader Stepan Bandera, whose name has been invoked repeatedly by Vladimir Putin to justify his invasion.
Bandera is considered a hero, mostly in the western parts of the country and a Nazi collaborator in others, namely in eastern Ukraine. He was killed by Soviet intelligence in 1959 in West Germany.
He said the "imprint" of Bandera "on certain sections in Ukraine is tremendous. In my opinion there are hundreds of thousands of Nazis...and many of those guys want to fight."
Seagal also criticized the celebrities who have visited Ukrainian President Volodymr Zelensky and took aim at fellow action star Arnold Schwarzenegger, who made a video appeal to Russians to resist their country's disinformation about Ukraine.
"When Arnie says, 'oh there are no Nazis.' I have interviewed and seen hundreds and hundreds of Nazis and they're saying to me, 'I was in the fight and we love to f**king kill people.'"
"Nazis have not left Ukraine from WW2," he said in the interview in which he gave another Kremlin justification for the war—the expansion of NATO.
He said the one "who starts the war" is the one "who pushes his adversary to a point where he has no choice but to fight."
"Russia in my opinion was facing an existential threat. If they want to be Nazis, let them be Nazis, we don't give a sh*t. But we really want NATO to get out and let Ukraine be neutral."
When asked why he risked the wrath of Hollywood to come to Russia, he replied, "Because I'm Russian. This is my home," to which Solovyov replied, "I love that."
In tweeting the video, journalist and Russia watcher Julia Davis tweeted that Seagal was "spreading Kremlin propaganda like there's no tomorrow."
Seagal's paternal grandparents were Russian Jews who immigrated to the U.S. and the actor traced his roots in the regions of Kalmykia, Tuva and Yakutia, according to RIA Novosti. For years, Seagal has praised Putin who gave him a Russian passport in 2016.