Steven Seagal Receives 'Order of Friendship' From Vladimir Putin
Russian President Vladimir Putin has given American actor Steven Seagal an Order of Friendship medal for his work in supporting the nation.
Seagal, 70, described as the special representative of the Russian Foreign Ministry for Russian-American humanitarian relations, was given the medal for his "great contribution to the development of international cultural and humanitarian cooperation," according to the government announcement.
Established by former President Boris Yeltsin in 1994, the award recognizes the work of Russians and foreign nationals aimed at the betterment of life for Russian people.
Other notable recipients of the Russia's Order of Friendship medal have included former International Olympic Committee Boss, Jacques Rogge, and Christine Lagarde, President of the European Central Bank and former Managing Director of the International Monetary Fund.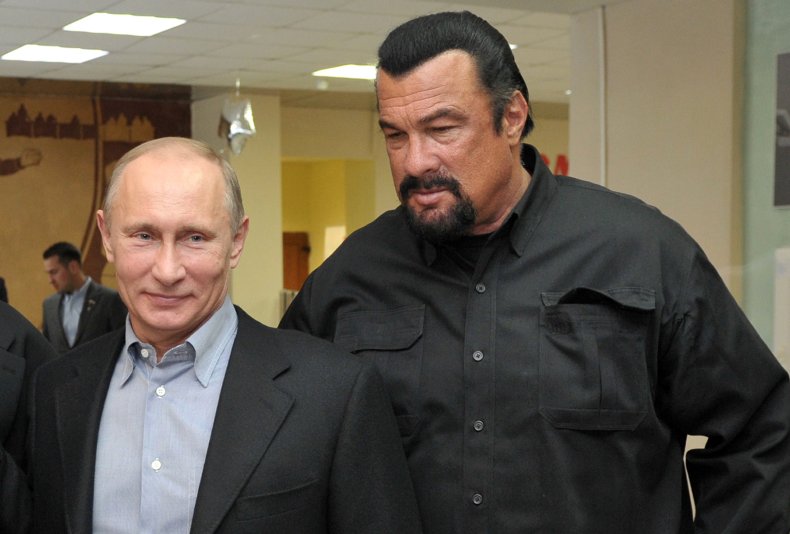 The cousin of the late Queen Elizabeth II, Prince Michael of Kent, returned his Order of Friendship medal after Russia invaded Ukraine in February 2022.
It's not the first time Seagal has received special accolades from the Russian state and even Putin himself.
Putin handed the actor his official Russian passport after he became a citizen in 2016. Seagal is an American citizen by birthright and was also made a citizen of Serbia in 2016.
In October 2022, Seagal was even given land by authorities in the prestigious Rublevka area near Moscow, with a market value of 800 million rubles ($13.6 million).
The land was awarded to Gorki Holding Co., which Seagal has a 26 percent stake in and it intends to build an International Center for Martial Arts on the site.
His company received the land without bidding, and Moscow authorities said they made the decision because the company will create jobs as part of the facility's construction.
Seagal has long been a vocal supporter of Putin and Russia, especially since the country's war efforts began a year ago against Ukraine. He even called Putin "one of the greatest world leaders, if not the greatest world leader, alive today."
But Seagal's support of Russia's military actions in Ukraine has not come without international condemnation.
In October last year, he was was one of six people recommended to be put under sanctions for his support of Russia and his approval of Putin's "aggressive occupation policy."
The recommendation was made in a letter addressed to Secretary of State Antony Blinken and the High Representative of the European Union, Josep Borrell. It was sent by the Commission on Security and Cooperation for Europe and signed by its co-chair Steve Cohen, fellow member Congressman Joe Wilson and politicians from Estonia, Ukraine, the European Parliament and Poland.
Ukrainian MP Oleksiy Goncharenko also co-signed the letter and said at the time that "sanctions should be imposed on everyone who serves the Putin regime, not just Steven Seagal.
"Putin has such a favorite pastime—former politicians, famous actors, musicians—to involve in his propaganda. He gives a lot of money, and for this, he asks to promote his narratives or put these famous people in high positions in state-owned companies in Russia," he told Newsweek.
This article was updated with more information on 2/27/2023 at 9.37 a.m. ET.