How Popular Is Joe Biden? Stimulus Check Deposits Coincide With Approval Rating Boost
President Joe Biden's approval rating has seen a slight boost which coincides with stimulus check money being deposited, according to a recent poll.
A weekly Reuters/Ipsos Core Political Survey carried out March 17 to 18 put Biden's approval rating at 59 percent.
That is up five percentage points from 54 percent in a similar survey carried out March 10 to 11.
This has been buoyed by a boost among independent voters whose rating went from 48 to 56 percent. Republican's approval went to 23 percent from 20, while Democrats went from 91 to 92 percent.
This comes after Biden signed the American Rescue Plan last week. Upon signing this legislation, he said: "This historic legislation is about rebuilding the backbone of this country and giving people in this nation—working people and middle-class folks, the people who built the country—a fighting chance. That's what the essence of it is."
The package included another round of $1,400 stimulus checks, with payments having started to arrive for those eligible.
According to the Internal Revenue Service (IRS), 90 million Economic Impact Payments had been sent as of Wednesday.
This financial boost to recipients comes with the polling highlighting the economy, unemployment and jobs being a key priority for respondents.
Nearly a fifth, 18 percent, said this was the most important problem facing the U.S. today. Second was public health, disease and illness at 16 percent.
On what Biden's priorities should be, coronavirus/COVID-19 came out top when respondents were asked to select the top two issues from a list of key points.
It was selected by 41 percent of respondents. The economy came second, with 34 percent.
On these issues, Biden received majority approval for handling them. For COVID-19, 65 percent gave him majority approval. For employment and jobs, then the U.S. economy, his approval was at 52 percent for each.
As with his approval overall, there was a partisan split on these matters.
For the economy, 85 percent of Democrats approved of how Biden is handling this compared to 23 percent of Republicans. For employment and jobs, this was 83 percent to 23 percent. For coronavirus, it was 93 percent to 39 percent.
The survey was conducted among 1,005 U.S. adults from March 17 to 18. The sample included 456 Democrats, 374 Republicans and 113 independents. The margin of error for the entire sample is plus or minus 3.5 percentage points. For Democrats, it is plus or minus 5.2 percentage points, Republicans plus or minus 5.8 percentage points and independents plus or minus 10.5 percentage points.
Biden's approval ratings have shown a partisan divide and splits among several other groups polled.
He has called for unity, though his push for this is an uphill battle according to survey results.
Newsweek has contacted the White House for comment.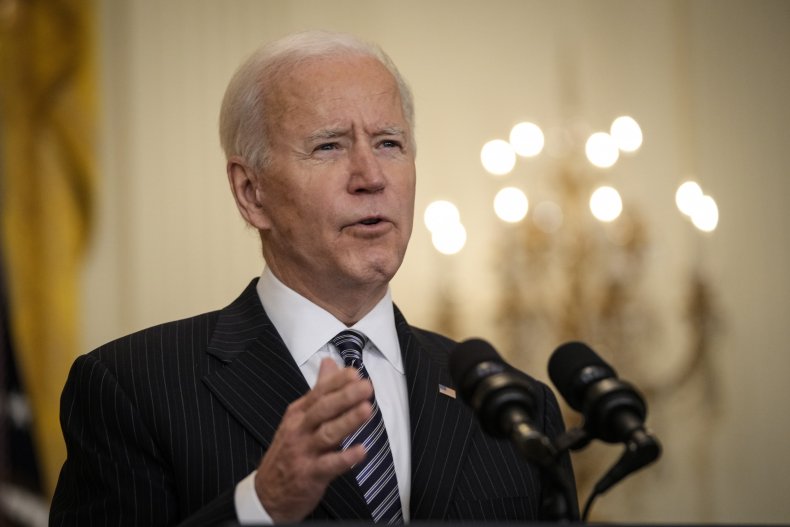 3/19/21 11.20AM EDT: The headline on this piece was updated.