Stimulus Checks Touted by Progressive Leaders After Report Shows Benefits to Americans
Progressive leaders touted the benefits of stimulus checks after a new report showed how they substantially reduced a number of hardships for Americans across the country.
The New York Times reported on a study from the University of Michigan looking at data compiled by the Census Bureau on Wednesday, showing multiple ways the lives of everyday Americans improved significantly after the passage of a $600 stimulus check in December followed by another $1,400 direct payment in March.
The analysis showed that household food shortages dropped by 42 percent, a broad gauge of financial instability declined by 43 percent, and frequent anxiety and depression dipped by over 20 percent.
"Putting money in people's pockets WORKS. We can and MUST continue to enact people-first policies that improve lives," Representative Pramila Jayapal, the chair of the Congressional Progressive Caucus and a Washington Democrat, tweeted, sharing a link to The Times report.
Representative Ilhan Omar, a Minnesota Democrat and the Progressive Caucus' whip, shared the report as well.
"A case study for implementing #UBI," she wrote on Twitter with a winking emoji.
UBI stands for universal basic income—an idea popularized in the U.S. by former Democratic presidential hopeful and current New York City mayoral candidate Andrew Yang as well as other progressive politicians. UBI plans would provide individuals with a base amount of money every month to be used however they see fit.
"This is how we address the poverty crisis + generational trauma," Representative Rashida Tlaib, a Michigan Democrat and a vice chair of the Progressive Caucus, tweeted, sharing a link to the Times' report.
Tlaib went on to tout the ABC Act, which she introduced earlier this year. That proposal would provide recurring monthly payments of $2,000 to Americans.
"If anything, the survival checks proved what advocates have been saying and demanding," Tlaib tweeted.
When reached for comment on Thursday morning, a spokesperson for Jayapal pointed out that the Progressive Caucus chair joined Tlaib in introducing the ABC Act. He referred Newsweek to a statement the congresswoman made in March, when the legislation was introduced.
"This unprecedented moment demands an unprecedented response. People don't only need relief, they need stability, certainty, and predictability and the ABC Act delivers them exactly that. Our legislation acknowledges that a one-time survival check isn't enough to get people through this crisis. Instead, we send out recurring checks every month during the crisis and for a year after it ends. That is money in people's pockets, and certainty in their lives," Jayapal said at the time.
More than 2.3 million people have signed a petition on Change.org calling on Congress and President Joe Biden to provide $2,000 per month recurring payments to Americans. Over 80 lawmakers have also publicly endorsed the idea of additional stimulus checks or recurring monthly payments.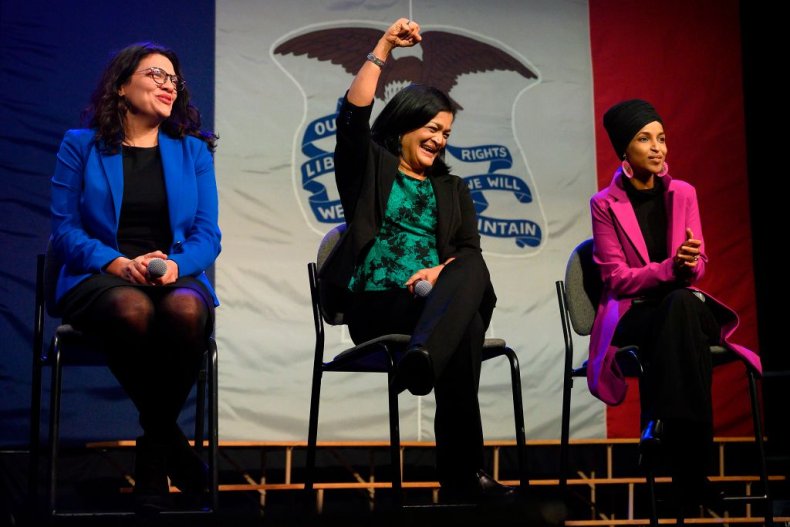 Congress first approved $1,200 direct payments for most Americans in March 2020, as the nation locked down at the outset of the COVID-19 pandemic spreading across the country. The government later provided most Americans with an additional $600 stimulus check through legislation passed in December. Then President Joe Biden's American Rescue Plan doled out additional $1,400 checks. Whether further direct payments will be approved remains to be seen, but there is currently significant support for more stimulus checks within Congress and among the American public.
Newsweek reached out to Omar's office for further comment, but did not immediately receive a response.