As Stimulus Talks Stall, Congressional Democrats Lead Republicans by 9 Percent in Favorability
With coronavirus relief negotiations in Congress at an impasse, Democratic lawmakers have a significantly higher favorability than their Republican counterparts, new polling shows.
The survey, carried out by Politico/Morning Consult from August 9 to 10, shows that congressional Democrats were viewed favorably by 45 percent of voters. Meanwhile, Republicans were viewed favorably by just 36 percent.
But when it came to the economy, a slightly higher percentage of voters said they trust the Republicans in Congress over Democrats. The GOP lawmakers were backed by 43 percent of voters, while Democrats were seen as better at handling economic issues by 41 percent. Notably, when it came to handling jobs, the results were exactly reversed, with Democrats being trusted by 43 percent while Republicans were backed by 41 percent.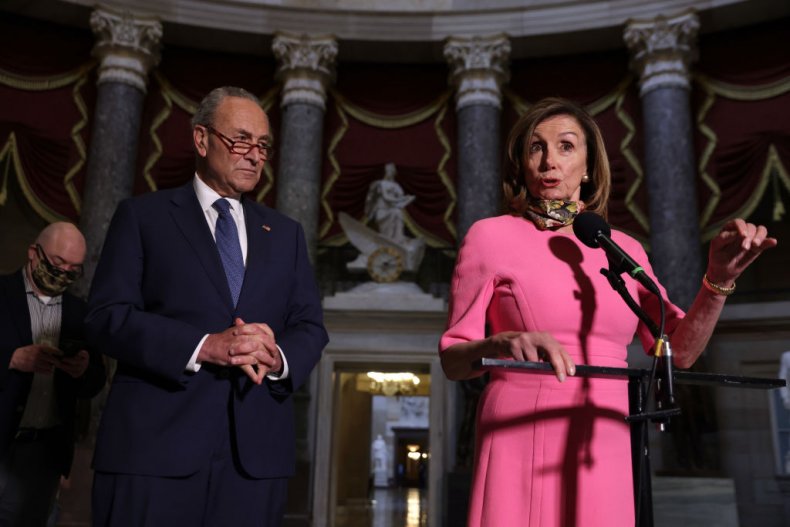 With health care, Democrats were double digits ahead of the Republicans. A full half of voters said Democratic lawmakers were more trustworthy on health care policy, while just under a third (32 percent) said the same of GOP members in Congress. The results were similar for education, with 48 percent saying they trusted the Democrats while 33 percent said they trusted Republicans.
The poll was conducted after discussions over another round of economic relief legislation stalled last week, and Republicans and Democrats remain far apart.
In May, the Democratic-controlled House of Representatives passed the $3 trillion HEROES Act, but Republicans quickly dismissed the proposed bill as a "wish list." In late July, Senate Majority Leader Mitch McConnell put forward a $1 trillion proposal dubbed the HEALS Act. Speaker of the House Nancy Pelosi has argued that the two sides should meet in the middle and pass a $2 trillion bill, but until now negotiations remain at an impasse.
President Donald Trump on Saturday attempted to take matters into his own hands by signing a series of executive orders that extend federal unemployment payments, suspend student loan payments and defer payroll taxes through the end of the year. However, he decreased the unemployment payout to a maximum of $400 per week, compared with the $600 that Democrats want to extend.
Although the poll was conducted after Trump issued his executive orders, its results show that Democrats in Congress are viewed more favorably than the president. Just 41 percent of voters said they viewed Trump favorably, 4 percent less than Democrats in Congress but 5 percent higher than Republicans.
When and if new legislation gets passed in Congress is uncertain. Pelosi suggested on Wednesday that discussions had not really moved forward, saying Republicans and the White House are not willing to compromise. But Treasury Secretary Steve Mnuchin, the White House's point person on the negotiations, said Pelosi's assessment was not "accurate."