Will Congress Provide Second Stimulus Checks Left Out of Trump's Executive Orders?
While President Donald Trump's executive orders on Saturday were intended to extend federal unemployment benefits during the coronavirus pandemic, the orders did not provide a second round of direct payments to Americans.
Both the Democratic-backed HEROES Act and the Republican-proposed HEALS Act contain another round of $1,200 payments for most Americans. The White House has also expressed support for the additional payments, backing the HEALS Act proposed by Senate Majority Leader Mitch McConnell at the end of July.
Under both parties' plans, the $1,200 payments, known as stimulus checks, would be doled out to Americans in a manner similar to that detailed in the CARES Act, which was passed in March. Under that legislation, all American adults earning $75,000 or less annually were promised $1,200 payments. The amount paid out was reduced for those earning more than $75,000 but less than $100,000. Those earning $100,000 or more were not entitled to any payout.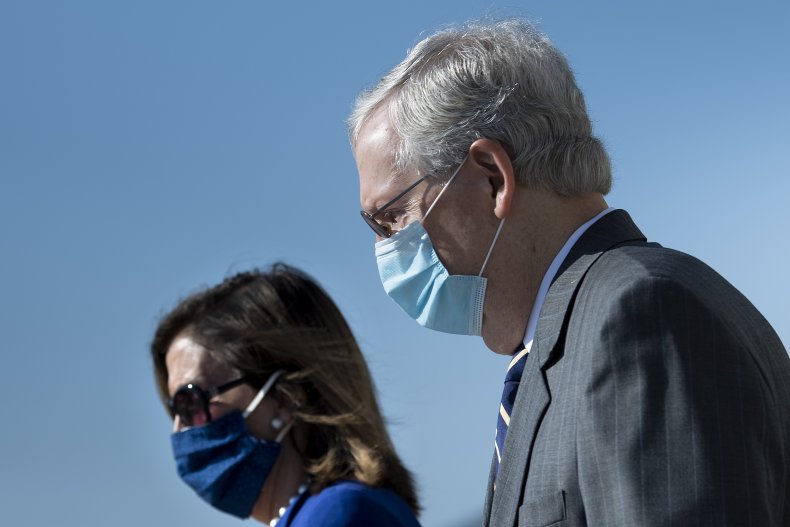 Although most lawmakers and the president approve of sending out a new round of payments, negotiations have stalled between Republicans and Democrats over the details of their respective coronavirus relief packages. A major sticking point is the price tag. The $3 trillion HEROES Act was passed by the Democratic-controlled House of Representatives in May. But the HEALS Act put forward by McConnell is estimated to cost significantly less, at about $1 trillion.
Democrats have expressed a willingness to compromise. But some prominent Republicans have even expressed opposition to the $1 trillion legislation put forward by McConnell, a Kentucky Republican.
"We'll take down a trillion if you add a trillion," House Speaker Nancy Pelosi, a California Democrat, said on Friday. "They [Republicans] said absolutely not."
Ahead of McConnell first introducing the HEALS Act, several prominent GOP senators voiced their opposition. Senators Ted Cruz of Texas and Rand Paul of Kentucky were the most vocal in their criticism.
A Cruz spokesperson told Newsweek in July that the senator was against the Republican package, saying that as it "currently stands, he's a 'hell no." Cruz has argued that the U.S. "shouldn't be spending trillions and trillions of more money we keep borrowing from China."
Newsweek reached out to Pelosi and McConnell for comment on the relief package negotiations, but they did not respond in time for publication.
The White House, meanwhile, has expressed a willingness to compromise with the Democrats. "If we can get a fair deal, we're willing to do it this week," Treasury Secretary Steve Mnuchin told CNBC on Monday.
If negotiations move forward and a deal is reached this week, Americans should be able to expect a second stimulus check sometime in early September, based on the timeline for the first round of payments. While discussions between lawmakers and the White House remain stalled, there continues to be bipartisan support for a second round of the checks, meaning they are likely to be approved if and when Democrats and Republicans reach a consensus.