President Donald Trump on Saturday signed a series of executive orders to address economic concerns amid the ongoing novel coronavirus pandemic, saying that they would "take care of, pretty much, this entire situation." But the orders did not provide additional money for small businesses and funding for schools ahead of reopening, or address significant budget shortfalls in states across the country.
Trump signed the orders as Republicans and Democrats remained at an impasse amid negotiations over the next round of economic stimulus legislation, after new coronavirus infections and deaths surged during the past month. Democrats in the House of Representatives first passed their $3 trillion HEROES Act proposal in May, but Senate Republicans dismissed the legislation. In July, Senate Majority Leader Mitch McConnell, a GOP lawmaker from Kentucky, released a smaller $1 trillion bill, dubbed the HEALS Act.
With the two parties have been unable to reach a compromise, Trump took executive action to extend weekly unemployment insurance, albeit at a smaller amount of $400 compared to the previous $600, and to defer payroll taxes. His executive orders additionally discouraged evictions nationwide, while suspending student loan payments through the end of 2020. Democrats, and some Republicans, were quick to criticize the president's orders.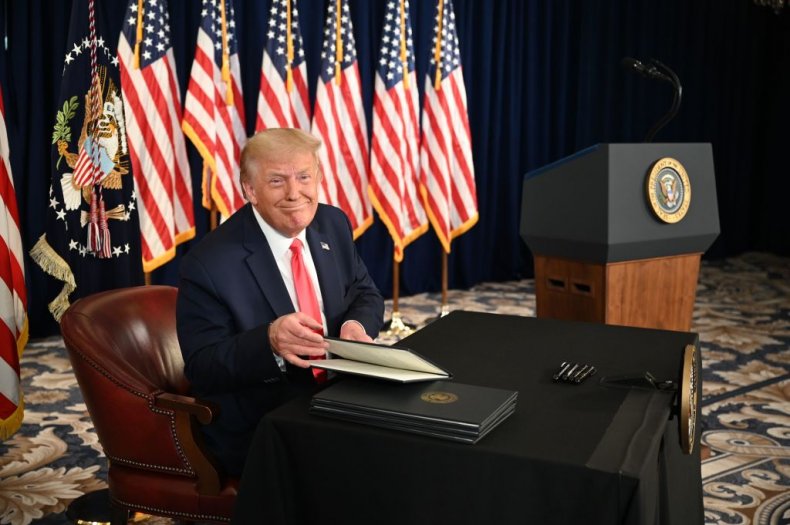 "Today's meager announcements by the president show President Trump still does not comprehend the seriousness or the urgency of the health and economic crises facing working families," Speaker of the House Nancy Pelosi, a California Democrat, and Senate Minority Leader Chuck Schumer, a New York Democrat, said in a joint statement following Trump's announcement.
"These policy announcements provide little real help to families. For instance, not only does the president's announcement not actually extend the eviction moratorium, it provides no assistance to help pay the rent, which will only leave desperate families to watch their debt pile higher. Instead of passing a bill, now President Trump is cutting families' unemployment benefits and pushing states further into budget crises, forcing them to make devastating cuts to life-or-death services," they said.
As Democrats and Republicans raise concerns about the legality of Trump's executive orders, the orders also do nothing to address concerns from state leaders about budgets, which have taken a significant blow due to the ongoing pandemic. As the president has urged schools to reopen in the fall, his measures also do not provide additional funding to support staff and administrators looking to do so safely. Additional funding for small businesses and money for direct stimulus payments to Americans, which were included in the Democratic and Republican proposals, were not part of the president's actions either.
"Whether the president's orders help motivate lawmakers to act or give them the false impression that immediate action isn't needed, remains to be seen. In either case, it reflects poorly on the state of government in America," Mark Hamrick, Bankrate.com's senior economic analyst, said in an email to Newsweek.
Newsweek reached out to the White House for comment, but it did not respond by the time of publication.
Republicans, Democrats and the White House continue to negotiate, however, and some of these proposals may still move forward in another round of stimulus legislation.
"The president is determined to spend what we need to spend," Treasury Secretary Steve Mnuchin told CNBC's Squawk Box on Monday morning. He added: "We're prepared to put more money on the table." Although Mnuchin would not give a timeline, he said the administration was "willing to do it this week" if it could make a "fair deal" with Congress.
Democrats have urged Republicans and the White House to return to the negotiating table, showing that they continue to hope a deal can be reached. "Meet us halfway and work toward a compromise that will truly help American workers and families," Pelosi tweeted on Sunday.