Sting Signs Multi-Year Deal with All Elite Wrestling But Don't Expect Him to Get Too Physical
Sting, the legendary wrestler, appeared on All Elite Wrestling Dynamite Wednesday in a return that has shocked the industry.
After retiring from the WWE in 2016, the "Stinger" returned to the squared circle during AEW's special "Winter is Coming" episode of Dynamite following the end of the Darby Allin/Cody Rhodes and Rickie Starks/Will Hobbs tag team match.
During a post-match beatdown, Daily's Place went dark before an eerie video package played. It wasn't clear who or what this package was announcing, but once the word "Sting" appeared, the arena erupted.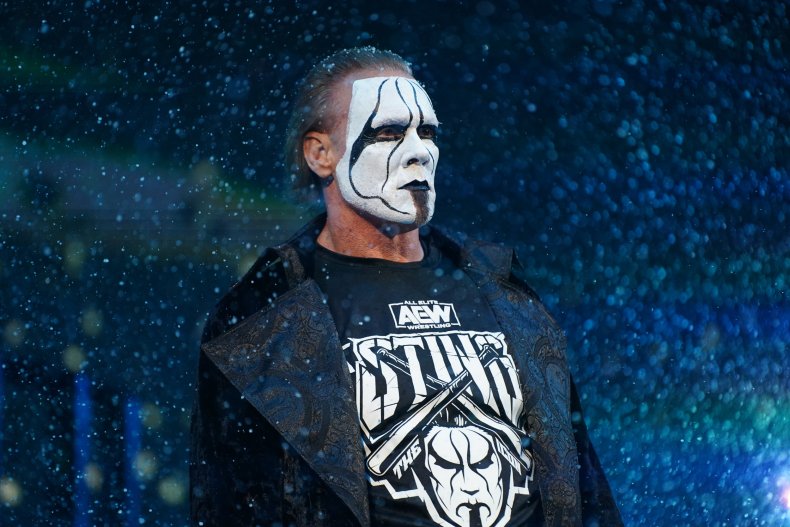 Sting didn't get physical, only staring down Cody, Cody's manager Arn Anderson--whom Sting has a long history with dating back to their days in WCW---and Allin, who many fans liken the young upstart's aesthetics to the legendary wrestler.
The appearance set social media ablaze Wednesday night as he trended throughout the evening.
AEW sent out a press release shortly after, confirming the company signed Sting to a full-time, multi-year contract. Sting is All Elite.
"The surprise introduction of Sting was a great way to celebrate our biggest episode of Dynamite yet," said Tony Khan, CEO and GM of AEW said in the press release. "When AEW launched, I was ecstatic to bring wrestling back to TNT after a very long absence. Sting defeated the legendary Ric Flair in the final wrestling match to be shown on TNT for more than 18 years until the debut of Dynamite in 2019. Now, almost two decades later, it's such a thrill to welcome Sting to AEW and bring him back home to TNT!"
So what does that mean for Sting and for AEW? At 61 years old it's hard to imagine Sting getting too physical in the ring. His last match was at WWE's Night of Champions pay-per-view in 2015 against Seth Rollins where Sting suffered a major injury.
Sting would headline the 2016 WWE Hall of Fame class where in his speech announced his retirement.
The unofficial diagnosis being spinal stenosis, which is the same injury that retired Edge--but we all know how that story ended.
Dave Meltzer on Wrestling Observer Radio--via WrestleTalk--said Wednesday night that Sting won't be taking any bumps for AEW out of caution for the wrestler's history of neck injuries. This would lead us to believe that Sting would be used as a character or the show and get involved in brawls similar to how the 62-year-old Arn Anderson has been used in recent months.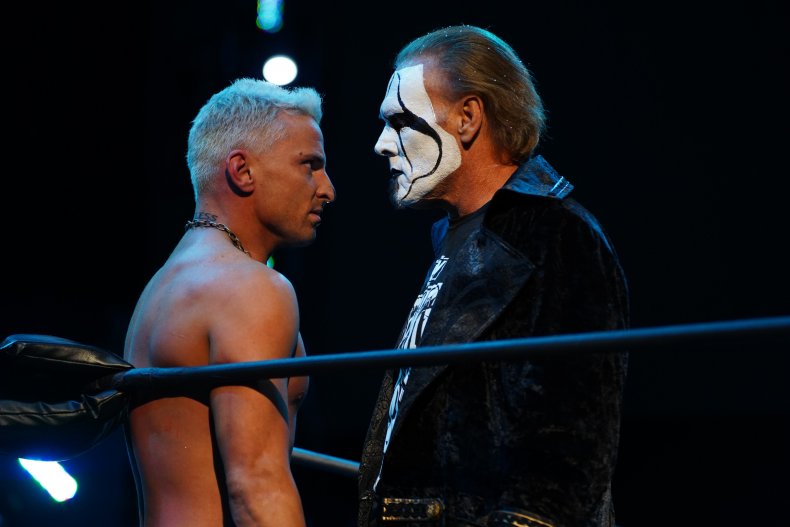 The seeds for Sting's appearance on AEW started in late October when WWE pulled the wrestler's merchandise from its online store. Reports at the time confirmed that Sting's "Legends" contract with the WWE had expired several months prior. Typically, WWE is allowed to sell merchandise of Legends up to six months after their contract expires.
This move confirmed that Sting was no longer affiliated with the WWE in an official capacity. As has been the case since AEW launched in 2019, speculation and rumors of Sting jumping to the upstart promotion began as news of his contract expired made the rounds.
Sting is set to return to AEW Dynamite next week in a talking segment. Fans will learn more about why Sting is in All Elite Wrestling and what story he will become a part of then.
What did you think of Sting's appearance on AEW? Who do you want to see the wrestler interact with? Let us know in the comments section.