Stockton Serial Killer's Behavior Creates Strong Chance of Getting Caught
The serial killer behind the five murders being investigated by Stockton police in California is likely to be caught soon, according to criminologist Professor David Wilson.
Stockton Police Department said on Thursday it was looking into several recent killings in the area as the work of one person or group of individuals after detectives noticed parallels between the murders.
On Saturday, police released an update, with both the list of five cases they were looking into and a photograph from a surveillance camera potentially showing the serial killer.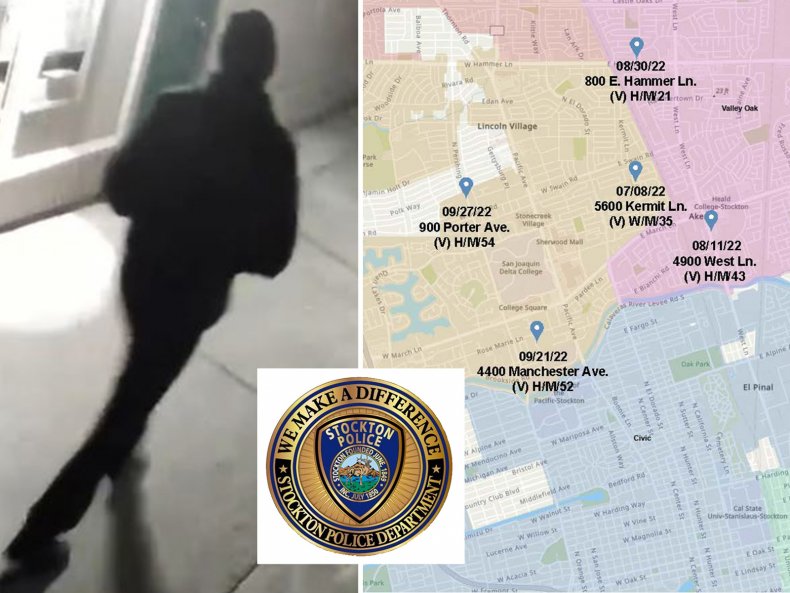 "It's interesting is that the police have been able to release a CCTV image of the man they suspect of committing these murders—that implies that there are more tricks that law enforcement can use to bring a perpetrator to justice," Wilson, Professor Emeritus of Criminology at Birmingham City University in the U.K., told Newsweek.
"The reason I think he will be caught is because he's what's known as 'geographically stable,'" said Wilson, the founding Director of the Centre for Applied Criminology at the university.
"In other words, he's not moving very far. He's not crossing state boundaries. He's not traveling great distances to kill his victims," Wilson added.
"He's concentrating his victims in the city of Stockton. And if you're geographically stable in that way, as opposed to being geographically transient, the chances of you being caught are that much higher."
Police believe the same killer was involved in the shootings and murders of 35-year-old Paul Alexander Yaw on July 8; Salvador William Dubedy Jr., 43, on August 11; a 21-year-old Hispanic man on August 30; a 52-year-old Hispanic man on September 21; and Lorenzo Lopez, 54, on Tuesday.
"A serial killer is somebody who technically kills three or more people in a period of greater than 30 days," Wilson said.
"And this man started killing on the 8th of July, and his most recent victim was on the 27th of September. So he would fit the original FBI definition of what it means to be a serial killer."
Though the locations and ages of the victims varied, all murders happened during the night in isolated, dark places, with no witnesses or cameras, and all were men on their own.
Wilson, who is based in the U.K., hasn't been able to access the crime scene or speak with the Stockton Police Department, but he can apply some general rules of criminology to the case.
"The first of any sequence of murders is going to generate the greatest number of clues," Wilson said. "And that's because if this is the first in that sequence of murders, the killer is usually inexperienced and will therefore make mistakes. And those mistakes often allow law enforcement to harvest forensic clues that are going to prove to be useful in terms of identifying a perpetrator.
"The second thing that strikes me is that he is targeting lone men and he's shooting them and he's targeting them, hitting them at specific times—in the evening," Wilson added. "So this feels very much like it is connected to perhaps his working life. He kills when he is able to go to work or return from work."
Wilson says that this is only a superficial analysis of the murders. "I did slightly worry that the gap between the fourth and the fifth murder was only a matter of six days, and therefore the gap was becoming narrower between killing incidents. And, therefore, that did imply that he was becoming much more confident and willing to take risks."
Newsweek has contacted the Stockton Police Department for comment.
Correction, 10/4/2022 12:40 p.m. ET time: This article has been updated to correct a quote by Prof. Wilson.