Florida Hospitals, Ravaged by Delta Variant, Prepare for Potential Tropical Storm Fred
Hospitals in Florida have told Newsweek they're prepared for the possibility of severe weather when Storm Fred hits the southern state over the weekend, despite the ongoing COVID crisis and the rapidly spreading Delta variant.
The storm, which is currently classified as a tropical depression, is expected to grow in strength over the next couple of days to become a tropical storm by the time it hits Florida.
In an advisory at 5 a.m. on Friday, August 13, the National Hurricane Center (NHC) confirmed that it had issued a Tropical Storm Warning for the Florida Keys, while a Tropical Storm Watch had been extended to several parts of the state.
A Tropical Storm Warning is issued when tropical storm conditions are
expected somewhere in the predicted area within 36 hours, while a Tropical Storm Watch is created when the conditions are possible.
The storm was recorded by the NHC at "very near tropical storm strength" at about 11 p.m. on Thursday, after Fred weakened to a tropical depression on Wednesday night while over central Hispaniola in the Caribbean.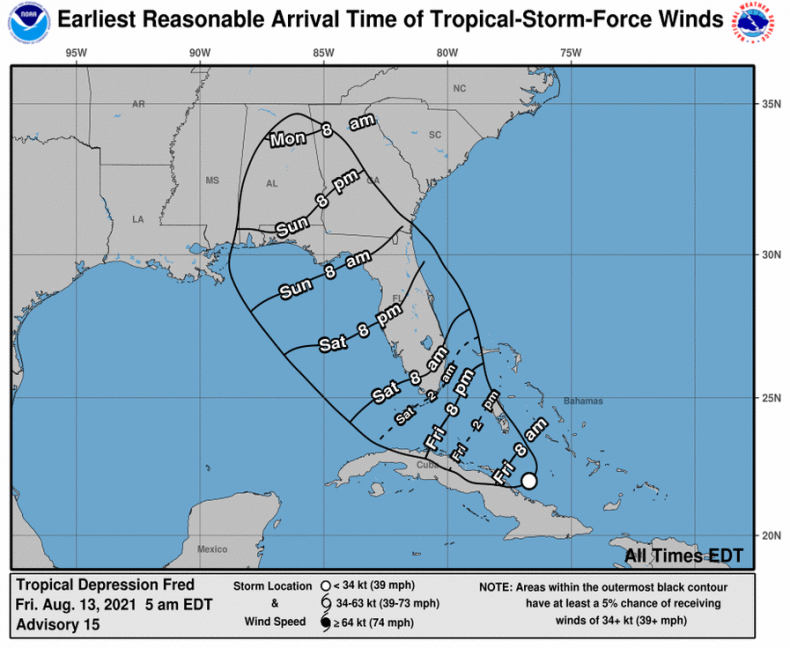 The storm is expected to hit Florida at around 2 a.m., after passing over Cuba and the Florida Keys on Saturday, bringing heavy rainfall with it.
A map of the projected path of Fred, published by the NHC on Friday morning, showed that the storm is expected to hit Georgia, Alabama and Mississippi in the days following landfall in the U.S.
Fred will hit Florida as the state grapples with a dramatic increase in the number of new COVID cases and deaths alongside a record number of hospitalizations, stretching the state's healthcare system.
Newsweek spoke to officials at Florida hospitals about the plans put in place to help them cope with possible severe weather amid the COVID crisis, which is being exacerbated by the spread of the highly contagious Delta variant.
An official at Tampa General Hospital (TGH) told Newsweek that: "As the region's leading safety net hospital, Tampa General Hospital has deep planning and infrastructure in place to meet these natural disasters and maintain quality care for our patients and community."
They explained that the hospital has several plans in place for severe weather, including "an emergency power system that activates automatically and maintains all critical life-saving equipment" during a power outage.
"In addition, TGH has hurricane shutters, hurricane-rated widows, roll-down doors and protective coverings for every entrance and window," the official added, as they said that they also have a warehouse full of supplies in case of shortages or damage.
A spokesperson for Orlando Health told Newsweek that the facility "takes all tropical events seriously and prepares accordingly. Preparations include stocking up on fuel supplies, ensuring back-up power resources are operational and identifying the availability of all HERT (Hospital Emergency Response Team) members across the system.
"During inclement weather events, our goal is to ensure the continued safety and care of all patients, regardless of their diagnosis."
Meanwhile, the office of Florida Governor Ron DeSantis revealed that the state is "closely monitoring the situation and ensuring that Floridians will be safe and prepared."
It said: "Our state has world-class experience and expertise in emergency management. The Division coordinates emergency preparedness and response, including coordination with hospitals as needed."
Florida has already had to deal with extreme weather earlier this summer, as Fred is the sixth named storm of the Atlantic season, but it's the first since Elsa developed into a Category 1 hurricane in early July.
Elsa caused heavy flooding as it worked its way up the eastern seaboard of the U.S., eventually hitting New York City with sustained rainfall. Subway stations in several areas of the city were flooded.