Tourists Urged to Leave as New England Braces for 1st Hurricane in 30 Years
Massachusetts Governor Charlie Baker has urged tourists to leave the area as New England braces for Storm Henri, which is expected to become the first hurricane to hit the region in 30 years.
In an update at 11:00 p.m EDT on Friday, the National Hurricane Center (NHC) confirmed that portions of "Long Island, Connecticut, Rhode Island and southeastern Massachusetts" were expected to be hit by Henri on Saturday night and Sunday morning.
Although Henri is currently classified by the NHC as a tropical storm with wind speeds up to 70 mph, just shy of the 74mph needed to be a hurricane, the agency said that it is likely to be upgraded with "hurricane conditions" expected in both Long Island and Connecticut on Saturday evening, with a Hurricane Warning issued for both areas.
The agency has also predicted hurricane conditions to begin hitting parts of Massachusetts and Rhode Island later on Saturday through to Sunday, with Henri expected to "affect much of the east coast of the U.S. through the weekend."
Flash flooding is expected to be caused by the severe weather from Sunday until Monday, while the agency is predicting that swells from the storm could "cause life-threatening surf and rip currents."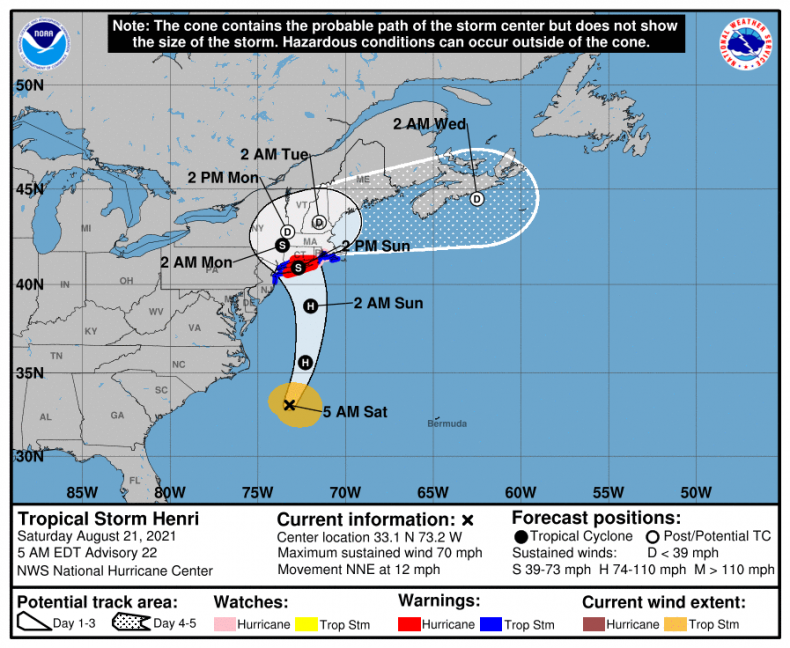 If Henri is upgraded to a hurricane by Saturday as predicted, then it will be the first to hit New England for 30 years when Hurricane Bob caused devastation in Rhode Island in 1991, killing 17 people and causing billions worth of damages.
The storm, which flew boats off their moorings and onto streets across New England, left hundreds of thousands of residents without power for days.
Michael Finkelstein, Police Chief and Emergency Management Director in East Lyme, Connecticut, told the Associated Press on Friday that the path of Henri "is extremely worrisome."
He added: "We haven't been down this road in quite a while and there's no doubt that we and the rest of New England would have some real difficulties with a direct hit from a hurricane."
On Friday, Baker echoed Finkelstein's comments, urging tourists vacationing in the state to leave the region before the storm makes landfall and telling those planning to visit over the weekend to delay their travels.
"We don't want people to be stuck in traffic on the Cape Cod bridges when the storm is in full force on Sunday," Baker said as he confirmed that around 1,000 National Guard troops were on standby to help with any possible evacuations.
Henri is expected to hit the U.S. as Hurricane Grace continues to make its way across Mexico, with the Yucatán Peninsula expected to receive up to a foot of rain with mudslides and flash flooding predicted by the NHC.
Flash flooding caused by Storm Fred, which hit the U.S earlier this week, has also left 17 people still unaccounted for in North Carolina, as the state has seen houses and cars swept away by the severe weather.